Here is a fantastic opportunity for you freshers. It is the right time for you to start a career as a content writer. You can apply for the numerous internet content writing jobs available. Like many ambitious content writers, I sat on for a while. I wanted to ensure I knew enough before applying for my first job as a content writer with a good content writer salary for freshers. Ever wanted to create content but didn't know where to begin?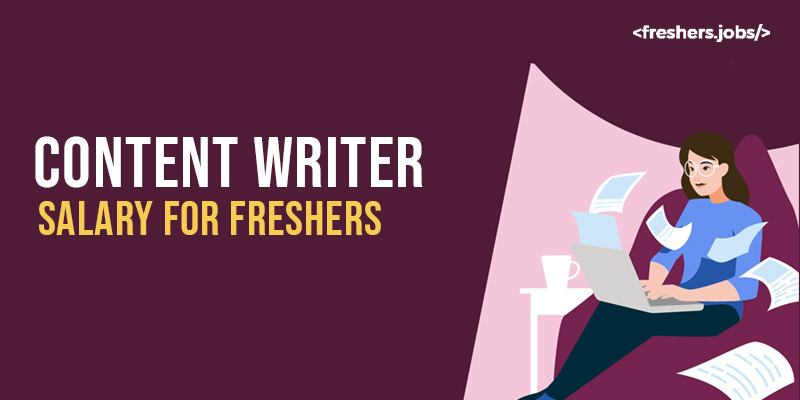 This blog article has the solutions. This blog will provide details on the different job roles of content writers, salaries for freshers and content writer responsibilities, and some helpful details.
Who is a Content Writer?
A content writer writes text for readers' information, and education, knowledge It might be for social media or a blog post. Producing written material for publication on a blog, in a magazine, or a newspaper is known as writing content. Content writing includes all of the following: research, editing, creative writing, and proofreading.
The Function of Content Writer Strategy
The content strategy process involves organizing the content creation, presentation, reader targeting, and delivery of content. 

Increasing your content writing proficiency enables you to write more imaginatively, creatively and  competitively
What work do Content Writers Do?
Content Writers must be able to research various topics and offer their research to readers in an exciting and proper professional way to excel as a good content writer and therefore earn a good

content writer fresher salary.

Strong writing skills are necessary, especially in grammar, spelling, and the ability to give specific examples.

In addition, content writers must be able to take the feedback well and make the required edits to their work to make it perfect.
Why pursue a profession in content writing
Content writers are experts who desire to create educational and entertaining scripts for businesses, websites, and products.

Every firm, whether in technology, design, publishing or medical, needs a qualified writer who can describe the business's products and services interestingly.

Many businesses and organizations now require content writers to engage readers through intriguing writing as everything climbs the digital platform offering them a good

content writing salary for freshers.

People who select the job need to have the knowledge and skills to understand the purpose of the content to produce high-quality content.

The scope of content writing in India, career opportunities for content writers, how to become a content writer, what kind of degree is necessary for content writing, and other topics will all be covered in this article. 
Key Points to know for newcomers in content writing
These are a handful of the procedures taught to

content writers

to gain a good

content writer salary for freshers.

You can write better by taking a course in content writing.

You will receive instruction on how to write in your own way as you produce it for readers.

Nevertheless, it's important to improve the content and add keywords.

However, you must guarantee that it is simple to read.

Additionally, you can carry out market analysis and profit from the most effective tactics used by your competitors.

A sentence shouldn't have any unnecessary words and a lengthy paragraph.

Another stage of content writing is to look for short and long-tail keywords.

You need to gather more details and create an outline of the description.

Once you've got the details of the product, you can start writing scripts for them.

The last stage involves structuring or organizing the content.

You can start writing after making sure everything is in order.

You can check for plagiarism and recheck the entire article, increasing the number of viewers.

You can make several modifications after you have checked for plagiarism.

After making the necessary changes, you can edit and publish.
Let us know the salary of content writers working on different job profiles 
Freelance Writer
The best aspect of freelancing is the freedom to select the kind of work you want to accomplish. 

You can choose clients and take on projects.

You can acquire the tasks you're interested in while presenting your most excellent work. 

An independent technical writer, copywriter etc, is an example of a freelancer. 

Any form of content writing can be done as freelance work by someone with the correct skill set.

According to the pay scale, a beginning freelancer makes about 16,500 per month to 17,000 per month.

Accordingly, a new

content writer fresher salary

will be around between 1.98 LPA and 2 .5 LPA in a given year.

In Maharashtra, Bangalore pays a content writer freelancer 18,000 to 20,000.

A freelance writer with strong experience in content writing can make between 20,000 and 60,000 per month.
Technical Writer
There is a tremendous need for technical writers in almost all industries.

A technical writer is essential in every field.

A technical writer's duties may include writing manuals and user guides and describing in plain terms the technical aspects of a product to the readers.

Here is the information on the salary of a technical writer based on the salary scale of various technical writers.

An annual

content writing salary for freshers

as a technical writer is about 5 LPA.

 A technical writer might make between 2.29 lakhs and ten lakhs per year.
Medical Writer
A medical writer must work closely with doctors, senior medical officers, and scientists.

They must be highly exact and convincing with the information they give in their presentation.

They must also be efficient when creating the documents.

In the field of medical writing, comprehensive and relevant research is vital.

Medical writers must be accurate when describing how to use medical products.

According to Payscale, a fresher medical writer has an average yearly salary of around 4.2 LPA.

A senior medical writer may make up to 8 LPA.

The medical Writer's salary in Bangalore is about 4 LPA.

The Medical Writer gets a salary of 3.1 LPA.

The range of

content writer salary for freshers

medical writers is the same almost 3- 4 LPA in almost all cities.
Content Writer for SEO
SEO

content writers concentrate on optimising the content for search engines, as the term suggests.

The Content writer optimizes several SEO parameters to enhance the content's rank at the top.

According to payscale, the beginning salary for an SEO content writer is approximately 2.45 LPA.

The salary could increase as skills and experience increase.

The SEO Content Writer's salary in top cities like Bangalore is 3.52 LPA.

The SEO content writer's salary in Chennai is approximately 2.4 LPA.

The

Content Writer fresher salary

in Hyderabad is around 3 LPA.
Web Content Writer
Online content writers work with any form of web page content.

Blogs, articles, web pages, landing pages, etc., are all examples.

The average monthly income for a web content writer is Rs. 20,400.

Therefore, you may earn around 2.44 LPA if you have at least one to two years of skill in writing web content.

The web

content writing salary for freshers

in top metropolitan cities is around 2.5 LPA to 4 LPA.
Copywriter
A copywriter's job is to create engaging content for the target market.

A copywriter must approach their assignment imaginatively, and creatively and pay attention to the business's marketing requirements.

A junior copywriter makes about 18,000 to 25,000 per month.

Thus, the annual salary of a junior copywriter is close to 2.7 LPA

Like many other forms of content writing, a copywriter's pay is based on location and employer.

The senior copywriter makes at least 6 LPA with years of skill.

The Copywriter salary for freshers varies in different cities and ranges from 3.4 LPA to 4.5 LPA.
Creative Content Writer
A creative writer can construct fresh online web content for clients or businesses and compose newspaper articles and short novels.

According to payscale, a creative writer can make up to 4.5 LPA annually.

Freshers in creative writing can make up to 3 LPA per year.

The more experienced ones can get up to 7 LPA to 8 LPA yearly.
Social Media Content Writer
For several platforms, social media content writers produce social media content.

Digital marketing

has benefited in several ways from this type of marketing and writing.

Some writers create content for Facebook, Instagram, LinkedIn, and other social media sites.

Their key responsibilities include developing and editing interesting information and connecting viewers.

The average monthly compensation for a social media content writer is roughly 35,000 per month.

A fresher social media

content writer salary for freshers

may earn as little as 23,000 per month.

The mid-level social media writer makes around 4.2 LPA.

The salary elevates to 6 LPA when more years of experience are obtained.
Blogger 
A blogger generates web material such as blog postings, articles, extensive blogs, etc.

Blogging is one of the most fundamental types of content writing. 

The salary for blog writers with many skills can get 30,000 per month.

Accordingly, an experienced blogger makes an average salary of about 3.6 LPA.

A blogger's salary will also depend on where they live.

Bloggers in Pune, Bangalore, Hyderabad, Chennai, and other cities get paid around 2.5 LPA-5 LPA.
Qualifications Needed to Become a Content Writer
You must have the ability to write in a way that will pull readers in and keep them interested if you want to succeed as a content writer and earn a high content writer fresher salary.
Here is a list of the education and training requirements for content writers.
Outstanding Communication.

Strong Writing Ability.

Creativity.

Outstanding Proofreading Ability.

Strong technical expertise and solid research abilities.

Organizational and Time Management Skills.

The Capacity to write in various Genres.

Knowledge of SEO correct keyword research.

Successful content writing requires the appropriate vocabulary.
Responsibilities
Here, are the regular responsibilities of the content writer, and their role within the company.
Edit material created by other team members.

Develop content marketing methods to draw leads and subscribers.

Use SEO best practices to enhance website traffic.

Create a variety of content on a regular basis, including blogs, emails, social media posts, and white papers.

Actively manage and advertise blog, and post content to suitable sites.

Analyze data from content marketing and make the required adjustments.

Develop original content ideas with the help of other departments.
Conclusion
Hope you have a clear picture of the different job roles and the content writer salary for freshers. Despite the fact that a profession in content writing is quite competitive, people who have the required education and experience can extremely earn in this industry. You may think of content writing as a young, rapidly growing industry. Since the internet evolved, content writing has become a part of every business and organisation. The need for content writing jobs has significantly increased over time. Tap to freshers jobs for recent content writers jobs.