Dell offers a never-ending source of inspiration and challenges for opportunities all over the world. With a diverse and inclusive workplace, the Dell team enjoys a culture of innovation. For driving success and producing the greatest work for the clients, including the smartest, most talented people. The Dell training programs and Dell salary for freshers will motivate everyone who wants to personalize their profession and always wants to add value to it by learning new skills, trying new ideas, and tackling obstacles, among other things.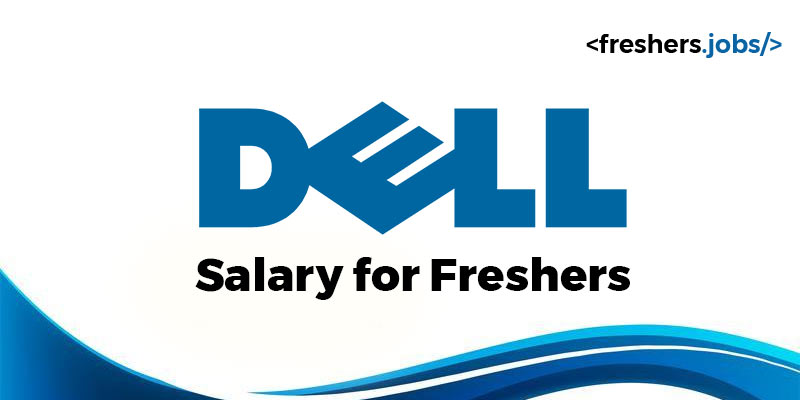 Employees at Dell share their wonderful experiences as the company gives them the best advantages, motivation, and prizes for coming up with innovative ideas. It aspires all the employees working there to think beyond the subjects in the technical areas.
Dell freshers employment ensures that every candidate placed by the company receives comprehensive training from the company's professionals and gets good Dell freshers salary and that information and resources are shared fairly among freshers.
Candidates can constantly check our employment portal for Dell careers jobs alert. Dell aims at hiring numerous engineering graduates who are recently passed out.
The importance of Dell's culture is frequently highlighted. Dell has made it a reality each day via its hard work and efforts. Dell's culture is the company's core, and it has always led to success.
Why Work at Dell?
Dell Technologies assists businesses and individuals in transforming their digital futures and how they work, live, and play. The company offers customers the industry's most comprehensive and innovative technology and service portfolio for the data. When compared to a conventional organization, the employee experience at Dell Technologies is as follows.
Dell offers development programs and Dell package for freshers to help you grow and build your career, just as you work hard every day to bring technology and solutions that empower people, businesses, and communities. We understand the importance of work-life balance.
Educational Criteria for Dell 
For freshers, there are numerous Dell employment openings. A fresh graduate might choose the best course to take to begin their career. Applicants must be aware of the procedures involved in the Dell hiring process in detail. Those interested in applying for Dell jobs should possess the criteria listed below.
The applicant's marks should be 70% aggregate in engineering or technology courses. Grades in the tenth, twelfth, and diploma must be at least 60%. Dell conducts a planned, structured hiring procedure to find the most skilled and talented individual. The candidate must have technical knowledge, soft skills, and communicative abilities to go past the recruitment process. When the candidates are thorough in these skills, it would not be tedious work for any candidate to get through the recruiting process of Dell.
Plentiful candidates are recruited each year by Dell. They hire for a variety of job roles and profiles for both new and working employees. The organization has a good Dell company jobs for fresher and offers several job profiles for young graduates and experinced employees.
Each job profile will have its own set of eligibility requirements. Engineering graduates, Master's graduates from IT-dominated courses, and graduates from computer science will be required for technical-related job profiles. Jobs in the BPO sector, on the other hand, will demand three-year degrees such as BCA, B.com, and so on. Dell will give a competitive remuneration to individuals who are placed in these positions.
Students who have received specialized training in software courses such as JAVA, Python, or SQL can also apply for positions at Dell.
Skills required
These are some of the basic skills required by the candidates Programming languages must be well-versed, Communication abilities, Problem-solver extraordinaire, Worker who is dedicated, High level of coding knowledge,
Should be self-assured and disciplined, The candidate must be able to manage time and deadlines.
Technical skills needed
As the world changes and all of its technology changes on a daily basis, The company also requires every candidate to be up to date on the most recent technology, which primarily concerns software and its applications. The company recruiter will look for aspirants who are good at system languages. Every individual looking for jobs at Dell must be proficient in basic system languages such as JAVA, SQL, C, and others to get hired and get a splendid Dell fresher salary.
It is simple to go through the Dell interview rounds and acquire an excellent Dell salary for freshers if candidates are well-versed in system languages, DBMS, and coding.
To apply for the jobs in Dell
Candidates can look for employment alerts on Dell's website, which is www.dell.com. You can conduct a search by entering keywords such as location, job title, or other relevant terms. After you've completed it, you can begin your search.
Apply for the Position
Click the Apply option when you find freshers' jobs and the Dell salary for freshers that meet your eligibility criteria and qualifications.
Enter the login ID and password and other information. Recruiters from the organization will review your profile and contact you for an interview if it appears suitable.
Process for Dell Interviews
There are three rounds involved in the hiring process. An online written exam, a technical round, and an HR round are all part of the process.
Dell's Working Environment
The majority of Dell employees enjoy their work environment.
The Dell work culture ensures that the business capacity meets the demands of the eCommerce markets.
The decisions and viewpoints are praised, emphasized, and valued.
The working employees are grouped into small teams so that they get enough attention.
The company's ideals are written in such a way that collaborative decisions are encouraged.
Employees at Dell are encouraged to think beyond their assigned tasks.
They are constantly encouraged to come up with new ideas and solutions to challenging challenges.
Dell maintains a consistent work environment and offers good Dell freshers salary.
Customer satisfaction is Dell's top concern, where requests are met and trust is built between the company and its customers.
Training at Dell
Freshers can participate in a three-month training program in which they will be taught about basic learning projects and their technical project expertise will be developed. Candidates are paid a basic Dell salary for freshers during the training session.
Freshers are given special training to help them improve their skills. They are also given credentials for their current responsibilities, which prepares them for better roles in the future.
Dell trains you on the courses that you'll need to earn the certifications and to progress in your profession.
ITIL
IT Service Management assesses the efficacy of your present IT operations, then remediates areas that need to be aligned to business strategy and follows a plan for ongoing operations to fulfill business objectives, according to the Dell IT Infrastructure Library (ITIL).
Distance learning in real-time
With Live Distance Learning, you may attend classes from anywhere in the world. You'll get technical training from experts, get access to hands-on laboratories, and use the vendor-approved curriculum.
Microsoft Certified Professional
Dell provides Microsoft training for IT workers to help them manage their enterprise environment more effectively.
Salary and their Job Roles
Because of the enormous number of job opportunities and recruitments, Dell jobs for freshers are more highly ranked. The Dell package for freshers employment is appealing and includes the best benefits. They are paid between three and four lakhs per year and are considered one of the best salary packages available in the current market. Freshers can always improve their opportunities to learn more about technology and the current situation. Employees at Dell get additional benefits in addition to working longer hours.
Software Engineer 
This level is for IT newcomers, and the software engineer position is the designation assigned to them.
This post is filled by recently hired graduates.
This position allows you to get knowledge and experience regarding the company's culture.
The annual salary range for software engineer 1 is between 3 and 4 lakhs.
Software Engineer 2
Software engineer 2 will be capable of taking on important projects or assignments and reporting them to the senior software engineer.
In their work, the software engineer instructs the junior engineer.
The Dell salary for freshers software engineers 2 ranges between 4 and 5 lakhs.
Senior Engineer 
The individual must have more than three years of experience to occupy a senior engineer position.
A senior engineer must be good at maintaining and developing software.
The annual salary for a senior engineer is in the range of 7 to 8 lakhs.
Technical Staff 
The technical staff is recruited for those who are good in the relevant software field.
They work in the manager line as well as the corporate world.
Dell's Technical Staff earns more than 12 lakhs per year in annual salary.
Dell freshers salary for HR Analyst range from 3 lakhs to 5 lakhs per year, with an average of 3.8 lakhs.
For 1 to three years of experience, the average Dell Junior Business Analyst pay in India is 3.4 lakhs.
The annual compensation for a BPO Analyst at Dell ranges from 3.2 lakhs to 6.8 lakhs.
Dell India's average salary for a Systems Administrator is 3.2 lakhs.
The salary for freshers is evident enough from this blog. You can sketch out your skills in order to be employed with Dell. Freshers.Jobs can be tapped into for additional Dell company jobs for freshers, Every candidate hopes to get hired by a reputable company that will provide them with a competitive salary and opportunities for professional development.