Eaton is a multinational power management company that provides energy-efficient solutions to its customers worldwide. The company has a diverse portfolio of products, including electrical, hydraulic, and mechanical power solutions. Eaton aims to improve the quality of life and the environment through power management technologies and services.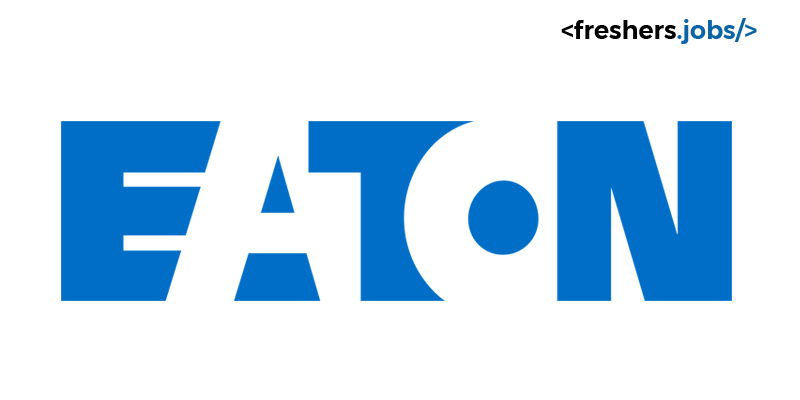 Eaton careers offer job opportunities in various fields, including engineering, sales, marketing, finance, operations, etc. The company values diversity, inclusion, and teamwork and is committed to providing all its employees with a healthy, inclusive work environment.
Eaton's career development program is designed to help employees achieve their career goals through various training and development programs. The company provides opportunities for employees to learn essential new skills, take on new challenges, and grow their careers within the organisation. Eaton also offers a variety of benefits and perks to its employees, including health and wellness programs, flexible work arrangements, and more.
If you want a career at Eaton, you can explore job opportunities on their website or connect with the company on social media platforms.
Why do freshers choose Eaton Careers?
Reputation: Eaton is a well-known and respected company in the power management industry, which can be attractive to job seekers looking for a reputable employer.
Career Development: Eaton jobs provides a wide range of training and development programs designed to help employees grow their careers within the company. Freshers may be drawn to these opportunities to gain new skills and advance their careers.
Diversity and Inclusion: Eaton values diversity and inclusion and is committed to providing all employees with a safe and inclusive work environment. This commitment can attract job seekers who prioritise a positive workplace culture.
Global Opportunities: Eaton has a global presence, with operations in over 175 countries. Freshers interested in working for a multinational company and gaining global experience may find this appealing.
Competitive Compensation and Benefits: Eaton jobs for freshers offers competitive high-salary packages and benefits to its employees, including health and wellness programs, retirement savings plans, and more. This can attract job seekers looking for a good work-life balance and comprehensive benefits.
The eligibility and academic criteria for freshers who want to apply for jobs at Eaton may vary depending on the position and location. However, some general eligibility and academic criteria are as follows:
Eligibility Criteria:
Every year, they hire some of the best engineering graduates for freshers jobs to work in our technology. 
Educational Requirements For Freshers
Freshers can always start looking for freshers jobs in Mumbai for higher salary jobs.
How to apply for jobs at Eaton?
Documents Required For The Interview
If you are a fresher, you must know how do you write a Cover Letter for a Resume.
Basic Skills Required to Join Eaton
Designation Offered in Eaton
IT Support Engineer
The IT Support Engineer installs and configures gear, software, and peripherals.
Helping end users with technical problems via phone, email, or in person.
Monitor and manage computer systems and networks to ensure they work well and are always up.
Regular backups, data recovery, and putting security measures in place will help protect against cyber threats.
Taking stock of gear and software, documenting it, and ensuring licencing are in order.
Working with other IT teams, vendors, and stakeholders to adopt new technologies and solve complex problems at Eaton jobs.
Making technical documentation, user manuals, and training tools and keeping them current.
Keeping systems up to date and safe by performing maintenance, changes, and patch management.
Taking turns being on call and giving help for important business systems after hours.
To keep up with the latest new trends and technologies, and best practices in the business is a good way to keep improving technical skills and knowledge.
Database Administrator
The Database Administrator Builds high-availability, high-quality database systems based on the roles of the end users.
Design and set up the database based on the information needs and views of the end-users
Define users and ensure info gets to the right person in the right format and on time.
Use methods for fast transaction recovery and back up your data.
Minimise database downtime and control parameters to provide fast query responses
Help and train people on both proactive and reactive data management of Eaton jobs for freshers.
Database policies, processes, and standards must be set, followed, and written down.
Test and evaluate data often to ensure it is secure, private, and correct.
Check the speed of the database, make changes, and add new patches and versions when needed.
Recent graduates can tap to freshers jobs in Hyderabad for latest job openings.
Controls Engineer
The Control Engineer is hired in Eaton recruitment and Leads tasks related to design control and write and review design controls.
Develop control methods, equipment, and machinery in every way.
Analyse, develop and implement solutions for Robotic Process Automation (RPA).
Help put together technical reports or other related papers.
Own, update, and accept all equipment schematics, both new and old.
Serve as the expert consultant for the build's capital projects.
Make graphics for control systems and set up files for control systems.
Help with the process of learning from the project.
Prototype, test, and improve GNC systems using the modelling and real flight tests.
Work with cross-functional teams to determine your need for sensors, computing, networks, and backups.
Quality Engineer
The Quality Engineer in Eaton jobs Creates ways to check the quality of a product.
Make suggestions for changes that will improve the quality of the product.
Work with the right teams and departments to make the products better.
Make sure products meet company and industry norms for quality
Brainstorm ideas to find ways to fix the problems you've recognised.
Make a strategic plan to make the business more productive.
When inspections are done, write down the results and what was found.
Set up a system to ensure the production process is consistent and accurate.
Systems Engineer
The Systems Engineer in Eaton jobs for freshers Mentors and train other engineers in the company and try to improve processes all over the company.
Work closely with the company's engineering staff to maintain the hardware and software needed to complete jobs quickly and well.
Set clear goals for all project parts and develop steps to ensure they are completed on time.
Be upfront about problems or restrictions in a project and try to deal with them.
Give specific details about suggested solutions, such as the needed materials, people, and time.
Help other engineers in the area make practical demonstrations of proposed solutions and show them to other team members. Work with project management teams to keep track of the progress and implementation of projects.
Set milestones for what each area needs to do and devise ways to work together.
Interview Process in Eaton
Eaton typically conducts a multi-step interview process for freshers that can vary based on the role and location with the right preparation tips. Here is a general outline of the interview rounds:
Online Application: The first step is to submit an online application, including your resume and other required documents.
Initial Screening: After the application is submitted, Eaton recruiters will review your application and resume to determine if you meet the qualifications for the role of Eaton jobs.
Aptitude Test: Some positions may require an aptitude test that assesses your problem-solving, critical thinking, and analytical skills.
Technical Interview: The technical interview assesses your technical knowledge in areas relevant to the role you are applying for, such as programming, networking, or database management. This round may be conducted via video call or in person at Eaton Recruitment.
Managerial Interview: The interview assesses your fit for the company culture, work style, and teamwork. An HR may conduct this round.
HR Interview: The final round is typically a conversation with a human resources representative who will discuss salary and benefits, work conditions, and other logistics related to the position.
Training and Development in Eaton
Eaton strongly emphasises training and development for its employees, recognising that ongoing learning and development are essential to staying competitive and meeting customers' evolving needs. Eaton's training and development programs include:
Onboarding: Eaton provides comprehensive onboarding programs for new employees to ensure they are set up for success in their new roles. The programs cover company culture, policies, procedures, and job-specific training.
Leadership Development: Eaton careers offers leadership development programs for employees at all levels of the organisation. These programs focus on developing leadership skills like communication, coaching, and team building.
Technical Training: Eaton provides training programs to ensure employees have the knowledge and skills to excel in their roles. These programs cover various topics, including product knowledge, engineering principles, and manufacturing processes.
Career Development: Eaton offers career development programs to help employees identify and develop plans to achieve career goals. The programs include coaching, mentoring, and career planning resources.
Diversity, Equity, and Inclusion: Eaton strongly emphasises creating a diverse and inclusive workplace. The Eaton company offers the training and development programs to help employees understand and embrace diversity, equity, and inclusion.
Tuition Reimbursement: Eaton offers tuition reimbursement programs to help employees further their education and develop new skills. The program covers a wide range of courses and degree programs.
Overall, Eaton's training and development programs are designed to help employees build the skills and get the jobs as per skills and knowledge they will have to be successful in their roles, advance their careers, and contribute to the company's success.
Benefits offered in Eaton
Medical service is the main labourer benefit among employees in Eaton jobs. This makes sense since benefits are always absurd, and you can know why employee benefits are essential.
Giving free food is right now a particular benefit.
Clinical consideration, maternity, paternity, and health generally get thought of as one of the benefits.
Petrol Allowances.
Health cards.
The Eaton salary for freshers is extremely good for the freshers. The Eaton fresher's salary for Data Scientist is 5 LPA, and The freshers salary of a Business Analyst at Eaton is about 4.2 LPA.