When looking for a new job, you will likely fill out most of your applications online, either on a company's website or through a job board or any jobs alert. Before looking for a job, you should ensure you know how to apply for online job. It means gathering all the information you need to fill out an application. Getting your job applications in will be easier if you have all the information employers need on hand.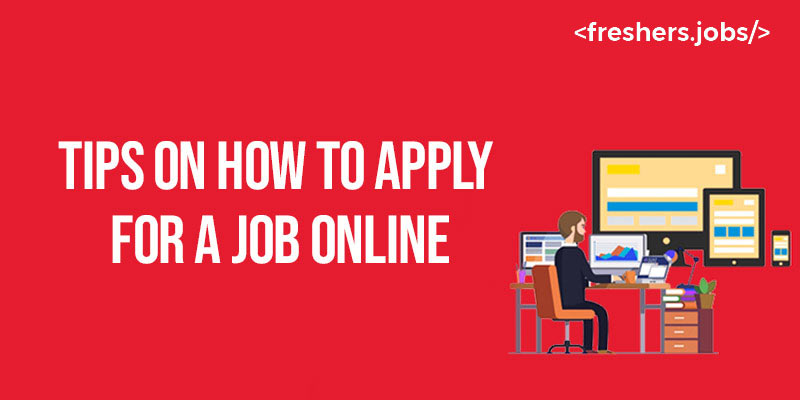 Analyse the best sites to search for jobs, how to publish your resume and cover letter, the details you need to give, and tips on speeding up the application process.
Most companies take applications online because it makes it easier for them to find qualified people. If you are applying for a job online, you should know how to make it more likely that you will get the job. By taking a few steps, you can improve your application materials and make it more likely that a recruiter will notice you. This blog discusses the steps you can take to get a job when you apply online.
What You Need to Do to Apply Online
How to find online job? To apply for a job online and fill out online job applications, you will need Internet access, a job-searching email address, an up-to-date resume, a cover letter for some jobs, your employment history and if you're applying for a part-time job, your availability to work. Also, to apply for a job, you should take an online employment test and be ready to give references from past jobs. If you are a fresher and applying for a new job, you must know how to write and resume and cover letter. Here we have the tips for writing an Cover letter.
How to Apply Online for a Job?
How to search for a job online? To apply for jobs online, you need a system, a way to connect to the internet, an email address, a resume, and a cover letter. Follow these steps to make it easier to find and apply for jobs online:
Update your resume.

Update your profile on sites for networking opportunities.

Use keywords.

Use job search engines and the websites of companies.

Pick and choose.

Write a cover letter for each application separately.

Fill out a job application online.

Make sure your answers are correct, free of mistakes, and filled out completely.

Please keep track of your job applications and follow up on them.

Don't stop trying.
Update your Resume
How to get online jobs? Update your resume and write a simple cover letter before you apply for online freshers jobs. Your resume should have your current contact information and a complete list of all your jobs. Save your resume with a simple name that includes the word "resume," your first name, last name, and the year. This makes it easy for recruiters to find.You can write your resume for free in Google Docs, then save it to Google Drive and export it as a PDF when applying for jobs online.
Update your Profile on sites for Networking Opportunities
How to get an online job? Some recruiters and companies would instead look at your professional networking profile than your resume because the layout of each profile is the same on the platform. Ensure your profile is up-to-date and has no pictures or posts that might turn off recruiters. Add a link to your online portfolio if you have a professional website with examples of your work.
Use Keywords
Find keywords in the job descriptions for the jobs you want to apply for. Using relevant keywords in your resume will make it easier for a recruiter to scan it. Some companies also use applicant tracking systems that review applications for keywords. Adding some of these keywords to your resume can help the ATS send it to the hiring manager so they can look at it more closely.
Check your resume and add these keywords if they are relevant. For example, if the job requirements say you need will have to be able to work well with others. Check out how to write an ATS friendly resume.
Use Job Search Engines and Websites for Companies
How to apply for online job? Many companies list their open jobs on websites that help people find jobs. You can use different filters, like position title, freshers salary, and location, to find jobs you are interested in on sites like Indeed.com. Some websites help people find jobs in specific fields and industries. Make sure you search carefully to find all the jobs that interest you.
If you already know which companies you want to work for, go to their websites and look in the Career section for job postings. When you apply on a company's website, your application will go into the applicant tracking system, where you can check the status as often as you want.
Companies give you an email address to send your cover letter and resume. Put your full name and job title in the email's subject line. Use the email's body as a short version of your cover letter. Tell them in a few words why you want the job. Your resume and cover letter should be attached to this email.
Pick and Choose
Make sure you know what you need to do to get a job and how to find online job. Only apply if you are qualified for the job. It is better to only apply for jobs at companies you want to work for that match your goals and skills. Since filling out an application for each job can take some time, you can save more time by being choosy as you look for work. If you are a recent graduate, you can start applying for freshers jobs in Hyderabad with the right preparation strategies.
Write a Cover Letter for each Application separately
Your cover letter should discuss the job's needs and show your skills and accomplishments. Talk about how you would use your knowledge and skills on the job and give examples of how you helped past employees with similar problems. Always make sure to Keep your cover letter short and to the point to keep the recruiter's attention.
Fill out the Online Application for the Job
How to get online jobs? You must create an account on job boards or websites to apply for jobs online. This means picking a username and a password. Most of the time, it's easy to use your email address as your login name. Add your resume after making an account. This can be done in one of the following ways:
You can add a resume file to the website by uploading it from a USB drive or computer.

By cutting and pasting your resume into the application fields.

Putting your job history in the required fields. 

Some websites have a feature that pulls your resume information into the application form. Check the details that were uploaded to make sure they match yours.
Make Sure your Answers are Correct, Free of Mistakes and Filled out
To increase your chances of getting an interview, you should ensure that your spelling, grammar, and content are all correct. To avoid confusion, you should be honest and give the right information in your application.
Some jobs require you to take tests that examine your skills or personality to see if you are a good fit for the job or the company. Before getting a job, there are many tests to take, such as your knowledge and ability to deal with people. Make sure you pass all the tests so the hiring manager will consider you for the job.
Keep Track of your Job Applications and Follow Up on them
When a hiring manager calls you for an interview, you will know which job they are talking about if you keep track of your applications and how to find online job.
If you know anyone at the company where you applied, you can call or email them to find out the status of your application. Most of the time, following up a week after applying is fine. If there was a specific time frame for applying, like a month after the job was posted, try to follow up after that month since some recruiters wait to look at all the applications at once. Prepare well for the interview with the best tips and strategies.
Don't Give Up
It can take a while to find a new job. Even if you have already applied for several jobs online, keep making connections online and offline. Your network can help you find jobs that are not being advertised. Use the help of your friends and family to keep your confidence up. You can always find a new job if you keep sending out applications.
Conclusion
I hope you are clear from the blog about how to apply for online job. Lastly, the blog provided information about getting a job as a new graduate. Finding a new line of freshers jobs or changing careers to follow a passion is exciting. But it is hard to start something new in a world where competition is so fierce. One must stop, think, and figure out where one stands. Set attainable objectives. Don't let being turned down get you down. Remember that you've come a long way and can reach new heights if you plan and ask for help. So, you now know how to get a job online as a new graduate.