Google introduced Flutter for developers with some big and important technological changes. With the fluters ability to work on more platforms and its tools becoming more productive and stable, there is always a better time to bring Flutter teams into any organization. Here, we'll talk about putting your company out with a strong Flutter job role and a flutter developer salary that can help you easily get the needed skills.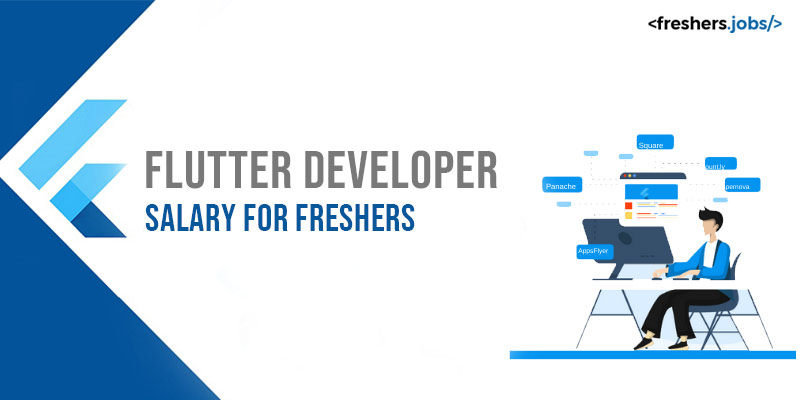 Even though this seems small, the latest version of the tool gives developers and companies access to more job opportunities for freshers and the experienced. But it's hard to find people who know how to work with Flutter. Developers who know Flutter are in high demand, but there aren't enough for most of the latest technologies. We've compiled a blog to explain the scope of flutter development and the future of Flutter Development to help you the right opportunity as a flutter developer and earn a high flutter developer salary in India.
Let us know what is meant by Flutter and its development.
Flutter
Flutter is a framework made by Google that lets you build beautiful, natively-compiled apps that work on multiple platforms from a single codebase. Flutter changes the way that apps are made. Beautiful mobile, web, desktop, and embedded apps can be built, tested, and released from a single codebase. 
Flutter Development
Flutter is a powerful framework for making mobile apps that can be used to create apps that work on

iOS

,

Android

, and Windows.

It is programmed with Google's Dart language and has its own graphics library and material design.

This makes it easier to make apps and gives them a more polished look.

The main idea behind Flutter is to use widgets. 

When developers put together different widgets, they can make a full user interface (UI).
Scope of Flutter Development
The scope of Flutter development languages is exceptionally great. 

If you are a candidate looking for a job or a future in the field of mobile development. 

The developers need to create the iOS apps differently and the android app differently.

Developers at

Google

use the flutter programming language, a framework for making mobile apps for iOS and Android. 

This framework is booming to a large extent, and there is a demand for developers working on it. 

Hence they are offering a high

flutter salary in India.
Why do freshers choose flutter development?
Massive Growth
Starting with Flutter, which is the language used to make Flutter apps.

In the past few years, Dart has grown a lot and is now seen as one of the best skills for software engineers to have. 

The number of people who use Flutter has also increased. 

Then one of the best reasons to learn Flutter is that we can make apps for different platforms at the same time. 

With this feature, you can quickly build an app for iOS and Android simultaneously and work on it and earn

flutter developer salary.
Performance and Stability
The Flutter Toolbox has all the parts and widgets needed to make iOS and Android look.

Apps built with Flutter are stable and work well, making a one-page app or a video streaming app. 

Applications that use Flutter can be easily scaled up or down as needed. Because Flutter apps are built with the object-oriented programming language Dart, they can be used for Windows, Mac, and Linux desktops and web apps that don't run on iOS or Android. 

This gives you a solution that works on all devices and platforms at the cost of making a Flutter app.
Very quick development
The Flutter development framework is faster than the ones it competes with.

Flutter speeds up app development and performance, which saves you a lot of time.

Flutter has a lot of widgets and a UI library that speed up and simplify the process of making

UI/UX.
There is a lot of demand for Flutter developers
Developers and companies are using Flutter more and more.

Because of this change, employers will need to hire experienced Flutter developers with a high

flutter developer salary in India,

increasing the number of Flutter jobs on the market.

So, to become a Flutter developer, you should start learning Flutter now.
Simple to Learn
Dart is a programming language that is easy to learn and is used by Flutter developers, and employees working on it will earn a

high flutter developer salary.

Flutter is a modern framework that makes making apps for mobile and desktop devices much easier.

If you have worked with

Java

,

Swift, or React Native, you will notice how different Flutter is.

You can also make good native apps that don't need as much code.
A Community on the Rise
Flutter has a great community of developers who help make excellent documentation and help developers who run into problems while developing.

It is important for development that developers have a strong community where they can share programming skills and relevant content.

You can join a group of people and get help when needed. 
Why do freshers need Flutter Training?
You will learn how C and

C++

and Dart

programming

work in Flutter training.

By taking a Flutter app development course, you will learn how to make Dart Widgets, which are part of the Flutter app framework.

Using this trusted and well-known Google product, you can make mobile and web apps that look good and are fun to use.

Training in an advanced Flutter course will help you learn how to use the Dart platform and App Flutter Engine.

Learn about the most important parts of Flutter for programming in Dart and earn a good

flutter developer salary in India.

Look at the different parts of the Flutter Application, such as Widgets and Internationalized Flutter libraries. 
Flutter Developer Salary
The flutter developer's salary depends on various factors. To mention are,
Experince 

Organisation

Location

Job roles 
Let us discuss each one in detail and the varying salaries on each impacting factor.
Salary of a Flutter Developer as per the Experience
Experience plays an important factor in deciding the flutter developer salary. Every new employee gets a minimum salary. As you gain more experience, your salary will also go up. Let us see the fresher, mid-level, and experienced person's salary as a Flutter developer.
The salary of a fresher flutter developer salary is 3.3 LPA

The mid-level flutter developer salary is around 6 LPA

The senior flutter developer is getting a salary of approximately 9 LPA
Salary of a Flutter Developer as per the Organisation
As this programming language is new and recent, most companies are still on the verge of implementing it. Hence it is understood that there will be a lot of demand for the flutters developers in most organisations with higher flutter salary in India. Let us see which companies implemented the Flutter programming language and what the salaries offered to them.
Cactus Soft: 3.5 LPA

BayZat: 3 LPA

Google: 4.2 LPA

Haptik: 3.2 LPA

eCOM street: 3.8 LPA

EPAM Systems: 3.2 LPA
Salary of a Flutter developer as per the Location
Flutter developer demand is still on the way to increasing, and companies are gradually hiring Flutter developers with good flutter developer salary in India for freshers. Mostly the top-tier cities are hiring flutter developers these days. Let us see the salary as per the location.
Bangalore: 3 LPA

Chennai: 3.5 LPA

Hyderabad: 2.5 LPA

Mumbai: 3 LPA
Salary of a Flutter developer as per the job role
Flutter Development is a vast programming language, and many job domains and roles are working on it. Let us see how the different roles and the salaries.
Android Engineer: 3.25 LPA

iOS Engineer : 3 LPA

Flutter Web Engineer : 3 LPA

Flutter & Dart Native Runtime Engineer:  3.98 LPA
Skills Required
To get a high flutter developer salary in India, you will need to acquire skills that the organisation demands. Below is the list of skills every fresher has to possess.
Prior Experience or Knowledge About Dart.

Developers will benefit from previous experience with other native languages like C C++,

 and Javascript before jumping right into Dart programming.

Prior experience with the Agile and Waterfall Software Development Methodologies.

One of the technologies required when creating platform-spanning projects is SQLite. 

With the right plugin, SQLite will offer significant benefits in Flutter.

Regardless of the language or frameworks used, Git is one of the essential tools for software engineers today with a high

flutter salary in India.

Knowledge of developing for iOS or Android.

Basic understanding of several architectural approaches.

Having a simple method for fixing errors.

Proper communication techniques for improved team performance.
Responsibilities of a Flutter Developer
You will develop and publish dependable apps for Android and iOS devices using a single codebase.

You can write well-documented, readable code with the aid of Dart for future use and upgrades.

You will work in teams to share information and develop ways to improve the development process.

Recognize basic design tenets to produce user-friendly software.

Follow the latest recent advances in technology.
Conclusion
I hope this blog article has clarified that flutter developer salary and jobs offer a wide range of certifications and employment open to individuals from various backgrounds. Therefore, if you're seeking Flutter Developer roles, consider freshers jobs. Because of this, you can be sure that your hard work will pay off in the end. Certifications help you learn more and include a lot of hands-on training, but they also help you prepare for the job market.