Google is a multinational technology firm that offers a wide range of services and products, including advertising technologies, cloud computing, software, and hardware. The world's biggest IT giant. Google Careers has a variety of IT positions accessible. Every year, Google hires over 20,000 people. Google is continually looking to hire more freshers and postgraduates from all throughout the country.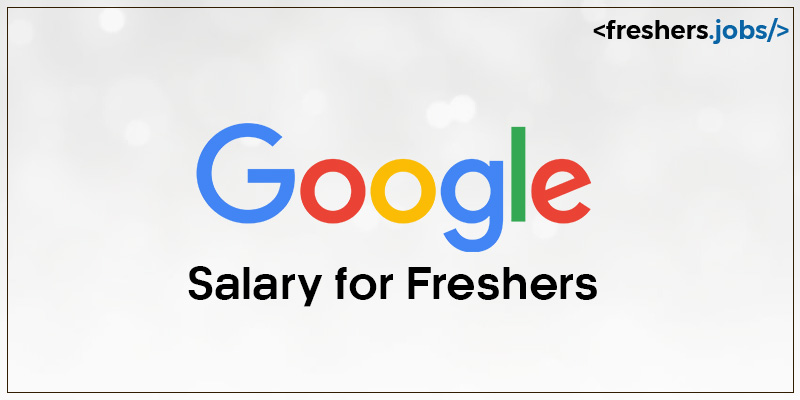 Google's salary for freshers is quite standard, as it includes a base income, a target incentive, and other bonuses. This company provides employees with a professional yet friendly environment in which they may learn and grow. From engineers to writers, the organization offers a competitive salary. Take a look at the page presented below to learn more about Google's salary structure in India.
Freshers eligible for applying to Google
Candidates interested in transforming digital strategies in technology, development, engineering, business, and corporate leadership can apply. In addition, the candidate must hold a bachelor's degree in engineering from a government-approved college or university.
To apply for the fresher's openings on Google
Google Workplace for freshers is the perfect location to show off your technical abilities and ability to think beyond the box. Google Jobs is the ideal platform for freshers for improving their talents in all areas. There are various job profiles accessible on Google, and you can apply for the relevant position online on our employment portal freshers.jobs or on the company website of google careers.
Education qualifications needed in Google
Google is known to be the most active recruiter in the world. They have a variety of work opportunities for freshers. 
Engineering graduates, Postgraduates in MCA, and M.Tech qualified in IT streams can always apply for fresher jobs and acquire a good Google fresher salary.

The graduation, post-graduation percentage must be 60% aggregate.
Basic skills in every fresher 
The freshers with these skills can always develop and get a good salary package. 
Freshers can foster their skills in learning coding, programming languages, Operating systems, familiar with artificial intelligence, knowledge of compilers, data structures, cryptography, and parallel programming, which offers a good salary in future careers for fresher.

If any fresher lagging in any of the mentioned courses can always make up to join the best software training institutes and get well versed in these courses and update yourself to get hired in a dream company google as a fresher offering splendid freshers salary.

Parallelly, every fresher must possess basic soft skills too. The soft skills of freshers can be very essential during recruitment. 

The communication skills in English, the ability to think logically, reasoning skills, and many more. 

These skills are necessary when a fresher needs to interact with their co-workers and tackle complex problems if any.
Salaries and the job roles
Landing into a job at Google is something a fresher can always dream of and get excited about because of the splendid salary offered. Here is the list of job roles offered and their Google package for freshers.
Software Engineer: 4 LPA

Application Developer: 5 LPA

Associate Engineer: 4 LPA

DevOps Engineer: 5 LPA

Sales Engineer: 3 LPA
Software Engineer
A fresher degree in computer science and a master's degree in computer science is required as practical knowledge.

 Knowledge of software programming languages such as C C++, JAVA, and Python is essential. It is preferred that you have formal training with front-end technologies. 
A software engineer is responsible for creating large, complicated systems with a global design. These skills can develop your career and get a splendid Google salary for freshers.
 Application Developer
Test your understanding of key concepts in digital analytics and the Google Analytics platform. 

Learn how to create simple mobile apps and achieve recognition for your Android programming abilities. 

Demonstrate your ability to solve deep learning and machine learning problems if you have applied for the Application Developer fresher jobs at Google which will be a great benefit for the future too.
 Associate Engineer
Associate Engineers, also known as Associate Cloud Engineers, are responsible for administering corporate systems, developing apps, and monitoring operations.
They use the Google Cloud Console and the command-line interface to perform common platform-based actions on one or more deployed solutions on Google Cloud that use Google-managed or self-managed services.

The freshers applying as Associate cloud engineers must be well versed in cloud computing and know about the latest technologies that are implemented. 

This cloud service has a wide scope in the present IT market. Freshers can always explore this by enrolling in cloud computing classes and also get a grea

t Google fresher salary

once they are trained in the cloud.
DevOps Engineer
As a result, a DevOps Engineer must be skilled in at least one scripting language and be able to deal with any scripting language (preferably Python). 
As a result, Linux and Linux-based scripting will become a necessary component of the DevOps toolkit.

 Having good knowledge about these technical programming concepts the fresher can get an incredible

Google package for freshers

salary as per the latest salary trends.
Every fresher willing to join as a DevOps engineer needs the above-mentioned skills. This is an excellent moment to undertake DevOps training.
Sales Engineer
The Fresher joining as Sales Engineer must have Certification including Salesforce Certified Platform Developer II, Salesforce Application Architect, and Salesforce Technical Architect. 
Lightning Web Components, Force.com, and Salesforce DX skills, Web technology (JavaScript, CSS, HTML5, XML, JavaScript, JSON, and/or Ajax), and Web Services skills are required. 
All the mentioned skills have a great scope in most IT companies.
Training for freshers in google
Google is providing full fledge training for its freshers so as to make every fresher joining this company become a successful professional in every aspect.
Software Project: You'll work with a group of Googlers and other Step Interns on a development project. 

With skills-based training, you can improve your coding skills and gain exposure to new tools and programming languages. These skills training enhances your technical development and you can implement these for various other fresher jobs and get an incredible

Google salary for freshers.

Attend ongoing technical seminars by leading Googlers for professional development.

Learn how to strengthen your résumé, approach technical interviews, and give a better presentation. 

Mentorship: You'll be paired with a Google Engineer who isn't your manager to help you get the most out of your summer internship.

To have a nice time, participate in social events, community building, and networking. Make friends with your coworkers.

Exposure: You can practically look at how the IT courses can be applied in software work.
For a newcomer, technical knowledge is essential
Technical skills are becoming increasingly crucial in the IT industry, thanks to the DevOps technique. 

Most companies choose an Agile approach based on DevOps principles, which allows teams to work rapidly and produce deliverables in order to meet client expectations. 

Technical skills are becoming increasingly important in DevOps. Proprietary operating systems are no longer an issue for businesses.

We are presently in the era of Linux. 

The majority of organizations opt to use Linux to run their applications. As a result, the ability to operate with the Linux operating system is critical for a DevOps Engineer.

As DevOps is the most implemented software in the IT industry and there is wide scope, the freshers can get trained in DevOps and earn a good

Google fresher salary.
Employee Benefits for google freshers
When Google employees stay late, they are provided with a healthy breakfast, lunch, and even dinner.

The Google working platform has a lot of exposure.

It is possible to interact with fantastic people and share views at any time. 

We can be surrounded by intelligent employees who inspire us and give us the finest learning environment possible.

There will be conversations and talks with other executives in addition to being introduced to tech professionals.

Employees at Google frequently have the impression that they are living in the future.

Google personnel are always thought to be on the latest technology.

Google personnel are constantly given the opportunity to work on items that have not yet been released to the general public.

Google employees are constantly provided with transportation, and all buses are equipped with Wi-Fi.
This article provides an overview of fresher employment roles as well as the google salary for freshers. From the standpoint of IT experts, the organization has a strong reputation and continues to be a valuable resource. The Google work culture and Google salary for freshers provide assurance for the development of freshers. Freshers should always expect a favorable response when they begin applying for google's numerous positions. Freshers.jobs is a great place to start looking for google job openings.