When you are on the way to choosing your career, it is pretty important to look for a job in which you can excel. You can choose the careers that challenge you to solve problems innovatively.
Graphic Design is an incredible career option for freshers with an attractive graphic designer salary to have a creative vision for the future. You can enter a career which is increasing digitally, and the best benefit is to work from anywhere in the world.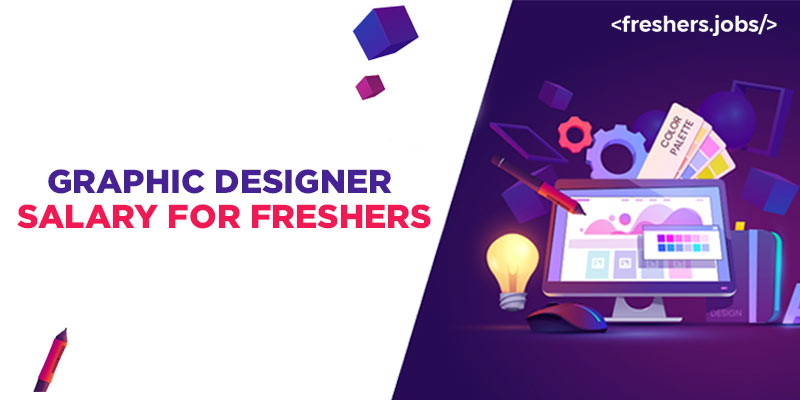 With the high demand for Graphic Design careers, you can select the best steady profile in a multinational organization, work with a local business, or do freelancing and work as per your schedule.
Before discussing Graphic Designing in Detail, we shall see why freshers choose graphic designing careers.
Why do freshers choose graphic design careers?
The salary is pretty good
If you wish to pursue a graphic designer career, you can make as much money as you want.

You can start with the lowest salary and move to a higher one over time.

Your

graphic designer salary in India

will increase quickly if you have the right skills and experience.

If you have the right qualifications and are willing to learn, a career in graphic design will give you the chance to grow as a person.
Graphic Design jobs go well
If a graphic designer wants to make a splendid

graphic designer salary for freshers

, they need to put together an impressive portfolio of their work.

Once you've made a name for yourself, your work will spread the word about you.

A good degree in this field will open many doors for newcomers and people who have been in the area for a while.

You can have a bright and successful career in this field with the proper knowledge and skills.
There are many Job chances
With a degree in graphic design, you can do many different things in the business world.

Many kinds of businesses need a graphic designer.

From advertising to marketing, the graphic design gives you many opportunities.

You will be in charge of making business logos and other branding materials.

If you are smart and have the right skills, it won't take long for you to fit in.
Work is both challenging and exciting
Even though there are many reasons to like being a graphic designer, one of the best is that it gives you many options with a good

graphic designer fresher salary in India

.

The work you are doing is challenging and makes you feel very excited.

The tasks you'll be given will be exciting.

There's no way to get bored at this job because there's always something to cheer you up and keep you interested.
The job makes me feel good about myself
As a graphic designer, you will feel good about yourself, which makes it a good career choice and earning a high

graphic designer salary for freshers

.

In addition to making money, it gives you peace of mind at work.

You can make a big difference around you with the right graphic design. From the minor design to the most significant project you take on, you can make a big difference for the client and the audience.
Let us know what Graphic Design is
Graphic design is defined as the art of planning and making images to convey ideas and messages. You can find graphic design everywhere, from advertisements to mobile apps. By using different elements and principles, these designs can change how we see and feel about things.
Graphic Design is one of the ways to connect organizations and customers. Visual design can be used to promote their business, sell products, convert messages, and build a brand identity.
Who is a Graphic Designer?
Graphic designers or visual communicators create the concepts using any graphic design software, or even the design is done by hand. Graphic designers communicate their ideas through visuals that include images, expressive words or graphical pictures. Regular contact with the clients and customers ensures that they meet the desired messages and the practical express information that the organizations put forward.
Why do freshers require Graphic designing Certifications?
Acquiring a Graphic Design course certification can boost your knowledge of the latest graphics design concepts and also helps in advancing your career and getting a graphic designer fresher salary in India. You can mention the credentials earned in your resume to show your proficiency to the recruiters if you are fresher. You can even get Graphic Design course certifications from the best training institutes.
As said above, the Graphic Design course can easily benefit your career as it is the one way to present yourself as a full-fledged graphic designer.

The Certifications also provide you with the documentation like a licence to start your career in the design field as a Design Engineer.

There are a lot of self-taught designers working in the design world today, but qualifications can help you stand out, especially if an employer has a lot of applications to look through.

You have an opportunity to work as a freelance graphic designer and find your work and clients.

Though, there are many other ways your career can go. For example, getting a certificate in graphic design can lead to many unexpected jobs.

On top of all this, there is a lot of demand for graphic designers. If you look at some of the job boards, you'll see how many studios, agencies, and companies worldwide are looking for designers with high

graphic designer salary

.
Graphic Designer Salary
Graphic designers are always in high demand because they are essential to making a brand look different. Graphic Design Jobs are becoming increasingly popular, but the pay packages vary depending on many things. So, you need to compare the graphic design salary based on different factors.
Let us see the salaries in different influencing factors. Have a look.
Salary of a Graphic Designer as per the Experience
Experience is a significant factor that influences the salaries of Graphic Designers. The graphic designer's fresher salary is impressively excellent. In the beginning, you will get a salary like the other designers. You will be paid higher salaries as you get experienced and upskill yourself in Graphic design.
The entry-level graphic designer's salary is approximately 2.21 LPA.

The Mid-level Graphic designer's salary is about 3.5 LPA.

The

graphic designer salary

who has worked for many years gets a salary of 5.69 LPA.
Salary of a Graphic designer as per the location
Location is the main factor for varying Graphic Designer salaries. As lots and lots of companies and industries are emerging in top locations of India. The need and the recruitment for Graphic designers are increased in all top locations. Let us see the top locations and the graphic designer salaries offered.
Bangalore: 3.6 LPA

Hyderabad: 3 LPA

Chennai: 2.2 LPA

Coimbatore: 2.28 LPA

Mumbai: 3.06 LPA

Delhi: 3.64 LPA

Pune: 2.99
Salary of a Graphic Designer as per the Organisation
Almost all companies hire Graphic Designers for brand promotions and a picturesque way of presenting their products. To develop the company's logo and product promotion, there is a considerable demand for Graphic Designers. There are many core Graphic Design companies in almost all top locations. The freshers can find ample job opportunites and upskill by learning more about Graphic Design at these companies as they work on many graphic designing projects. Let us check out the graphic designer salary for freshers in various companies.
Adobe Systems: 3.5 LPA

Cisco Systems:3.2 LPA

Intel Corporation: 3.79 LPA

Amazon: 5 LPA

Wipro: 2.5 LPA

Cognizant : 2.3 LPA
Skills Required for Graphic designers
Employers look for graphic designers who can do many different things and have the necessary technical skills to start immediately. Here are some of the technical skills that a graphic designer should have to earn a high graphic designer salary in India:
Typography skills: If you want to be a graphic designer, you need to be able to put words and letters together in a way that looks good.

Ability to follow brand marketing guidelines

Good graphic designers know how to make well-balanced designs using white space, color, hierarchy, and other design principles.

UX design to make simple designs

You must know to edit stock pictures and high-quality images.
Responsibilities of a Graphic Designer
Plan ideas by studying information and materials that are relevant.

Concepts are shown by making examples of how art is arranged, the size type, and the style and submitting them for approval.

Getting finished art ready by using the right tools and software.

Coordinating with outside agencies, art services, web designers, marketers, printers, and colleagues as needed.

Helping the team by doing tasks when they are needed.

Communicating with clients about design and layout.

Making a wide range of Graphics and layouts for product illustrations, company logos, and websites.

Reviewing the final layouts and making suggestions for changes when they are needed.
Conclusion
As discussed above, I hope you are very clear about the graphic designer salary. This field is evergreen and never faded away from the list of technologies. The freshers can boom on their career track by working as graphic designers. You can be an innovative artistic graphic designer by acquiring a Graphic designing certification. Look out for the Graphic designer job and start applying.