In today's fiercely competitive job market, the quest for employment success requires more than just a standard resume and basic interview skills. It demands a strategic approach, proactive measures, and a deep understanding of what employers seek in their ideal candidates. Whether you're a recent graduate, a career switcher, or an experienced professional aiming for new job opportunities, this blog is designed to equip you with practical tips and proven strategies to enhance your chances of landing that coveted job and how to get a job.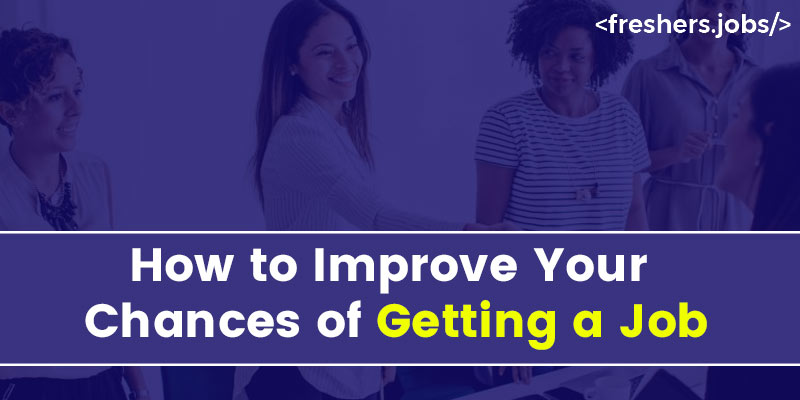 From optimising your resume and honing your interview skills to leveraging your network and cultivating a standout online presence, this comprehensive resource will empower you to navigate the job search process confidently and maximise your potential for securing the job you've been dreaming of.
By taking a proactive approach and investing in your personal and professional development, you can position yourself as an attractive candidate to potential employers. This blog will guide and explain the tools and knowledge to navigate the competitive landscape, stand out from other applicants, and increase your chances of getting a job that aligns with your ambitions and aspirations.
How to  Improve Your Chances of Getting a Job
Assessing Your Skills and Interests
Before diving into the job search process, it's crucial to understand your skills, interests, and career goals clearly. Take the time to assess your strengths, identify areas for improvement, and determine the types of roles that align with your passions. This self-reflection will enable you to focus on how to get good job positions that fit your abilities and aspirations well.
Enhancing Your Skill Set
Continuous learning and skill development are imperative in today's rapidly evolving job market. Identify the essential skills and competencies in high demand in your desired field and take steps to acquire or improve them. This may involve enrolling in relevant courses, attending workshops or seminars, or seeking mentorship opportunities. By actively enhancing your skill set, you can showcase to recruiters to employers that you are committed to professional growth and adaptability.
Crafting an Impressive Resume
Your structured resume can be your first impression with potential employers, so making it stand out is crucial. Tailor your resume to highlight your relevant experience, accomplishments, and skills. Focus on quantifiable achievements and use action verbs to convey impact. Additionally, ensure your resume is visually appealing, error-free, and easy to read. Customising your resume for each job application will demonstrate your attention to detail and genuine interest in the position.
To boost up your interest in your passion and work, tap into freshers jobs in Mumbai and get hired by top companies. 
Building an Effective Professional Network
Networking plays a vital role in how to find a good job in today's job market. Cultivate and expand your professional network by attending industry events, joining relevant associations, and leveraging online platforms like LinkedIn. Engage with professionals in your desired field, seek advice, and explore potential mentorship opportunities. Your network can provide valuable insights, referrals, and access to hidden job opportunities that may not be advertised publicly.
Optimising Your Online Presence
Your online presence can significantly impact your job prospects in the digital age. Ensure your social media profiles are professional and free from potentially damaging content. Showcase your expertise by sharing industry-related content and engaging in relevant discussions online. Create a LinkedIn profile highlighting your skills, experiences, and achievements on how to get a job. Employers often review online profiles before hiring, so make a positive and consistent impression across all platforms.
Mastering the Art of Interviewing
Interviews can be nerve-wracking, but you can confidently approach them correctly. Research the company thoroughly, anticipate common interview questions, and develop concise and compelling responses. Practice your interview skills with mock interviews or through role-playing with a friend. Pay attention to your body language, maintain eye contact, and demonstrate enthusiasm and interest. Remember to prepare thoughtful questions for the interviewer, as it also shows your engagement and curiosity.
Showcasing Soft Skills
In addition to technical expertise, employers value soft skills such as communication, teamwork, problem-solving, and adaptability. Highlight these skills throughout the application process by providing examples of situations where you successfully demonstrated them. Employers seek candidates who can effectively collaborate with others, handle challenges, and navigate dynamic work environments.
Taking Advantage of Internships and Volunteer Opportunities
Internships and volunteer work offer valuable opportunities to gain practical experience, expand your network in getting a job and showcase your commitment to personal and professional growth. Seek internships or volunteer roles that align with your career goals and leverage them to enhance your skills, build your resume, and make meaningful connections in your industry.
Continuing Professional Development
Even after securing a job, investing in ongoing professional development is essential. Stay informed about industry trends, attend workshops or conferences, and seek additional certifications or advanced training opportunities to how to get good job. Continuously updating and expanding your skill set will keep you competitive and open doors to new career prospects.
Benefits of Improving Your Chances of Getting a Job
Expanded Job Opportunities
By improving your chances of getting a job, you broaden your access to a wider range of job opportunities. Companies are more likely to consider candidates with the desired skills, qualifications, and experiences. By enhancing your skills and staying up-to-date with industry trends, you become a stronger candidate for various roles, enabling you to choose from a larger pool of job options.
Higher Employability
Employers are constantly seeking candidates who exhibit a strong potential for success. By investing in your personal and professional growth, you enhance your employability and become a more attractive candidate in the eyes of employers. This can lead to increased job offers and the potential for higher salaries and better benefits packages.
Competitive Advantage
Improving your chances of getting a job gives you a competitive edge over other applicants. When employers receive many applications for a single position, they often look for candidates who stand out. By showcasing a robust skill set, relevant experiences, and a proactive approach to professional development, you differentiate yourself from other candidates, making it more likely for you to be selected for interviews and ultimately offered the freshers jobs.
Increased Confidence
Taking steps to enhance your employability naturally boosts your confidence levels. You gain a sense of competence and self-assurance as you acquire new skills, expand your knowledge, and engage in personal growth on how to get a job. This confidence radiates during interviews and networking events, making the best positive impression on potential employers and increasing your chances of success. 
Career Advancement
Improving your chances of getting a job is beneficial for securing a job and long-term career advancement. When you invest in your skills and continuously strive for self-improvement, you position yourself for future growth opportunities within your chosen field. Your enhanced qualifications and experiences make you a strong candidate for promotions, raises, and increased responsibilities.
Networking Opportunities
You must Build a strong professional network is crucial for career success. You increase your networking opportunities by improving your chances of getting a job. Engaging with professionals in your field, attending industry events, and seeking mentorship or internship opportunities expose you to individuals who can provide guidance, support, and potential job referrals. Your expanded network can unlock hidden job opportunities and open doors to new career prospects.
Personal Development
Improving your chances of getting a job goes hand in hand with personal development. You continuously grow as an individual by actively seeking opportunities to acquire new skills, knowledge, and experiences. This personal growth enhances your professional capabilities and enriches your overall life experience for how to get jobs. You become more adaptable, resilient, and better equipped to tackle future career challenges by challenging yourself and stepping out of your comfort zone.
Job Satisfaction
Securing a job aligning with your skills, interests, and aspirations increases job satisfaction. By improving your chances of getting a job, you increase the likelihood of finding a position that provides a fulfilling work environment, aligns with your values, and offers opportunities for growth and advancement. Job satisfaction is vital for long-term career happiness and overall well-being.
Most Companies encourage their freshers as well as experience in the learning process. If you wish, tap to TCS jobs for freshers for excellent learning.
Conclusion
Improving your chances of getting a job requires a proactive and strategic approach. By assessing your skills and interests, enhancing your skill set, crafting an impressive resume, building a strong professional network, optimising your online presence, mastering the art of interviewing, and showcasing your soft skills, you can be a standout candidate in a competitive job market. Improving your chances of getting a job with the right preparation tips includes expanded job opportunities, higher employability, a competitive advantage, increased confidence, potential for career advancement, networking opportunities, personal development, and overall job satisfaction. Investing in your personal and professional growth will equip you with the necessary tools and qualities to secure the desired job and thrive in your chosen career path.