When you apply for jobs and go on interviews, you may receive an email telling you that you didn't get the job. It can be enticing to read the message, move on, or delete it after you do so. But writing a good response is often a better choice because it gives you a chance to get feedback and learn how to improve for future interviews. This blog tells you how to answer an email for job rejection and why you may want to.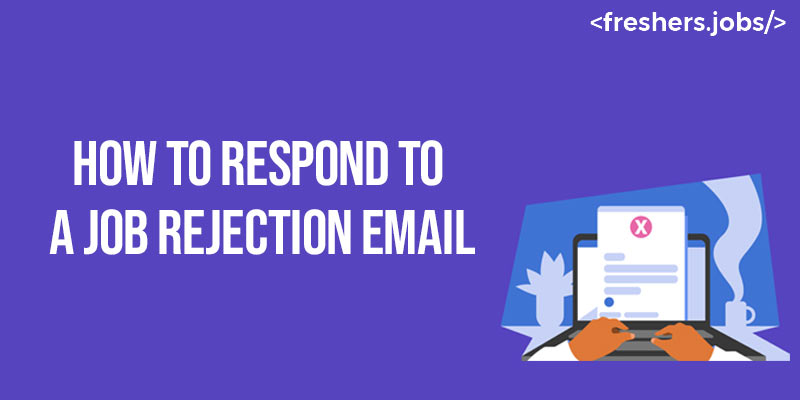 It can be disappointing to learn that you didn't get the job. It's tempting to delete a job rejection email from your inbox and continue after receiving one. In the long run, it is better for your career to respond thoughtfully to this rejection. You may also know why didn't I get an interview.
Why respond to a Rejection Email?
When they get a rejection email or message, many people ignore it and move on. They may think there's nothing to gain from talking more or just want to forget about it. But a response can help you find new ways to do things. Your interviewer with a recruiter is still a chance to network, even if it didn't lead to a job. A follow-up email could help you make a good impression on another professional. Most people just move on after getting turned down. If you answer, you will already be different. You may even get to know ways to follow up after an interview.
How to reply to a rejection email? You may get something in the future if you respond nicely and thank them for their time. For example, if they don't like the person they chose, they may very well look at other applications again, and yours will be one of the first ones they look at. If the candidate they accepted backs out for some reason or if a similar jobs alert opens up at the company, the same thing happens. If the way you react to being turned down makes them remember you, you may be the first person they call in the future.
How to include in a Rejection of a Job Offer in a Strong Way
Your response to a job rejection should be short and professional. You should say that you are disappointed you did not get the job, grateful for the chance, and glad to hear from them. Elements to include in your job reply rejection email include:
A formal greeting

One or two sentences to say thanks for their time.

A sentence or two about how sad you are that you didn't get the part.

A few sentences asking to be considered for opportunities in the future.

A professional sign-off and closing.
How to Reply to a Rejection Email
You can use the guidelines below to learn how to reply to a rejection email if you have got one, whether it was sent to you via email or letter:
Address the Individual by Name
Your reply to a rejection email should begin by addressing the recipient by name. This should either be the interviewer or the person who wrote the letter of rejection for you. By addressing them in person, as opposed to using a generic letter for several rejections, you show that you took the time to create a customized message.
Express Gratitude for their Time
The first thing you should do is express gratitude for the interviewer's or recruiter's time. Appreciate them for coming out to meet you. You can describe the interviewing process, such as whether it was done on the phone or in person. Additionally, you should express gratitude for their taking the time to inform you of their choice. Then you can discuss how you valued the chance to learn more about their business and how you loved getting to know certain people there. Only a few sentences should comprise the first part of your response.
For the latest job openings, you can check out freshers jobs in Hyderabad.
Express your Disappointment
You should express your gratitude for their time and express your disappointment at being turned away. This demonstrates your sincere interest in the job and the organization. Because the overall tone of your response must be favorable, this section of your letter should be as short as feasible. You may quickly acknowledge and responding to a rejection email that they had a lot of deserving candidates and wish them success in their selection.
Mention your Continued Interest
A statement like this must emphasize to the recruiting manager or recruiter that you are still interested in working for the organization. If you don't notify them, they may believe you have taken a job offer elsewhere. The recruiter is also much more likely to keep you in mind when a different position opens up if you express your interest in working for the organization once more. This is also advantageous for the business because it enables them to speak with a candidate who is sincere in their interest right away rather than having to find fresh ones. You must also know how to write a letter of interest for the jobs you are offered.
Request Feedback
There are further benefits to responding and the opportunity for new work prospects. The importance of feedback is one of these. If you want some feedback on how your interview went and where you may improve, ask your interviewer if they would be prepared to provide it. This is typically more prevalent and understandable if you are still starting your job offering high freshers salary, such as a fresh graduate. It might be best to refrain from asking for this if you are an accomplished professional. The same holds if they already provided you with information about the reasons you were turned down.
Always be respectful when requesting feedback because it is still a good one for email for job rejection. If it takes too much time, be as understanding as you can and say you understand. Keep in mind that they might not have accepted you based solely on how you performed during the interview. To mail the HR, you must know how to write an email to the hiring manager.
Politely End the Letter
You can thank them once more for reading your response after you have explained everything above. If you think it's important, you may also state again how interested you remain in working for the organization. End the letter with a suitable salutation, like "Yours sincerely," and then sign off. You might also use "Best regards" if the interview and corporate culture are more laid back. At the conclusion, include your name and any pertinent contact information.
Check your Letter for Errors
How to reply to a rejection email? A rejection response letter provides a chance to leave a lasting impression. Therefore, it is important to check that it's well-written and error-free. Spend some time proofreading your letter to catch any grammatical or spelling issues. Make an effort to avoid repetition in your letter, and use acceptable and polite language. If you think it would be beneficial, have a friend or relative read the response. They may provide suggestions for how you make it better. Reread your response and make any necessary corrections and preparation tips to make sure it is:
Relevant: You should write your response for the rejection and position in question. Mentioning the job you were applying for, the interviewer or recipient's name and the company itself falls under this category.
Concise: In your response letter, be as succinct as you can while making sure that the reader understands your message and intentions. Be respectful in your language to reply rejection email.
Professional: Your reply should be formal, as you might still be interested in working for the company. You must demonstrate your understanding of and respect for their choice.
Polite: This is important for your general response, especially when you solicit comments. Your interviewer would have to put in time and effort to do this, and they need to know that you would be appreciative and sympathetic. You can learn how to write a professional email.
Conclusion
I Hope you are clear from the blog on how to respond to a job rejection email. Responding to an email that you didn't get the job is your best chance to find out what a professional thinks of your interview skills and what you can do to improve. Follow the right appropriate structured format to end up with the job rejection email. Follow these tips from freshers jobs to respond to an email for job rejection.