A letter of Interest is a good option for replying to a job advertisement. Applying for a job in response to a job advertisement can result in intense competition, with your CV receiving only a small part of the recruiter's attention and knowing why are you interested in this job. Suppose you have a dream job in mind for a specific company but need to find a good position published. You may still stand out as an excellent employee by sending a letter to inquire about future job openings.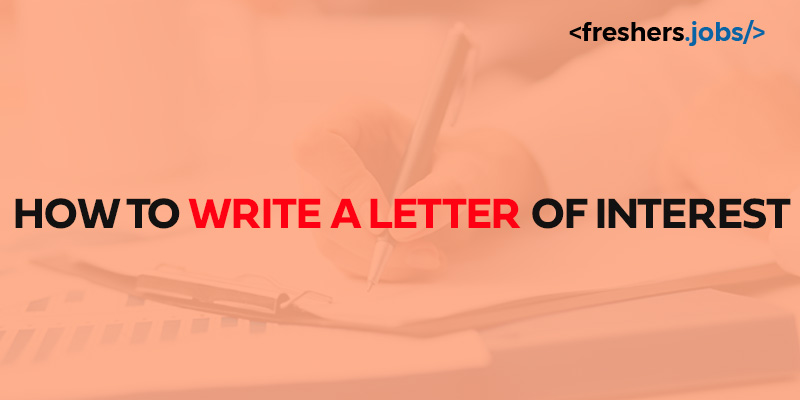 This blog will explain an expression of interest letter and how to draft one that will help you acquire a job even if there are no announced job openings.
Very first, let us know what is Letter of Interest?
A letter of Interest is one way to introduce yourself to a possible employer. You can use it when you want to work for an organisation, but an official jobs alert has yet to be posted. This proactive approach can show the potential employer that you have valuable skills and could put you at the top of a list of candidates when a job opens up. Writing a solid expression of interest letter can also help a company or recruiter find a need in the workplace they had not thought of before. This could lead them to create a job just for you to help them meet this need.
The content of an expression of interest letter is a mix of a cover letter and a pitch. Sending this letter can make a good impression on a recruiter, especially in a field that values good communication skills.
Related: How to Write a Cover Letter.
How to put together an interesting letter
As with most official business correspondence, especially letters introducing you to a new employer, it's essential to keep a standard business document format by putting the employer's name, title, and organisation first, then your name and contact information. Besides the format, here are some of the other steps where you can take to write a good letter of interest.
Find out about the business and the person you're talking to
Getting a job offer often has less to do with your technical skills or stories of past success and more with how your values, vision, and role. Many companies believe that you should train for skills but hire for attitude. Showing your values are similar to those of your future recruiter can help a recruiter be more interested in you. Here are some ways you can find out more about a possible employer:
Company and worker profiles on social media.

Official statements and press releases with a social media presence.

How former employees talk about the company in public forums.

 Feedback from current and former employees in your network.
Try to find out more about the person reading your letter than just the company. If you can use their name and talk about a project they worked on, it shows that you did your research well and that you care about your approach. If you want to join a company's team, getting to know the people there is a good idea as expression of interest.
Related: Look out for Freshers jobs in Bangalore  for your dream job.
Give us your contact information
Make a header with your contact information, and make sure to place it at the top of your letter. Among these particulars your name, present phone number, and email address. You can also provide your city, state, or territory to show that you are a local candidate. By including this information at the beginning of your letter, you make it simple for the reader to get in touch with you for additional discussions.
Greet the receiver
You can always try to get in touch with a particular individual at the organisation of Interest and address your letter to them to give it a more personal touch as letter of interest. Look for people who can make hiring decisions, such as a manager or department director where you wish to work. To help locate recruiting managers names and contact details, you might look through company websites or social media profiles. Ask your friends and relatives, or members of your professional network, whether they have any contacts at the company or know who to contact.
Introduce yourself
Introduce yourself and also the reason in the first paragraph. By emphasising your excitement for the company and available job prospects, draw the reader in. Include detailed information about the business that stimulates your curiosity, such as recent news, goods, or its purpose and core values. These facts demonstrate that you have done your homework and are knowledgeable about the business and its products.
Related: How to introduce yourself in the job interview.
You might additionally emphasise the kind of position you are looking for and why you are interested in this job. You might state that you are looking into possible job openings within a specific department since this is a letter of Interest. Ask their permission before mentioning anyone you know who works for the company or department in the letter. This person can talk about your qualifications and also serve as a reference for you if the recruiting manager contacts them.
Describe your essential experience
To demonstrate why you are a desirable potential employee, you might highlight your abilities and experiences in the paragraph. To learn about the company's beliefs and the qualities and skills it looks for in candidates, look at its website or similar job advertisements. Instead of going into depth about your career, concentrate on one or two of your most relevant experiences or skills.
Instead of focusing on what you want from the recruiter, emphasise what you can do for them. Highlight accomplishments or successful outcomes from previous employment wherever possible. These specifics make you stand out, and quantifiable achievements can demonstrate the value you bring to the notice as an employee. You could, for instance, cite a significant project you oversaw at your previous position.
Conclude by making a good impression
In your concluding paragraph, you might restate your desire to work for the company and your most relevant credentials. For instance, you may discuss how specific abilities or experiences would make you a valuable addition to their team or aid the department in achieving its objectives as expression of interest. A resume that you provided to the email, a link to your website, or a sample of your online work are all further examples of pertinent information that you can mention. These documents may give the receiver more details about your credentials.
Recipients should always be thanked for their patience and consideration. This declaration demonstrates your regard and admiration for the person and helps to establish your professionalism. You may end your letter with a call to action that urges the reader to follow specific instructions. Instead of presenting this as a demand, format it as a request. For example, you might say that you would like to call them to discuss job opportunities on their team.
Guidelines for writing an interesting letter
Use the following guidance to create a letter of Interest that grabs hiring managers attention:
Do some research on the company: To learn more about the company's operations and ideals, look into its mission statements, websites, press releases, and social media profiles. You can establish a more personal connection and demonstrate your sincere Interest in working there by including these details.
Utilise your network of professionals. Your connections may be able to provide information on unlisted job opportunities. If you know someone who works there, they may also be able to advise you on how to create a good impression on the recruiter and give comments on your cover letter.
Keep it brief: A letter less than a page long keeps the reader interested and demonstrates respect for their time. Additionally, you can limit the content of your letter to just the most essential details by using straightforward language.
Check your letter for errors: It demonstrates your professionalism and attention to detail to proofread your letter to ensure there are no errors. Try reading aloud if you want to check that the text is clear and flows appropriately.
Read : Freshers apply for freshers jobs in Chennai for getting a higher freshers salary in recent jobs.
Conclusion
I hope you know how to write a letter of Interest. Your dream organisation can be waiting for you in the form of an interesting letter. However, you are not required to wait until they announce a freshers jobs position and let them know why are you interested in this job. Send a letter of Interest for the work you desire as soon as possible. Inform them of your availability and your qualifications.
Prepare your resume while waiting. Your letter of Interest may lead to an informative interview if the recruiting manager likes what they read there. You must enter with a resume that is thoroughly polished and looks professional.