Most People often think of not following up after an interview. Following a job interview is a great way to stand out to possible recruiters. Keeping in touch with the hiring manager and how to ask for interview result after your interview can help you show that you are still interested in the job and keep your name in the hiring manager's mind.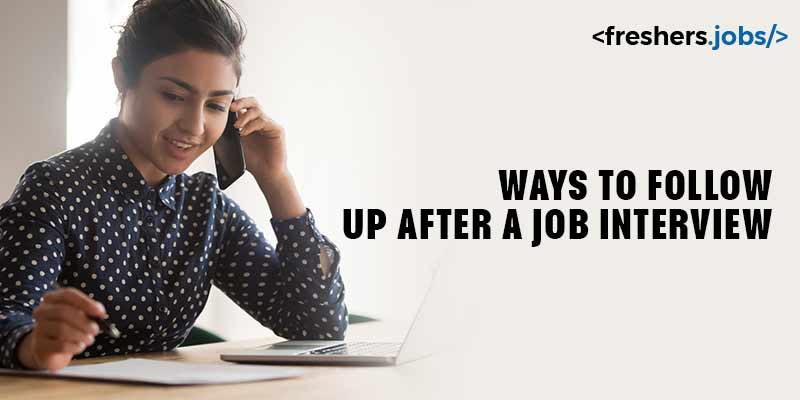 If you have finished the job interview and you think it went well. You were confident about the success, sure of yourself, and excited about your chance. But as the days pass and you don't hear from anyone or get a job offer, you start to worry. Did things go the way you thought? Did you say something wrong? Instead of worrying, take some time to think about the interview.
Why is interview follow-up necessary?
Failing to follow up after an interview and get feedback of interview is a mistake that many job seekers make. Why is this step so critical? Reaching out post-interview gives you another chance to reinforce why a company should hire you. Read the Interview Tips For Freshers and It's an opportunity to:
Remind them you are a true professional.

Show that you're enthusiastic about the job.

Make sure you are remembered by the recruiter.
All these things can help set you apart from other candidates competing for the same position. The preparation tips below can help you be strategic in your follow up after interview and improve your odds of landing on the shortlist of candidates.
What to Do After an Interview?
Here are some excellent ways to keep in touch with someone after an interview.
Mail to Follow Up
People think a follow-up email is the most professional way to talk to someone.

If possible, a follow-up email should be sent to the company HR about a week after the interview.
Few points to remember when writing a follow-up email after an interview.
Be exact
A

follow up email for job applications

should have at least two or three lines after an interview. When writing a follow-up email, be clear and to the point.

Always Mention the date of your interview and the job for which you were interviewed, and ask what the next step is.

Try not to write long, vague sentences.

Reply in the same email thread that they sent you.

This will make it easier for the interviewer to remember what you said while reading the previous email thread.
Check Grammar/Spelling Errors
Since a follow-up email is an official way to talk to someone, check it for mistakes before sending it.

You can always look for if there are any spelling or grammar mistakes. Any of these mistakes can make an interviewer think less of you.
Start by saying, "Thank you."
Thank the interviewer at the beginning of a

interview follow up

.

In one short sentence, thank the person who interviewed you for their time and for letting you interview for this job.
Interview Follow-up by Phone
One of the most common ways to keep in touch after an interview is to call to find out what happened. Most people find that calling to follow up on a job interview is more accessible and takes less time. If possible, this should be done between one and two weeks after your interview. But most job seekers don't know what to say when they call after an interview to follow up. Read the article Effective Ways To Enhance Verbal Communication and communicate well to your recruiter.
Be polite & soft-spoken.

Be precise & on point.

Don't act like you're in a hurry or push for results immediately.

Request for a time frame.

If you get rejected, don't get too upset.

Ask for comments on your interview.

At the end of the conversation, be thankful.
Person-to-person
Job seekers don't usually choose to drop by the office to find out how their interview went.

But some job hunters find it easier and more comforting.

When you try to find out the result of your interview in person, make sure you know the name of the hiring manager in charge, the date of your interview, and the job you were interviewing for.

The hiring managers think that meeting in person is an excellent way to

how to ask for interview result

.

However, most hiring managers believe sending follow-up mail is the best way to do so.

Having all these in mind, it is up to you to choose the best way to get in touch with a recruiting manager after an interview.
Send the HR Manager an email
The best way to follow up is to email the company. It's great that you send the HR manager a formal email. Give the company two weeks so the manager can discuss the hiring process and share some helpful information. Most recruiters say this is the best way to follow up on your application. Here's an easy way to send an email to a recruiter after you have applied for a jobs alert.
Use your contacts
Try looking through your business contacts to see if you know anyone at the company where you have applied.

This can be the best way to find out what is happening with your job and know the

feedback of interview

.

You should tell them about the job whether you know someone who works at the company or someone in your social circle.

It all depends on familiar you know that person.

You may also be able to ask for a recommendation to help your chances of getting a

freshers jobs.

You can also tell the connection about your work, such as your skills, qualifications, work history, etc., and offer to help in the future.
Use social media to keep in touch
Social media is an excellent way for anyone to connect with anyone else.

You can get in touch with the company through several social media sites.

You could, for example, use LinkedIn to get in touch with the HR manager or even the recruiter.

You can see it on the company's Facebook page or the recruiter's Twitter account.

You often find out a lot about a company's social media pages.

Many companies put press releases on their social media pages so that you can find out

follow up after interview

.

But be smart about how you choose to talk because how you speak can affect your job.
Keep looking for work while you wait
In the meantime, don't give up and keep looking for a job as there are many

Easy Ways To Get A Job As A Fresher

.

Even if you think you are perfect for the job you are applying for, you should still apply for other jobs in case you don't get the one you want.

Even if you have a great resume and are qualified, it doesn't mean you'll get your dream job. You can read and know

What is your dream job

?

But what if you don't hear back from your recruiter after following up? You must do what you must to avoid being unemployed for a long time. To do this, you need to start your job search in the right place.
Conclusion
I hope you are clear from the Blog about different approaches on how to ask for interview result. While you wait for a reply, you can look into other opportunities that might be a good fit for your skills. Having inculcated these tips can impress the recruiter, and always following up in a good manner can get you to greater heights after joining any organisation.