HSBC is one of the world's banking and financial services companies in the globe. Through our three global businesses, Wealth and Personal Banking, Commercial Banking, and Global Banking & Markets, we provide services to about 40 million clients worldwide. HSBC careers provide various options for college students and recent graduates, including entry-level jobs, international internships, graduate programmes, work experience and apprenticeships.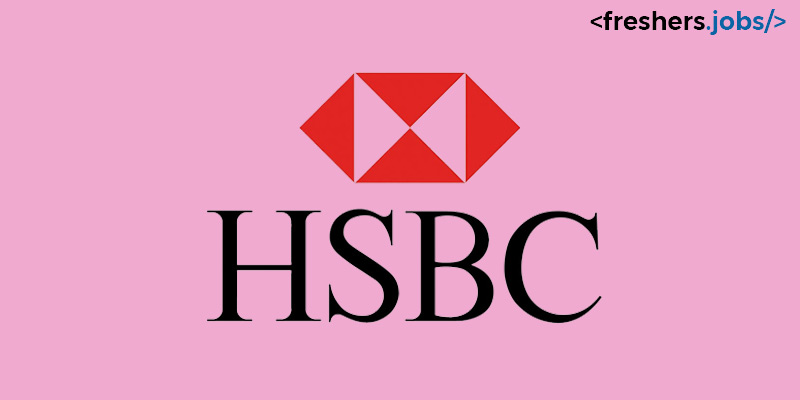 To identify and develop your strengths and areas of interest and create a fulfilling career with the right career planning, investigate various roles and departments in multiple markets of HSBC. They will give you the resources, assistance, and instruction you need to succeed. You will have many chances to learn on the job, accumulate experience, and discover the right profession.
Why do freshers choose HSBC Careers?
HSBC encourages adaptability, cooperation, learning, and wellness because they want everyone to perform at their highest level.
To find better methods to solve problems and improve our customer's experience, we encourage curiosity and creativity.
We need ambitious individuals who want to learn, develop, and innovate to build a better common future at HSBC jobs.
HSBC graduate opportunities are a fantastic way to begin a prosperous career at HSBC because they offer on the job training, learning, early responsibility, and extensive networking.
The goal at HSBC is to create a world of opportunity. This involves embracing diversity and creating a culture where everyone is accepted, appreciated, and included.
They support coworkers becoming active allies and speaking up if they have concerns because everyone should be able to be themselves at work.
They collaborate with our international employee networks to foster a community where everyone feels welcomed and supported.
Looking for a full-time position? Explore the many job opportunities at HSBC recruitment. We provide a variety of possibilities for college students and recent graduates, including entry-level jobs, international internships, graduate programmes, and work experience and apprenticeships.
A minimum cumulative grade point average of 55 per cent is required for applicants to HSBC Bank jobs in any field, including bachelor's degrees in engineering, science, business administration, bachelor's degrees in commerce, and master's degrees in computer applications.
Officer posts will be considered for those who meet these requirements and complete all four screening procedures.
Since mathematics, Marketing is an essential subject of all banking, candidates for the HSBC Bank must be very bright in this field.
You only need to be knowledgeable about sales, marketing, and customer service.
All freshers who apply for jobs at HSBC Bank require these core skills. To enhance, you must have the essential skills required for career advancement.
How to apply for HSBC Jobs?
Online applications are always available on the HSBC Bank website. Candidates who have read and understand the job notification are eligible to apply for HSBC careers for freshers. Below is a detailed explanation of the HSBC Bank application process to apply online.
You can check HSBC bank's official website if you're a fresher.
A screen with links to HSBC Bank vacancies and job alerts will appear. 
You can read the entire document by downloading the recruiting announcement that contains the clauses.
Include all information required on the application form, such as the applicant's name, age, educational background, mobile number, etc.
Your application should be attached with documents like marks reports and other documents.
Before clicking the Submit button, confirm the details of your entry once again.
Take the printout for further reference.
The necessary skills for HSBC Bank Jobs
Working in a bank won't require a lot of IT experience for HSBC vacancies.
Yes, Knowing how the System functions are also beneficial.
For freshers, specific financial-related skills, including accounting, finance, marketing, and sales, are also required for HSBC jobs.
Freshers can sign up at any time for Tally classes, accounting classes, statistics classes, CA courses, etc.
Since you will be working and interacting with clients, communication is the most crucial skill.
Dealing with consumers will require patience and good communication abilities.
The candidate must also have good analytical and thinking capacities.
Important Documents to Carry
Bring all required documents and mark sheets to interviews on hand.
A recently updated resume.
Identity documents such as Aadhar cards, passports, and other identification documents with the most recent passport-size photo in HSBC Openings.
Designation Offered in HSBC
Full Stack Engineering – Digital Business Services
The Full Stack Engineer infrastructure upgrades for brand-new data centre construction.
Automated installations and recurrent network function testing.
Administer, keep up with, and troubleshoot various infrastructure technologies.
Control hardware inventory, firmware compliance, and security rules.
When installing or maintaining a gadget, collaborate with vendors and distant workers.
Join forces with software development teams to create and improve solutions.
Create, update, and review operating procedures and design blueprints.
Collaborate across departments to design and carry out initiatives.
Provide operational assistance and handle incidents.
Assistant Strategy Planning Manager
Assist strategy managers in HSBC jobs for freshers developing and putting into practice strategic planning, including tasks involving project management, growth initiatives, cross-functional teamwork, and external partnerships.
Assist in advancing various strategic initiatives, monitoring implementation status and KPI performance, with a clear grasp of the company's strategic direction and a comprehensive implementation strategy.
To find expansion prospects, do market research, keep an eye on emerging trends, and routinely evaluate the performance of HSIL's significant rivals.
Proactively drive the delivery of end-to-end strategic projects by collaborating closely with internal stakeholders or project workgroups.
Deliver quality management reports, slides for presentations, spreadsheets in Excel, and other tasks as directed by your supervisor.
Support the activities of the relevant project workgroups and other governing or strategic Committees.
As freshers recently graduated, you can look for freshers jobs in Hyderabad.
Middle Office Analyst
The Middle Office Analyst in HSBC careers. When needed, assist Trading and Sales with transaction bookings and amendments. Manage FX Options lifecycle events, such as exercises, expirations, fixes, and barriers.
Track and correct differences in cross-entity and intersystem reconciliation
Work with internal stakeholders, such as the Front Office employees, IT, and Operations, to coordinate the resolution of exceptions.
Evaluate and confirm that all necessary daily operations tasks have been carried out.
Communicate with internal (and external clients if necessary) clients using the professional phone and email manners to deliver exceptional customer service.
Ensures that new business goals and IT projects are implemented smoothly and on schedule.
HSBC and regulatory standards, policies, and procedures are rigorously followed, and operational risk and compliance controls are strictly followed. Control deficiencies, regulatory violations, and operational loss events are reported.
Assistant Manager Branch Operations
The Assistant Manager Branch Operations in HSBC jobs. Ensure that transactions processed at the Investor Service Center are reported accurately and on time.
Effectively manage customer interactions to ensure prompt resolution
excel in investor services with a focus on corporate clients and distribution services
Maintain close communication with service providers and promptly address any inconsistencies or gaps to their attention.
Investigate and implement suggestions for improving efficiency and helping to satisfy customers.
Comply with any regulations that may be relevant to the qualifications needed for the job description
.Participate in the customer service team's knowledge management project.
Participation in preparation for recruitments, emergencies, and leave
Ensure the monthly reporting process complies with the process manual and FIM Excel.
Consultant Business Analyst
The Consultant Business Analyst in HSBC careers Performing a thorough technical study of projects, revisions, and production implementations.
Understanding the project requirements and working on technical delivery involves strong collaboration with the PM and stakeholders.
Ensuring that projects are delivered into the live system following all pertinent internal policies and external regulatory standards and that they fulfil the agreed-upon quality objectives.
Ensuring that any problems or hazards that emerge during testing are appropriately addressed and escalated as necessary.
Take part in weekend release events.
For the production release, create a change request.
Should be able to handle many tasks, such as testing and development.
Interview Process in HSBC
The hiring process at HSBC jobs for freshers typically consists of three rounds. Your banking industry knowledge will be evaluated on the first-round written exam you take up. Your interpersonal and communication abilities will be assessed during the second group discussion. Give a detailed description of each round.
Written Exam
Aptitude will be tested in the written exam for entry-level posts at HSBC careers.
Multiple-choice questions with optional questions will be asked in the tests.
The majority of the part from which the questions will be derived are those on general English, comprehensive reasoning, problem-solving, mathematics, and other science-related themes.
The mathematics elements will receive more attention.
Group Discussion Round
The group discussion is part of the process where the candidates are divided into small groups of eight or more.
Sometimes the candidates are given the option of selecting a general or current-events-related topic for the discussion.
The applicants are allowed to speak about the topics during a debate.
This particular activity aims to determine how confident you are, how good a communicator you are, and how up-to-date you are.
Discussions of the topic's advantages and disadvantages are encouraged. Know the tips for Group Discussion.
Personal Interview
The candidates who have made it through the first two stages of the HSBC recruitment process for freshers jobs are chosen for the final phase, the personal interview round.
The recruiter may ask about your educational background, general subject-related issues, or personal queries.
To end the hiring process, speak out in this round with confidence.
Training and Development in HSBC
HSBC University
We offer our employees the chance to train, upskill, and get credentials in the best manner for them. In the United Arab Emirates, Mexico, and the United Kingdom, we provide on-site HSBC University training, online courses, and volunteer opportunities. They ensure everyone has the skills required for today's and tomorrow's occupations.
Developing community skills
We are devoted to assisting individuals inside our communities and those outside them. Our collaborations with corporations, non-profit organisations, and governments assist in developing skills and working for a more equitable society. By donating their time and expertise, coworkers are playing a crucial part.
Training Program
The human resource at HSBC careersis seen and valued as a key source of competitive advantage. 
As a result, the development and management of human resources is a fundamental element of their strategy and a crucial managerial function.
Due to the rapidly changing business climate in the banking industry and the continual issues it poses to enterprises and businesses, it is crucial to continuously upgrade and develop knowledge and skill sets across the organisation. 
According to HSBC Bank, creating a learning organisation is crucial for maintaining product and service competitiveness, as well as for meeting consumer demands and achieving customer happiness.
The Bank has significantly invested in training and development to build competence in various fields. 
To give training on products and operations, internet-based training modules are used. 
Specialised training programmes on functional training and leadership development are held at a dedicated training facility to boost knowledge and management skills. Learn the top qualities to become a leader.
Training and development are crucial to the expansion and development of the organisation, according to the HSBC openings.
Work Culture at HSBC
The HSBC jobsfor new hires is the most well-known job opportunity in HSBC.
It helps you develop your authority abilities by giving you a variety of tasks in different profiles.
You can swiftly move into an administrative position by demonstrating your work.
A creative, positive work atmosphere inspires employees to think beyond the box, enhancing their skills and providing new hires with competitive salaries.
You can continue to absorb new, practical information while working, keeping your energy and motivation high.
The organisation comprises a group of innovators and trainers who take pleasure in their work and have your best interests in mind.
Senior-level employees with extensive expertise who have worked for the Bank for a long time are always accessible to interact with junior employees.
At HSBC jobs for freshers, Employees receive cards for their health, medical, and life insurance policies.
The HSBC is responsible for paying the fuel allowance and other reimbursements.
The employees are given benefits after retirement.
Benefits for employees include travel and hotel expenses for families.
The HSBC Bank salary for freshers is excellent. The starting Consultant Business Analyst is a 4 LPA, and the Assistant Strategy Planning Manager is around 4.5 LPA.