HSBC is one of the top global financial companies. They aim to provide customers with new avenues for change by utilising our unique knowledge, abilities, breadth, and perspectives. They bring together the people, ideas, and resources that foster development and growth, assisting in the creation of a better world for clients, employees, investors, communities, and the place we all share.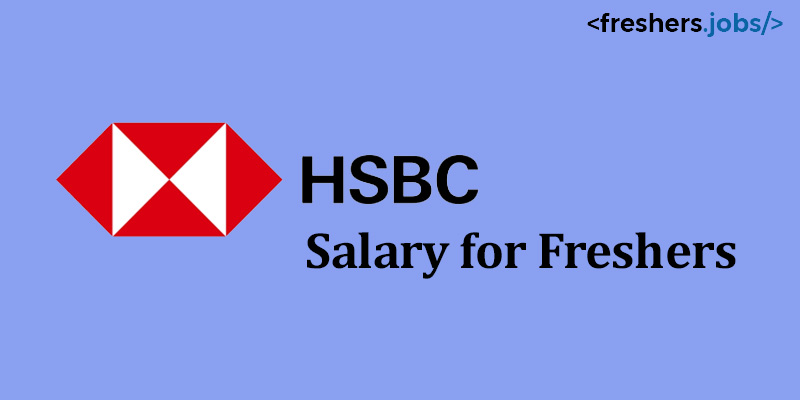 One of the first companies that come to mind when you think of banking is HSBC, with a high HSBC salary. People all over the globe are familiar with this name, and they also have complete faith in it. We provide numerous job opportunities to realise your goals, whether you are searching for your first job or moving forward in your career. Joining the HSBC team will allow you to network internationally and contribute to developing the bank's future.
To identify and develop your strengths and areas of interest and create a fulfilling career with the proper career planning, investigate various roles and departments in multiple markets of HSBC.
Why do freshers choose HSBC Jobs?
The amount of experience you will gain from working for a business like HSBC cannot be described in words alone.

For those who don't know, HSBC is a company that operates successfully in about 80 different nations and has over 6600 offices worldwide.

HSBC is the best and most wonderful place to work because you will be supervised by individuals who will mentor you at every step and lead you down the right path.

It is the best business to work for simply because your work ethic and style will completely change after receiving your training and direction to earn a high

HSBC salary for freshers

.

One of the first considerations for individuals looking for work in any organisation is the

freshers salary

they will be paid.

The coworkers you will find here are unique, so HSBC is the best workplace location.

Given that the

positive workplace environment

at HSBC is so good and productive, it is the best location to work.

They follow through on every commitment they make. The employees can take advantage of their flexible work choices in certain situations.

HSBC is the best location to work because it is one of the few organisations that actively promotes a healthy

work-life balance

for its employees.
Job Domains in HSBC
HSBC Jobs are available in wealth, and personal banking, business and investment banking, trade finance, cash management, capital markets, asset management, and safekeeping and securities services are included. For those interested in assisting businesses in succeeding, they give a variety of roles that pay a splendid HSBC freshers salary. We seek individuals with a global perspective eager to establish long-lasting connections.
The first stage for most HSBC jobs is to apply. An HSBC recruitment team member will contact you immediately if we move your application to the next stage.
If you have applied for a position on one of our graduate or internship programmes, you could use the dropdown menu below to locate the team's contact information. These addresses are only for handling application and selection-related questions.
Job Roles in HSBC
Consultant Specialist, Software Engineer, Business Analyst, Assistant Manager, Digital Product Manager, Structured Banking Support Manager, Audit Manager, Sales Manager, Transaction Manager, Digital Analyst, Business Objects Developer, Control Manager, Full Stack Developer, System Administrator, Digital Analysis Manager, Assistant Strategy Planning Manager, Middle Office Analyst, Assistant Manager Branch Operations, Consultant Business Analyst, UI UX Designer, IT Audit Manager are some of the freshers jobs roles offered in HSBC Bank with a high HSBC salary structure.
We shall discuss some roles and responsibilities in HSBC Bank jobs.
Banking support Manager
The Banking Support Manager Details the examination of the market, sector, industry, and prior transactions to support the deal(s) being pursued.

Create strong credit structures to secure and safeguard the bank while satisfying customer requirements. Determine and reinforce vulnerable points.

by creating thorough pre-customer meeting notes and compiling/analysing financial and non-financial data

Work closely with product partners, relationship managers, international coworkers, and other Global Businesses to provide each assigned customer with the most value possible from HSBC goods and services.

Respect all relevant internal controls, risk, KYCC, compliance policies, and all statutory and other legal requirements.

Determine opportunities for cross-selling group goods and services and sustainable revenue streams from current relationships, and provide team members with appropriate advice.
Digital Analyst
The Digital Analyst earns a high

HSBC package for freshers

and Facilitates data integration for sound decision-making by collaborating closely with internal and cross-disciplinary project teams and partners.

Deliver innovative analytics tools and solutions for initiatives and goals, and enhance the digital analytics process while staying within budgetary constraints.

Implement a digital framework for data exploration and exploratory analysis to improve decision-making processes.

Develop a strategy for measuring and holding people accountable for maintaining data integrity in collaboration with the data architecture team.

Establish procedures and methodologies for data collection and interpretation, and design and execute digital analytics systems.

Work closely with clients and the corresponding team members from different organizational disciplines to optimize and coordinate campaign strategies.
UI UX Designer
The

UI UX

Designer is paid a high

HSBC salary

, and they collaborate with product managers and engineers, collecting and assessing customer requirements.

Using storyboards, process sequences, and sitemaps, illustrate design concepts.

Create visual user interfaces components such as menus, windows, and widgets.

Create search and page navigation icons.

Create UI mockups and prototypes that plainly show how websites work and appear.

Create original graphic drawings (e.g. images, sketches and tables).

Drafts should be prepared and presented to internal teams and essential partners.

Determine and address Usability issues (e.g. responsiveness).

Based on user feedback, make layout changes. Adhere to style guidelines for fonts, colours, and images.
The Interview Process at HSBC
HSBC perform interviews to evaluate your general abilities, motivation for applying, and fit with HSBC's values. Additionally, this is your chance to let the HR manager let them know how eager you are to work for HSBC. If you do well in the interview, they will contact you, let you know what comes next, and about the HSBC salary for freshers.
To interview applicants, HSBC employs various techniques, including video interviewing tools, telephone interviews, and in-person interviews. No matter how the interview is conducted, you will be questioned about particular instances in which you have displayed a specific talent. It's essential to consider your talents, be aware of them, and be ready to provide occasions where you have used the required skills. You can know the different types of interviews conducted.
As a technology collaborator, HSBC has partnered with Modern Hire, a provider of on-demand video interviews. For some jobs, on-demand video interviews are used instead of phone conversations.
On-Demand, interviews have pre-set questions that you can respond to via video rather than over the phone or in person, and the interviewer doesn't have to hear your answers in real-time. You can perform the interview whenever it is most convenient for you.
Application Process in HSBC
The application processes and the HSBC freshers salary at HSBC differ depending on the position you are looking for and the location you want to work. The application can be made online application or offline mode. The application depends on whether you are applying for a general role or a student and graduate role. They will usually include the steps listed below.
General Application Details
Applicants for positions at HSBC typically go through several stages, from submitting their resumes and passing online tests to participating in phone and in-person interviews.
We strive to create a diverse workplace where employees can reach their best potential to earn a high HSBC salary for freshers. Please let us know if our hiring procedure needs to be adjusted for you.
HSBC Salary for Freshers
The HSBC salary for freshers Consultant specialists is 5 LPA.

HSBC's salary for UI UX Designer is 4 LPA.

The HSBC fresher salary for a Digital Analyst is approximately 5 LPA.

The Business Objects Developer in HSBC freshers salary is around 3 LPA.

The salary of a

Business Operations Analyst

in HSBC is about 4.8 LPA.

The HSBC salary for a Middle Office Analyst is 3.5 LPA.

The salary of an

IT

Audit Manager in HSBC is 4 LPA.

The HSBC fresher salary for a Full Stack Developer is 4 LPA.
Conclusion
Working for a phenomenal organisation like HSBC is a once-in-a-lifetime opportunity. HSBC has provided several updated job profiles to help you become an expert. At HSBC, you'll have plenty of chances to put your natural skills to use and pursue your passions with the right preparation tips. Start applying immediately for HSBC jobs and benefit from an excellent HSBC salary for freshers. Overall, HSBC is a wonderful place to start your career if you're searching for a well-paying job with amazing benefits.