NTA supports IIFT in order to give admission to the MBA IB programmes offered by IIFT Delhi, Kolkata, and Kakinada. Candidates must make sure they go through the appropriate books and materials in order to adequately get ready for the IIFT preparation because IIFT is one of the country's most difficult management exams.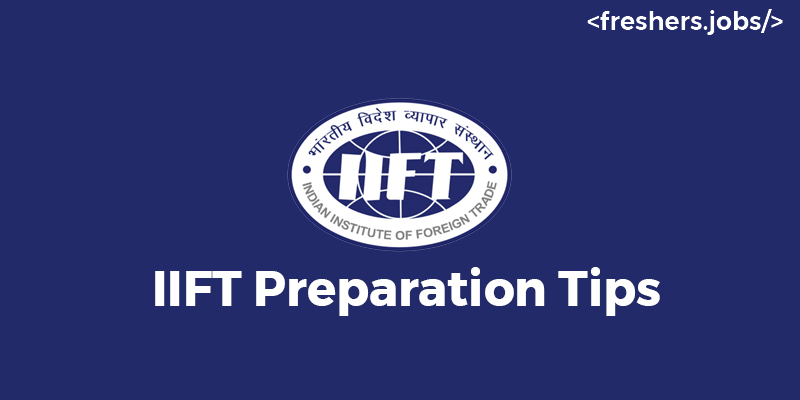 Eligibility Criteria or IIFT
The detailed IIFT eligibility requirements for national candidates are listed below.
Academic qualifications
The applicant must hold a Bachelor's degree from a recognised university with a minimum three-year duration in any discipline and an overall grade point average of at least 50%.
Plan for IIFT  Preparation: Five-Month Study Schedule
It usually takes 4-5 months to prepare for the IIFT exam adequately.

To prepare within the allotted time, a wise and careful plan must be followed for

IIFT exam preparation

. 
IIFT First Two Months of Preparation Plan
Start by completing a practice test or exam from a prior year to set your level of readiness.

Gather all the necessary reading material, including print and internet publications.

Look over the full syllabus and note your areas of strength and weakness for each section.

Before going on to the next phase, start with one component and finish all the fundamental ideas within 12 to 15 days.

Throughout the allotted time, answer at least 150 of the questions in each area.

After you have clarified your understanding, try taking a practice test. Once you have finished, evaluate your performance and indicate the subjects that require more work.

The candidates can find enormous

job opportunities

from

freshers jobs in Bangalore

.
IIFT's 2-month preparation schedule
How to crack IIFT

? Every week, take a few mock tests and evaluate your performance. 

To enhance your time management abilities, correct your errors and retake the exam.
Plan for IIFT preparation for the previous month
Keep your attention on simply solving IIFT practice exams and papers.

Every week, complete two to three complete mock tests, evaluate your performance and note your progress.

To work effectively on time you must know

time management techniques to work efficiently

.
General Preparation Advice for IIFT
Candidates are encouraged to adhere to the

IIFT exam stratergy

preparation tips

provided below.

It is always advised to use a timer to answer problems rather than a calculator.

Consult the few available books and materials to get ready. Don't overload yourself with irrelevant information.

List your strong and weak points. It is crucial to focus on bolstering the weak areas during the initial stage of preparations.

Try as many Mock Tests and practice exams as you can to obtain a sense of the exam format and level of difficulty.

Every day, try to answer questions from each section to solidify your understanding.
IIFT Tips for Quantitative Ability Preparation
Here are some IIFT preparation tips and  suggestions for the IIFT Quantitative Ability exam:
Cover all fundamentals
Only candidates whose fundamentals are completely understood will be able to perform well on the IIFT Quant. Important subjects like arithmetic, algebra, and geometry demand a lot of fundamental understanding, which every candidate must possess totally without a doubt. otherwise, they will commit numerous errors on the actual exam, which will result in a low grade.
Breakdown Subjects
There are three levels of difficulty for the IIFT's quantitative curriculum. Start with the issues you find the most difficult after you have broken them down, then go on to the moderate and easy themes as IIFT preparation strategy. You won't feel anxious while the exam is approaching if you do this. With the right preparation, you can land into to get a complete guide on how to get a bank job.
Apply what you have learned
After studying a new quant topic, practise with the problems from that topic. If you are having trouble with a problem, hunt up a similar worked-out example and try to use it.
Online education
Online groups from platforms like Telegram, WhatsApp, and Facebook are pretty useful for information sharing and staying up to date on the most recent news. Videos from YouTube are also a huge value.
Learn all the important formulas by heart
Numerous important formulas exist, including those in trigonometry, algebra, area, perimeter, etc. In order to prevent confusion and errors, it is crucial to carefully review all the critical formulas and the associated indicators for IIFT preparation. One effective method for memorising information fast is to write down all the formulas and post them on a wall that you pass by or look at frequently.
Learn the Proofs for every single Theorem
Even though it is not required, memorising the proofs for the formulas and theorems will aid in understanding them more thoroughly. This guarantees that candidates won't forget the formulae or theorems when they need them throughout the exam.
Study Vedic mathematics
One of the quickest ways to find a solution is to learn Vedic mathematics, which can also drastically cut down on the amount of time it takes. Additionally, it might lessen the number of errors you commit.
Tips for Verbal Ability and Reading Comprehension on the IIFT
Here are some preparation suggestions for the IIFT's Verbal Ability Questions:
Increasing your vocabulary
Listening to speeches by famous people, podcasts, interviews with them, reading, and other activities can all help with this for IIFT exam preparation. Reading is a great way to increase vocabulary, but not everyone enjoys it. Candidates can listen to podcasts and interviews on subjects that interest them in place of reading in this situation. Include a wide range of subjects in your reading. When reading for pleasure, read about a variety of subjects rather than simply those that interest you. Choose subjects that go beyond what you often read to broaden your horizons. To increase your vocabulary know the Effective ways to enhance your verbal communication skills.
Getting Ready for the IIFT Reading Comprehension Exam
How to crack IIFT? Here are some strategies for getting ready for the IIFT's reading comprehension questions:
Boost reading efficiency
Practice is largely necessary to achieve this. There is not any other method to accelerate. Candidate's reading speed increases when they have a strong enough vocabulary and background to fill in the blanks naturally.
Read deeply by practising
It's important to read attentively in order to complete reading comprehension exercises successfully. Practice reading while concentrating entirely on the passage. To focus more clearly, candidates can trace what they are reading using a pencil for IIFT exam preparation.
Review the following questions before the passage
It is important to read the questions before attempting to read the passage. This is due to the fact that knowing the questions ahead of time can help you mark the answers as you go along and increase test speed.
Don't forget to read the passage's conclusion
The main point that the section is attempting to make is typically included in the conclusion. You will be better able to answer the questions if you comprehend the main idea of the passage. The introductory section of the first paragraph contains the background information or introduction to the subject that serves as the foundation for the information provided. These two make up some of the most important parts of any essay or paragraph, and they serve as the cornerstone of all effective communication for IIFT strategy.
IIFT Preparation Advice for Logical Reasoning and Data Interpretation
Answer the simple questions first, then go on to the difficult ones:
The IIFT Mock Tests and previous year's questions should be practised for this. Candidates can answer such questions quickly and go on to the harder questions, which are typically significantly more time-consuming if they are aware of their areas of experience and their strongest subjects. This will boost self-assurance as well for IIFT exam preparation.
For the reasoning questions, use shortcuts
Each question can be answered in various ways, and most questions can be answered quickly and effectively. These could involve drawing diagrams, maps, etc. On the internet, YouTube, and other similar platforms, you may discover excellent tutorials on these topics.
Puzzle-type questions
Such issues cannot be resolved quickly. Since these questions are typically unpredictable in nature, candidates must come up with their own solutions. The candidates can know how to improve critical thinking skills.
Conclusion
I hope you are clear from the blog from freshers jobs about the IIFT Preparation Tips and how to prepare for the IIFT. Young, bright minds can always strive to enrol in top management courses, and Masters in Business Administration programmes, graduate with honours and pave their route to success as business professionals. With this blog, you can succeed with high marks by adequately preparing for the IIFT exams to land high freshers salary jobs. Work harder, and make well-structured plans to clear this tough exam.