Banking careers include all jobs in the banking industry. Almost anyone who wants to work in this field can do so. How to apply job in bank? If you want to get a job in banking, it's essential to know the merits and demerits of the job and the different ways you can go about getting there.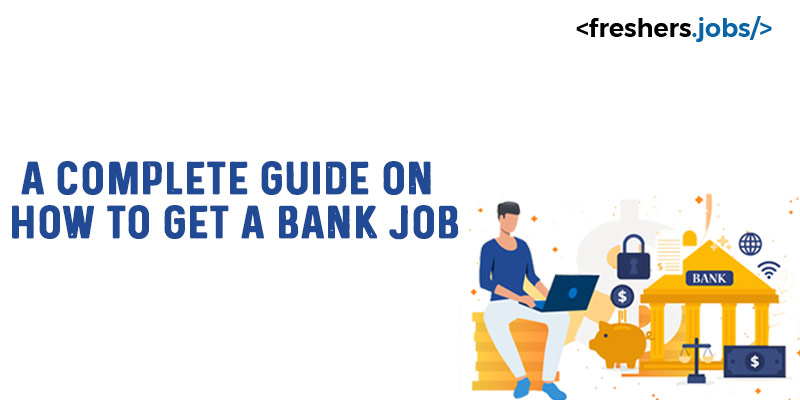 Regarding salary and job security, a job in banking can be very rewarding. This could be an excellent job opportunity for you if you are good with numbers and want to work in a fast-paced environment. Before you start looking for a job, you should know if you meet the requirements to apply for bank jobs. In this blog, we talk about how to get a job at a bank and what skills and qualifications you need.
Let us know what banking careers are
A Career in Banking is within a financial institution. The most common banking careers include bank tellers, accountants, trustees, investment bankers, and administrators. Most individuals can continuously pursue a banking career, and some positions in the banking sector do not require higher education. Banking is considered a service industry, and a primary requirement for individuals is honesty, trust and faithfulness.
What are the reasons for pursuing a job in the banking sector?
As we know, there are many reasons to pursue a career in the banking sector and how to apply for bank jobs, with the most prominent being,
Competitive

freshers salaries

Offers good job benefits, including medical benefits, paid time off, sick leave and also disability insurance and leaves.

A variety of jobs and job roles

Enormous job opportunites for career growth and advancements.

 Excellent work culture and environment.

Flexible working hours.

Career development opportunites.
Most banks will hire and recruit candidates willing to learn about the job and accept the responsibilities for their duties. Some banks even have tuition reimbursement and help programmes for people who want to take classes or courses.
We shall see the types of banking careers.
Several types of banking careers are for freshers and experienced that they choose from and how to get job in private bank.
Bank Teller
A bank teller is an entry-level job in which customers are helped with basic banking needs and customer service. Typical tasks include taking cash, checks, and other forms of payment from customers, putting money into and out of customer accounts, answering customer questions, and exchanging money for foreign currency.
The Clerk or Probationary Officer
Financial clerks are in charge of various administrative and financial tasks, such as processing invoices, keeping track of transactions, managing financial records, and reviewing financial information and documents. Other duties include maintaining up-to-date filing systems and financial databases, auditing and balancing accounts, ensuring the office has enough financial supplies and answering phone calls and emails from clients. Candidates can apply for bank jobs after graduation.
Accountant
Accountants ensure that financial statements and records are up to date and follow regulations and generally accepted accounting principles. Among their responsibilities are analysing and writing down financial information, making financial reports for clients, performing audits, fixing any mistakes in client financial records, and helping company management make decisions about their budgets and finances based on accurate information.
Bank Operations Manager
Operations managers in banks and other financial institutions are in charge of the operations departments. Among their responsibilities are making sure that clients get products and services quickly and easily, coming up with and implementing procedures and policies for the bank, managing staff, and coming up with and keeping an eye on goals that will make the bank more productive and efficient.
How to get a bank job?
You can follow these steps to find out how to get bank jobs at a public bank:
Find out what you can very first
You can work as a bank clerk, probationary officer (PO), or specialist officer in a public or government bank (SO). In government banks, you can only get a job if you are an Indian citizen. You can know there are three places you can go to get a job at a government bank:
The Institute of Banking Personnel (

IBPS

)

The Reserve Bank of India (RBI)

The Indian State Bank (SBI)
Each of these institutes has its test and different requirements for who can take it.
Find out what kind of education and, qualifications, age limits are needed
The three institutes mentioned above have different rules about who can take their banking job entrance exams, such as how old you must be and what kind of education you need.
IBPS holds a common entrance exam for jobs like PO, SO, and clerical cadre in government banks and Group A and Group B assistant posts in Regional Rural Banks (RRBs). There are different requirements for each job and eligibility for banking exams.
For the roles of clerical cadre and PO, anyone between the ages of 20 and 30 can apply. They should be qualified graduates in any field, know how to use computers on a basic level, and speak, write, and read the official language of the state where they want to work.
SO
 Anyone between 20 and 30 can apply for this job, and the required education depends on the position. As a SO, you can work in any public sector bank as an IT officer, an agricultural field officer, a law officer, a human resources/personnel officer, or a marketing officer.
RRBs
 To be eligible for an RRB, you must meet the exact requirements as a PO. Candidates can also apply for jobs as office assistants, the same as clerical cadre jobs in cities. Know how to apply job in bank.
SBI
The SBI gives a standard written test to people who want to be POs or bank clerks. For the post of PO, you must be between 20 and 30 years old and between 20 and 28 years old to be a bank clerk. Also, applicants must have a bachelor's degree from a university approved by the central government of India. Candidates in their final year of college and about to graduate can also apply.
RBI
RBI uses a standard written test to choose candidates for Grade B officer positions. The applicants must have a high school diploma. For this job, you must be between 21 and 30 years old. But people with an MPhil can apply until they are 32 years old, and those with a PhD can use it until they are 34 years old.
Do well on the written test
To work in a government bank and how to apply for bank jobs, you have to take and pass one of the following written tests:
IBPS PO

IBPS SO

IBPSRRB

SBI Clerk

SBI PO

SBI SO

RBI Officer Grade B
Also, these exams have three parts: a preliminary test and an interview. After passing the initial exam, you can take the main exam. To get a job in a bank, you must give every part of the test. The list of chosen candidates is based on how well they do in these three stages.
We shall know the steps to start a career
How to start a career in banking
Most entry-level freshers jobs positions do not require candidates to have previous experience or a degree. How to get job in private bank? Many people who work in banking start as bank tellers or in other entry-level positions.
But people who want to work in banking need specific skills and meet other requirements before they can be considered for jobs in a financial institution. Here are some steps to consider if you want to start a career in banking:
Get a high school diploma, Graduation or something similar
How to apply job in bank? Most jobs in banking require you to have a high school diploma. Usually, this is the least qualification you need to get a career in banking. Go through the preparation tips for banking exams.
Get better at being a banker
To be successful in banking, you need to have several skills. You will need these skills no matter what job you want to get. Trustworthiness, accountability, honesty, integrity, professionalism, attention to detail and work ethic are all essential skills for people who want to work in banking.
Make connections with people who are well-known in the banking industry
Getting to know people already in the banking business is a great way to learn about open positions. You can network in several ways, such as going to events and conferences, connecting with other professionals through an online platform, or going to job fairs related to banking.
Decide what kind of bank setting you want to work in
How to get job in government bank? There are different kinds of bank settings, and it will help you find a job if you know which one fits your needs best. Retail banks, credit unions, commercial banks, investment banks, and federal financial institutions are standard bank settings.
Apply for open jobs
Start applying for entry-level jobs in banking. You can do this by looking on job sites going to a bank, and asking if any jobs are available. If you have made connections, ask around about open jobs alert.
Think about going to Bank Coaching
Even though there are often many ways to move up in the banking industry, many higher-level jobs require licences, certifications, or advanced degrees. Some banks will pay for their employees to go for training or give them training on the job if they want to move up.
Conclusion
I hope you are clear about how to apply job in bank. If you have a degree in accounting, math, or even public relations, a career in banking is the best choice. This is true for many reasons, such as job security and flexibility, having a career that takes you all over the world, or the salary you can get with a career in banking. With a few years of experience, a hardworking worker can make a lot of money and have opportunities to work abroad since the industry is so global.