Banking, which is in high demand and the most sought-after private and government jobs by people who want to work, has become more challenging and competitive. As the number of people who want to take the bank exam has increased, the competition has become fierce in the Banking sector. IBPS exam for a Clerk is one of the hardest, and you need to do a lot of work and know the preparation for ibps clerk to show off your skills.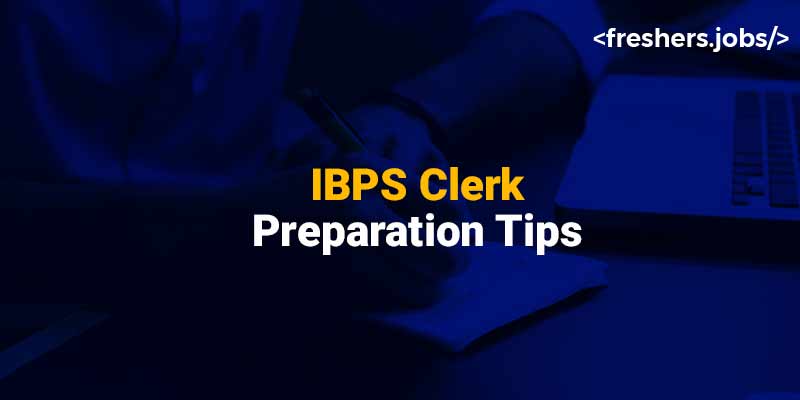 Those who are studying for the IBPS Clerk Exam should make sure to get the best tips for studying. Preparing for an exam with both preliminary and main levels must be done in two separate steps. First, the candidates should start looking for the IBPS Clerk Prelims Exam. Checking out the IBPS Clerk Prelims Preparation Tips will help the candidates better prepare for the main exam. Experts say that in the competitive Prelims stage, where cutoffs are likely more, one should have a good plan for how to study.
Candidates should keep an eye on the IBPS Clerk Syllabus and Exam Pattern to ensure they have a good study plan and do not run into problems at the last minute. Whether you have applied or you have done it before, keep reading to find out the best section-by-section IBPS Clerk Prelims preparation tips for the Preliminary exam, which is the qualifying stage for the Mains exam and your place on the final merit list.
Here are a few of the preparation tips for IBPS Clerk Examinations.
Plan and Practise
Here are some tips for how to prepare for ibps clerk bank jobs.
So make it a usual routine to practise and solve the questions regularly.

As the exams are nearing, the candidates must make a habit of solving the question papers that are followed by an assessment.

You can practise the concepts of every section.
Solve Mock Test
Mock tests are the most essential and appropriate ways to test your performance.

You can make a point to solve at least two question papers as this helps you find the problematic areas in the question paper and know whether you have covered the complete syllabus.

The candidates can score well on the reasoning and the Quantitative sections only through time management and clear concepts.

Hence you will need to practice daily on the subjects to attain perfection.

This will also help speed up your solving time for the question paper.
To Focus on Time Management
Time Management is essential in every work you do and in your daily routine as part of

how to crack ibps clerk

.

You can practice with a stopwatch which enables you to solve the questions in the stipulated time and gain confidence besides covering almost all the questions and sections.

Never get stuck with a specific question instead, you can get to the next question.

You can always go through the fundamental questions in the question paper.

You can select easier questions to reduce the time spent, and it is not mandatory to solve the fundamental questions in the question paper.
Accelerate Speed and Accuracy
Speed and accuracy are essential and must go simultaneously, especially in mathematics and Logical Reasoning papers. As it is all a game of numbers, you must be careful with

ibps clerk preparation strategy

.

Speed and accuracy must work together to pass the Mathematics and Reasoning exams.

Lots of concentration is essential to maintain accuracy during your exam.

Revision of the mathematical calculation is significant and helpful.

Working out at speed cannot be compromised at the cost of accuracy as it may lead to not getting a good score and leaving an incomplete paper.
Revision
Before you start to study for IBPS Clerk exams for the best

jobs alert

in top banks, you need to understand each idea fully.

A competitive advantage is also being able to know everything.

So, one of the essential

ibps clerk preparation tips

is to revise.

Every week, you should go over something you have learned.

You can plan your day's activities by thinking about them in the morning or at night.

You should only believe in challenging concepts at the weekend.

The most important thing you can do to prepare for the bank is to set aside at least two hours a day to study.

Making notes on a chapter should be done.
Motivate
This is more important than getting ideas from other people as

preparation for ibps clerk

.

Do not be concerned about what others say or do or what might occur next.

Focus on the issue at hand and avoid comparing yourself to others.

By going through this, you will get stronger and grow into a better person, making what you do even more beautiful.
Know the detailed syllabus
The IBPS does not give a definitive syllabus for its bank exams.

But by looking at the questions from bank exams from past years, you can figure out what the main topics are asked yearly.

Along with IBPS Clerk study material, these topics can also be found online and in books.

Knowing the IBPS Clerk syllabus means you have already won half the battle. This saves you time and effort.
Make a study plan
Your plan for

how to prepare for ibps clerk

to get ready should include a well-thought-out study schedule. You can refer the

IBPS Preparation Tips

for further plans.

Aspirants should try to cover parts of the bank exam syllabus in a logical order and review topics from time to time.

The study plan should also include reviewing old bank exam questions and determining what will be necessary for the test.
IBPS Clerk Preparation Tips by Subject
English Language
This section focuses on vocabulary, synonyms, antonyms, grammar, error detection, cloze tests, para-jumbles, idioms, phrases, reading comprehension, fill-in-the-blanks, sentence reconstruction, etc.

For this part, students should make it a habit to read and write daily. This helps with grammar, syntax, and vocabulary.

Go over all the basic grammar rules and use them in everyday speech and writing.
Quantitative Aptitude
This is the hardest part of

how to crack ibps clerk

for Prelims Paper. It includes Ratio and Proportion, Speed and Distance, Average, Time and Work, Data Interpretation, Number Series, Simplification, and Quadratic Equations.

This part is all about math, so the student must be good with numbers and real math to do well.

The best way to do this is to learn all the fundamental theories and formulas by heart and practice as much as possible.
Reasoning Ability
This part of the paper makes the most sense and is easier to score. But for this section, candidates must be very analytical in

preparation for ibps clerk

.

It has Coding-Decoding, Syllogism, Puzzles, Seating Arrangement, Ranking and Order, and more.

Working on this part daily and doing practice tests and papers is essential.

To get this right, you must go over each practice problem repeatedly.
General and financial knowledge
This part is one of the easiest to get a good score on because you don't need a plan or a trick.

Candidates need to know what is happening in the country and worldwide regarding general, banking, and economic news.

For this section, it is enough to read the newspaper daily and keep up with the news on TV or social media.

When preparing this topic, it is important to stress the information and abbreviations concerning banking and insurance.
Computer Aptitude
Compared to the last section, this one is easier and tests your knowledge of Computer Hardware and Software.

These are essential topics: computer basics, basic Internet knowledge and protocols, operating system functions, network basics, and MS Office basics are essential as

how to prepare for ibps clerk

.

Learning all the computer shortcuts and abbreviations for this section is a good idea.
Tips for Getting Ready for the IBPS Clerk Exam
Those who want to take the IBPS Clerk exam must keep up with official announcements about the exam.

Before they apply for the exam and start studying, they need to know the eligibility requirements, how the exam will be set up, and what it will cover.

For the IBPS Clerk exam, it is wise to buy good books because they help you prepare better in less time.

The candidates must use their time to study and practise more instead of going over everything repeatedly.

They have to sign up for online mock tests and sample papers to test themselves before the actual exams.

They should also look at all the previous sample papers to learn how the questions are set up.

They need to know that the more they practise, the more likely the real exam will have questions like the ones they did in practice. The pattern may be the same even if the question is not the same.
Conclusion
To wrap up the blog on preparation for ibps clerk. We all know that exams can cause a lot of stress. Relax, and show off how well you can excel in the banking exams. I'm glad you read this, and I hope your plans go well! Don't forget to tell your friends how to prepare for IBPS Clerk freshers jobs if they need help studying for the IBPS clerk exam. You will do well in your bank job search if you study these preparation tips.