Indian Bank is a state-owned banking service organisation headquartered in Chennai, India. Indian bank is a prominent nationalised financial services provider. Indian banks will always listen to your needs, understand your desires, and support your plans to live a long and happy life. Discover all the job opportunities available with the Indian bank and earn a high Indian bank salary. Indian Bank is an excellent opportunity for both new and experienced employees.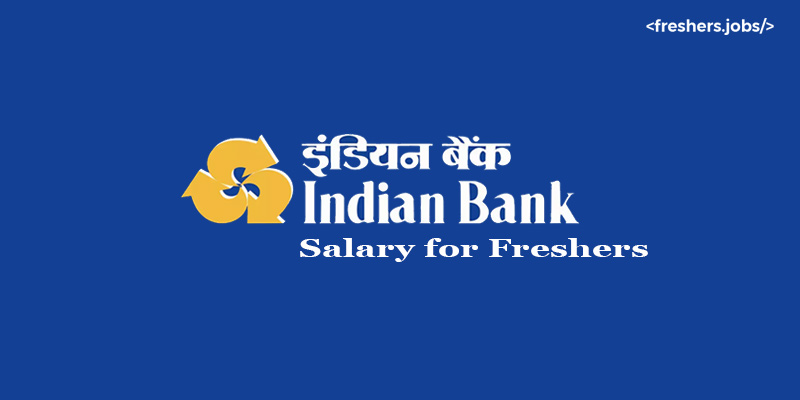 The freshers and experienced candidates can look for the jobs alert released by the Indian bank and apply through their website. Candidates who have specialised in tally, statistics and accounting courses can apply for the Indian bank jobs.
Why do freshers choose to work for Indian Bank?
At the Indian Bank, you will be guided by many experts keen on helping you at the workplace.

The Indian Bank aims or keeps up with moral values of collaboration, participation and mutual efforts.

The Indian bank always values diversity, especially among all other employees.

You will be considered for the learning opportunities with the bank that supports India's Financial development and offers you high

Indian bank salary structure.
Indian bank vacancies
Indian bank is located in Chennai and has offices across various parts of India. With nearly 20,464+ employees with 2416 branches in India and is India's big public sector bank. Indian bank has its overseas branches in Srilanka. Annually Indian banks release almost 100+ vacancies with the highest paying Indian bank salary for freshers. You can send the application for the job openings released by the Indian bank. The candidates can write the IBPS Exams for joining the Indian Bank. The candidates can go through the IBPS preparation tips to get through the exam easily.
Candidates from relevant backgrounds can apply for the Indian Bank. Accounting and Tally knowledge will be advantageous. Indian banks extend a very good training programme to candidates.
Different Job Titles
Banking Executive, Loan Executive, Phone Banking Executive, Credit Officer, Front Office Executive, Assistant Manager, Branch Manager, Clerk, and many other positions are available in Indian Bank for both new and experienced employees. Let's go over the responsibilities of a few newer job roles in an Indian bank.
Indian Bank Banking Executive
Banking executives interact with Business Banking Officers to help the MSE achieve all of its creation and development goals.

Helps the MSE create a district business banking key and benefit plan.

Recognizes training requirements and coordinates retail banking staff training collection and preparation.

Small business transactions and administrative tasks

To assist the various divisions supported by Commercial and Private Banking, run exchanges and generate reports using the store and loan systems.
Indian Bank Assistant Manager
At Indian Bank, the Assistant Manager is well compensated with a high

Indian bank salary

and works alongside the General Manager to respond to and resolve customer complaints.

To help the Store Manager close deals, to create a deal-making environment, and to follow through on all corporate deals.

Collaboration with the Store Manager is required to meet or exceed the planned gross margin through stock management, which includes everything from purchases to sales and special events, price changes, and slack activities.

Supervises the decision-making, preparation/direction, and implementation of the staff.

Creates, implements, and evaluates the division's quality and basic administration programmes, such as capability testing and quality controls, and takes appropriate action to report and resolve significant issues.
Clerks
The clerk deals with the Counter issuing cash receipts and ESI stamps.

A bank clerk is also responsible for safeguarding the bank's cash, keys, and other valuables.

Passbooks for account holders are being updated.

The bank clerk is in charge of authorising withdrawals, verifying cheques, issuing demand draughts (as requested), and providing other customer services.

The bank clerk is also in charge of marketing the bank's financial products to visitors, such as deposits, loans, and schemes.

However, with the bank's digitization, a bank clerk's job profile is now primarily related to working on the computer and entering day-to-day transactions.

They have a good

Indian bank po salary

.
Credit Officer
The Credit Officer Meets with loan applicants to determine their requirements and gather information for loan applications.

Regularly analyse active loan files and recommend solutions to speed up the loan process.

Completing loan contracts and informing customers about policies and regulations

To determine financial eligibility and debt payment plans, applicants are interviewed.

Keep track of and update account information.

Applications for loans should be submitted as soon as possible.

Prepare comprehensive loan proposals.

Reject loan applications and notify applicants of any shortcomings.

Respond to applicant questions and resolve any loan-related issues.

Observe all applicable laws and regulations.
Front Office Executive
The Front Office Executive earns a good

Indian bank salary structure

and ensures that credit monitoring functions on a small to medium-sized loan portfolio with low to medium complexity are carried out effectively.

If necessary, conduct and document a quarterly performance review of accounts in the assigned portfolio to highlight management action, including account classification.

Examine and monitor the small-to-medium loan portfolio's activities

Execute credit monitoring and reporting functions on the portfolio categories listed below, and make recommendations to Team Lead for exception correction.
I hope you have a good idea about the Indian bank freshers jobs and what they work for. We shall see the interview process for the freshers in the Indian bank.
Interview Process in Indian Bank
There are two rounds in the Indian bank recruitment process.
Written round

Personal interview
Let us discuss the rounds in detail.
Written Round
Written Round in Indian Bank is very important as this round may be conducted online or offline.

In this round, the question pattern will be multiple choice questions.

The students need to prepare for the aptitude-based question to clear this round.

The questions will include English Language, Science, Mathematics, Accounts, and Statistics.

The maximum weightage of marks will be for the mathematics sections.

To clear that round, you will have to work out many basics of mathematics problems and science.

They may even ask questions relevant to current affairs. So you will be well knowledged and advanced while taking this test in Indian Bank and get more

Indian bank salary.
Personal Interview
In this round, the HR managers will interview the candidates.

The interviewer asks the candidates about their passions, hobbies, interests, positives and negatives, strengths and weaknesses.

Candidates may also ask the interviewer questions about the organisation.

He may ask about previous experiences, educational background, family background, etc.

If you have cleared this round, you will be notified about the joining date and the place of joining.
Training in Indian Bank
The Indian bank has established a training programme for its employees with an Indian bank salary. The training program aims to give employees the full potential to grasp and emerge into the banking sector. To achieve worthwhile training, the Indian bank has introduced a training philosophy. Let us see what their objectives are.
Training is a continuous and unique process in Indian Bank that unlocks employee's latent potential by imparting knowledge, honing professional skills, and reorienting proactive attitudes to integrate individual development with organisational growth and excellence.

Individuals should be trained to increase their knowledge, sharpen their professional skills, and reorient their attitudes toward performance excellence.

To meet changing business needs, develop innovative training programmes and methodologies.

Aspire for and include all staff in putting the Quality Management System into action, with a commitment to improving all the time.

Train trainees toward organisational goals to meet customers' growing needs and requirements.
Indian Bank Salary
We shall discuss the Indian bank salary structure offered for different job roles.
The Probationary Officer earns about 4.56 LPA as an Indian Bank fresher.

The Indian bank Credit officer earns a salary of about 4.32 LPA.

The Customer Service Officer earns approximately 2.58 LPA.

Indian Bank's account manager earns a salary of 3.5 LPA.

Indian Bank's Front Office Executive earns a salary of 1.5LPA.
Conclusion
I hope this gives you an idea of the Indian bank salary for new employees at Indian Bank. As a new employee at Indian Bank, you will receive extensive training and exposure to various banking sectors. The banking industry instils pride and prestige in you while elevating you to the ranks of top-tier employees. You can look out for the jobs alert and apply for the Indian bank jobs as soon as possible.