Everyone wants to create next-gen great mobile applications. Suppose you have an idea for creating a mobile app for any case. In that instance, this career will be an extremely profitable way to make a good salary for freshers. You can always choose this career to become a  proficient mobile app developer by acquiring the full knowledge of how to develop mobile applications.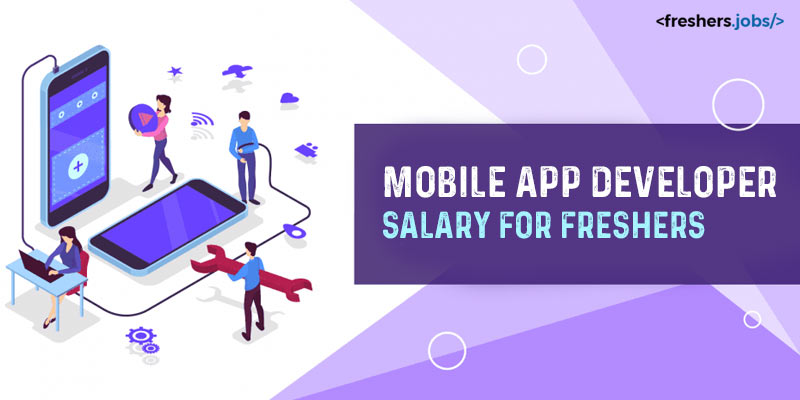 In this Blog, we shall discuss how to start your career as a Mobile app developer and the scope of a mobile app developer and mobile app developer salary for freshers. Here you will learn where and how to begin a career in mobile development. Ensure we cover all the details about the mobile app developer salary in india.
Mobile development seems difficult, but it's just like anything else. It will be much easier if you practise and put in the effort.
Let us know what mobile app development is
Writing software for small wireless computing devices such as mobile phones and other handy gadgets is what Mobile Application Development involves. 
Mobile applications develop software for smartphones and other devices that runs on Android and iOS. 

The software is already on the device and can be uploaded from a mobile app store or made accessible via a mobile web browser. 

The system languages and the languages are used to develop software that includes JAVA, Swift, C# and HTML.

The mobile app development domain is rapidly increasing. 

Most industries like retail, telecommunications, e-commerce, insurance, healthcare, government, and organisations across industries must always meet expectations in the best convenient way for easier transactions and information access.  

Mobile development has recently become the most valuable and popular way for people and businesses to connect to the internet. 

Most organisations must develop a mobile app for their customers, partners and employees and demand that they stay relevant, responsive and successful. 
Who is a mobile app developer?
Recently, smartphones and other devices that support android have become computers that we can carry anywhere we go. 

There is tremendous growth in smartphone and tablet usage that has led to increasing the usage of apps. 

Mobile app developers specialise in the smart designing process of electronic equipment and scripting computer programs for mobile devices and earn a high

mobile application developer salary in india.
 Henceforth, the profile of mobile app developers is in high demand. You can choose this mobile app developer profile based on which platform you want to develop. There are two types of developers. 
Why a mobile app development career for freshers?
The mobile app has made a big positive impact on business these days. That is why they are in such high demand. As the demand for mobile apps grows, so does the increased demand for mobile app developers and salary of mobile app developer in india. If you want to make a career out of developing mobile apps. Here are the reasons why to choose.
The Demand for mobile apps is very high
Overall, people spend 3 hours daily on mobile phones, and most tend to download mobile apps from the play store. 

So this is one of the reasons for the demand for mobile app developers, and they choose this as a  good career start.
E-Commerce needs Mobile Apps
E-commerce plays a vital role and has been placed as how people make purchases. 

Most of the shops are turning their business into online mode. 

There has been a drastic increase in recent years in the E-commerce domain. 

This is because of the increase in mobile phone users, very easy mode of payments, easy searching options, and feasible buying options. 

To achieve this, there are huge requirements for mobile app developers.
Lots of Career Options
If you are looking for jobs, there are many career options, to begin with. 

You can work for IT companies, MNC or even start-ups. 

You can even start your own business or work as a freelancer.  Moreover, there are many job roles with good

mobile app development salary in India

. 

The job roles include android app developers, mobile app developers, iOS developers, mobile embedded software engineers and many more. 

 Hence mobile app development is a wonderful career option.
Very High Salaries
 As you may be aware, mobile app development is in high demand. 

Android and iOS are seeing an increase in the number of innovative apps. 

As a result, there is a high demand for mobile app developers. 

The majority of businesses are looking for talented mobile app developers. 

You can earn more

mobile app developer salary in India

as you gain experience. 
Very simple to grasp
If you're new and know the fundamentals of Java? You can easily learn mobile app development. 

There are numerous online courses available for mobile app development. 

If you are competent in JAVA, logical thinking, and good problem-solving techniques, then this is the right choice of career for you.

You'll be able to succeed in your career with flying colours.
Hope you have got an idea about mobile development, its scope and why to choose this profession as your career. In the below section, we shall see the salaries offered for the Mobile App Developers.
Mobile App developer's salary
As we have discussed, the mobile app developers demand. It is commonly known that they earn higher salaries than other developers. A mobile app developer's salary is determined by several factors, including experience, location, organisation, and job roles. We'll go over each in-depth and see how the salary of mobile app developer in India differ. 
Mobile App Developer's Salary Depends on Experience 
A Mobile App developer's salary is affected by their experience level. A new developer's starting salary will be reasonable. You will learn more about the technicalities and earn higher salaries as you gain experience in the industry. Let us see the mobile application developer salary in India in different stages of their employment.
The entry-level mobile app developer's salary is approximate 2.5 LPA. 

The salary for a mid-level mobile app developer is 6.25 LPA

The salary of the most experienced mobile app developer is around 9.25 LPA.
Mobile App developer's salary as per the location
As there are more and more users of mobile phones and the demand for mobile app developers are increasing daily. As many IT companies are located in most of the top cities, they always release many job openings for freshers as mobile app developers offer them a high salary. Immediately after graduation, the candidates rush to the cities to find a job in the IT industry as Mobile app developers. Let us check out how much the salary of mobile app developer in india is paid in cities.
Bangalore: 3.25 LPA

Chennai: 3 LPA

Hyderabad: 2.9 LPA

Coimbatore: 2.75 LPA

Pune: 3 LPA

Noida: 2.86 LPA

Kolkata: 2.5 LPA
Salary of Mobile app developer as per the Organisation
Recently, more and more IT organisations are emerging, and developers' requirements are high. Freshers always look for the best job profiles and domains. There have been many recruitments for mobile app developers recently, offering them a high salary. Let us check out the salaries offered in different organisations.
Mercedes-Benz Research and Development India Private Limited: 3.25 LPA

Sarvajith Infotech :  3 LPA

Honeywell : 3 LPA 

Siemens: 3.25 LPA
Salary of a Mobile app developer as per the Job roles
Mobile app development is vast. Hence, employees work in many areas. There are requirements in all areas of mobile app development. Let us see the job role in mobile development and how much salary of mobile app developer in India is earned.
Android developers: 2.5 LPA

iOS developers: 2.48 LPA

Mobile embedded Software Engineer: 2.75 LPA

Flutter mobile developer: 2.85 LPA
Hope you have got an idea of the salary offered for mobile app developers. To achieve these salarties, one must possess some of the skills which are very vital to work as a mobile app developer.
Skills required for Mobile app developers
Programming skills, and mobile app languages such as JavaScript, C++, and C#, are required for mobile app developers.
Mobile app developers use computer software to create their applications. This necessitates extensive computer knowledge and practical experience with software development tools and earning a high mobile app development salary in India

.

Having strong user interface skills can help create application interfaces that are simple, aesthetically pleasing, and functional for your users.

Cybersecurity skills are important for mobile app developers because they help to secure information and keep mobile applications safe.

Product Management skills.
A Mobile App Developer's Responsibilities
Support for the duration of the application's life cycle.

To create fully functional mobile applications, write clean code.

Create a list of specific needs and solutions.

Find flaws and develop unit and user interface tests.

Improve performance through troubleshooting and debugging.

Designing interfaces can help to improve the user experience.

Come up with creative new features with the product development team.

Ascertain that both new and old apps adhere to quality standards.

Look into and recommend new mobile products, apps, and protocols.

Keep up with the latest technological advances.
Conclusion
The learning path provided by this blog and the mobile app developer salary in India for freshers can assist you in understanding the Mobile app certification requirements and current market value. It can ensure your success and help you decide whether to continue down this career path. We hope that the information on pay and why you need a Mobile app will assist you in deciding to become a Mobile app developer or not. Mobile app developers have a bright future and can command higher pay than other professions.