PTC is a technology company headquartered in Boston, Massachusetts, that provides software solutions for product development, lifecycle management, and service management. The company was established in 1985 and has since become a global leader, serving customers in various industries, including aerospace, automotive, high-tech, and medical devices.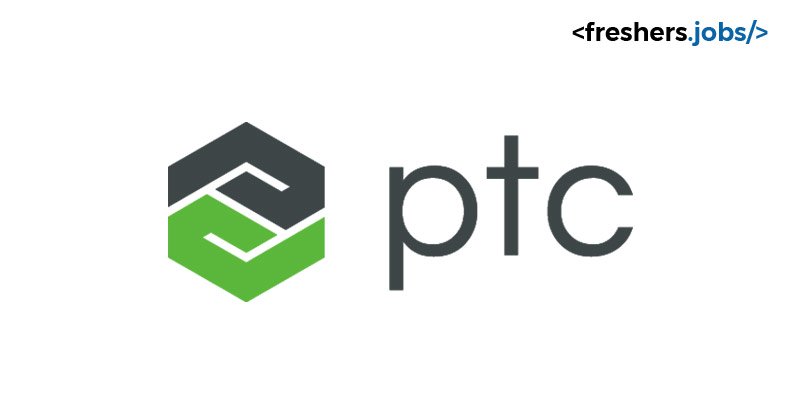 PTC careers offer a range of career opportunities in fields such as software development, engineering, sales, marketing, and customer support. The company strongly focuses on innovation and encourages employees to explore new technologies and ideas. PTC provides career growth and advancement opportunities, including training programs, mentorship opportunities, and the chance to take on new roles and responsibilities.
With a commitment to innovation and a range of exciting career opportunities, PTC is an excellent company for individuals passionate about technology and looking to build a rewarding career in the industry.
Why do freshers choose PTC Careers?
Freshers choose PTC company jobs for several reasons, including:
Career Growth: PTC offers a range of freshers jobs opportunities for career growth and advancement, including training programs, mentorship opportunities, and the chance to take on new roles and responsibilities. This can be especially appealing to freshers looking for a company that will invest in their professional development.
Technology: PTC is a technology company that provides software solutions for product development, lifecycle management, and service management. This means that freshers joining PTC jobs can work with cutting-edge technologies and gain experience in IoT, AR/VR, and CAD.
Work Culture: PTC's positive work culture values innovation, collaboration, and diversity. This can be attractive to freshers looking for a supportive and inclusive workplace where they can learn and grow.
Reputation: PTC is a well-respected company in the technology industry, and having PTC on a fresher's resume can be a valuable asset for their future career prospects.
Compensation and Benefits: PTC offers competitive compensation packages and benefits to its employees, including health insurance, retirement plans, and paid time off. This can appeal to freshers looking for a company that values and rewards their contributions.
PTC has different job eligibility criteria, and the academic eligibility criteria can vary depending on the role. However, here are some general guidelines for PTC recruitment academic eligibility criteria:
The candidate should have completed a degree in a relevant field such as Computer Science, Information Technology, Mechanical Engineering, Electrical Engineering, or Electronics Engineering. Candidates with other degrees may also be considered depending on their skills and experience.
PTC may require a minimum GPA of 6.0 or higher on a 10-point scale for candidates to be considered for some jobs.
Candidates should have strong technical skills in programming languages, software development, database management, and data analysis.
Candidates should have good communication skills, including effectively communicating technical information to both technical and non-technical audiences.
PTC may also consider candidates who have completed internship programs in a relevant field.
It's important to note that these are general guidelines, and the specific academic eligibility criteria can vary depending on the position and location. Candidates should check the job listing or contact the PTC job vacancy recruitment team for more information on the educational eligibility criteria for a specific job position.
Documents to be carried for PTC interviews
The specific essential documents required for a PTC interview may vary depending on the position and location, but here are some documents that candidates should consider bringing:
Resume/CV
Original copies of educational certificates, such as degree certificates, mark sheets, and transcripts.
A government-issued ID card such as a passport, driver's license, or Aadhaar card.
Experience Certificates: Original copies of experience certificates, if any.
Reference Letters: Reference letters from previous employers or professors, if applicable.
Candidates should check the interview invitation or confirmation email for specific document requirements and bring all the requested documents. It's also a good idea to get extra copies of each document if needed.
How To Search and Apply
Search for PTC jobs for freshers via the company's career website that is www.ptc.com.
Choose the fields that must be checked for jobs alert.
When you get the job profile, read the expected list of duties.
If you are qualified, you can apply for any related positions.
You should enrol initially after clicking the go these jobs notice.
In the event that your profile is well-suited for the job you have chosen, a PTC Recruiter will call you.
Designation Offered in PTC
Technical Support Engineer
The Technical Support Engineer is hired in PTC openings and Investigates and finds solutions to software and hardware problems.
Troubleshoot technical problems such as account setup and network configuration.
Ask specific questions to customers to quickly identify the source of the issue.
Follow computer system problems through to resolution within agreed-upon time frames.
Clients should be guided through a sequence of actions by phone, email, or chat until a technical problem is resolved.
Unresolved issues should be escalated appropriately to suitable internal teams (e.g. software developers)
Customers should receive prompt and accurate input.
To provide real technical solutions, consult an internal database or external tools.
Ensure that all issues are adequately documented.
Prioritise and manage multiple open problems at the same time.
After troubleshooting, follow up with clients to ensure their IT systems are entirely operational.
Freshers can start looking for freshers jobs in Kolkata for higher salary jobs.
Marketing Specialist
The Marketing Specialist in PTC careers determines customer trends, competitor offerings, and demographic data.
Collaborate with creative teams to develop identity concepts, graphic designs, promotional materials, and advertising copy.
Discover effective marketing and promotional channels, such as media platforms, for communicating product messages to consumers.
Examine the effectiveness of a company's marketing campaigns and strategies by evaluating essential success metrics.
Create innovative marketing campaigns based on solid data and submit your findings to management.
You can establish relationships with new and existing clients through networking and prospecting.
Set goals and objectives for approaching customers through suitable marketing platforms.
Contribute to outbound and inbound marketing efforts by demonstrating expertise in event planning, advertising, optimisation, and content creation.
Quality Assurance Engineer
The Quality Assurance Engineer in PTC jobs Examines requirements, specifications, and technical design papers to provide timely and relevant feedback.
Create thorough, exhaustive, and well-structured test plans and test cases.
Test tasks should be estimated, prioritised, planned, and coordinated.
Using open source tools, create, develop, and run automation scripts.
Identify, record, document, and track bugs carefully.
When problems are fixed, perform extensive regression testing.
To satisfy customer's needs, create and implement testing procedures for new and existing products.
Collaborate with internal teams such as developers and product managers to determine system needs.
Keep track of the results of the debugging procedure.
Investigate the causes of non-conforming software and educate users on how to implement fixes.
UX Designer
The UX Designer is hired through PTC recruitment and Recognises product specifications and customer psychology.
Gather input on concept and usability testing. Create personas using user study and data.
Define the best interaction model and assess its effectiveness.
Create wireframes and prototypes based on client requirements.
Find novel solutions to Interface issues (e.g. usability, findability)
Collaborate with UI artists to create eye-catching designs.
Designers should be informed of design concepts and samples.
Maintain an awareness of competitor goods and industry trends.
System Engineer
The System Engineer Mentors and trains other engineers throughout the business and strives to improve companywide processes continuously.
Work closely with engineering professionals within the industry to maintain the hardware and software required to finish projects efficiently.
Establish clear objectives for all aspects of a project and devise steps to ensure timely completion.
Be proactive about project challenges or constraints and strive to handle them appropriately.
Assist other department engineers in creating practical demonstrations of proposed solutions and showing them to other team members.
Work alongside project management teams at PTC careers to successfully monitor the progress and implementation of initiatives.
Establish milestones for required contributions from departments and create processes to support their delivery.
PTC conducts different types of interviews to hire recent graduates.
Application and Resume Screening: After submitting your application and resume, the hiring team will review your qualifications and experience to determine if you meet the minimum requirements for the position.
Phone Screening: If you pass the initial screening, you may receive a phone call from a recruiter or HR manager to discuss your background, experience, and interest in the position.
Technical Assessment: Depending on the position, you may be required to complete a technical round evaluation to demonstrate your knowledge and skills related to the job.
Onsite Interviews: If you pass the initial stages of the interview process, you may be invited to an onsite interview. This may include multiple rounds of interviews with different hiring team members at PTC recruitment. The onsite interviews may include behavioural or situational questions, technical questions, and case studies.
Background and Reference Checks: If you are a top candidate, PTC may conduct background and reference checks to verify your employment history, education, and other information you provided.
Job Offer: If you pass all the stages of the interview process and background check, PTC may extend a job offer, which includes details about the fresher's salary, benefits, and other relevant information.
Training and Development in PTC
PTC is committed to providing training and development opportunities to its employees to help them acquire new skills and knowledge, improve their performance, and advance their careers. Here are some examples of training and development opportunities available at PTC:
PTC University offers a variety of training courses and certification programs on PTC's products and solutions. Employees can take courses online, in-person, or through a blend of both to enhance their technical skills and knowledge by knowing the top courses to get a high paid salary.
PTC careers offer programs to help employees develop their leadership skills and capabilities. These programs include leadership workshops, mentoring, and coaching.
PTC encourages employees to learn and grow on the job by providing them with challenging assignments, cross-functional projects, and opportunities to work with different teams and departments.
PTC supports its employee's career growth by providing career development planning tools and resources, such as performance evaluations, career development discussions, and goal-setting sessions.
PTC offers tuition reimbursement to its employees who pursue higher education or professional development courses outside of PTC.
PTC's training and development programs are designed to help its employees develop the skills and knowledge needed to succeed in their current roles and advance in their careers. The company invests in its employees and encourages them to take ownership of their career development. You can start looking for jobs in PTC from freshers jobs in Bangalore and get exposed to the world of software development.
Work Culture at PTC Company
PTC has a work culture that values collaboration, innovation, and diversity. Here are some aspects of PTC's work culture at PTC openings:
PTC values teamwork and collaboration; its employees work together to solve complex problems and achieve shared goals. The company encourages open communication, feedback, and a willingness to help each other.
PTC is committed to driving innovation and developing cutting-edge technology. The company encourages its workers to think creatively, experiment, and take risks to drive innovation and bring new solutions to the market.
PTC places a strong emphasis on understanding and meeting the needs of its customers. The company encourages its employees to listen to customers, understand their challenges, and work collaboratively to deliver solutions that exceed their expectations.
PTC values diversity and inclusion and is committed to create a work environment where all employees feel valued and respected. The company promotes diversity in its hiring practices and provides training and resources to promote a culture of inclusion.
PTC recognises the importance of work-life balance and offers flexible work arrangements to help its employees balance their personal and professional responsibilities.
Overall, PTC jobs work culture fosters a collaborative, innovative, and customer-focused environment where employees feel valued, respected, and empowered to make a difference.
PTC offers a comprehensive benefits package to its employees. Here are some examples of the benefits provided at PTC:
PTC provides various health and wellness benefits, including medical, dental, and vision insurance, health savings accounts, flexible spending accounts, and employee assistance programs.
PTC offers retirement benefits, including a 401(k) plan with company match, pension plan, and employee stock purchase plan.
PTC provides time off benefits, including paid, holidays, and sick leave.
PTC offers life insurance and disability insurance to its employees to protect against unforeseen events at PTC vacancies for freshers.
The PTC Salary for freshers is exceptionally good for the freshers. The salary of a software engineer is approximately 4 LPA, and a System engineer's salary is around 4.2 LPA.