An interview for a job you want can be nerve-wracking, but if you prepare well, you can calm your nerves and keep your mind on the crucial task of making a good impression on your new employer.
Choosing what to bring to a job interview can be confusing, and you may need some planning. No matter what jobs alert you are looking and interviewing for, there are a few things you should think about bringing with you. If you are still determining if you need something, you can still get it with you in case you need it during the interview. This blog discusses the most important preparation tips and necessary things to get to a job interview and why each is important.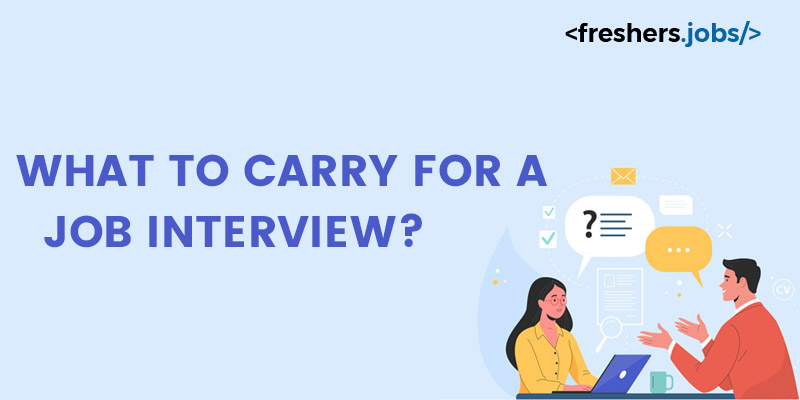 What to carry for an Interview?
Copies of your resume and Cover letter
It is important to bring copies of your resume and cover letter to a job interview to give the recruiters information about yourself. Even though they might already have copies of your resume or cover letter, bringing your copies may show that you are serious about the job and have good organisational skills. Most of the time, you should get at least four to five copies of each document. This is important because it is better to have more copies than not enough for everyone on a hiring committee. Know how to write a cover letter for an interview.
You could also bring copies during the interview to help you remember what to say about certain needed things. For example, if you have a copy of your resume and an interviewer asks you about your relevant skills, you can refer to it to make sure you mention all of them. Having this reference point may also help calm your nerves. Read through the Tips to overcome job anxiety.
Is your resume as good as it can be? If not, make sure you know how to format and present your overview differently so that it gets the attention it deserves. Check out How to write a resume if you want to avoid writing it yourself.
Information about your job references
At a job interview, it is important to bring information about your preferences as interview documents in case the interviewers want to get in touch with them after meeting you. Even though you may have put this information on your resume, it does not hurt to give them your job reference information again. You can give them copies of this information and your resume and cover letter. Doing this may also show that you are serious about the job and have good organisational skills.
Most of the time, you should list at least three job references. These people could be former bosses, coworkers, or friends. Even so, it is essential to know that interviewers might ask for references from people who have previously worked with you.
As recent graduates, you can just look out for freshers jobs in Bangalore and land your dream IT job through various job references.
A portfolio with samples of your work
Bringing samples of your professional work to a job interview is important as it gives you a chance to talk about your past work and what you know about the industry. Here are a few of the things you might want to include in your portfolio:
Documents for interview can be Examples of past projects you have worked on, results of the projects you have worked on, and Skills or technologies used for each project you have worked on.
Also, add more information and examples of your work to your portfolio. You might also bring a copy of this with you to the interview. For example, you could get a copy of your portfolio for you to look at and a copy for the recruiter to look at as you talk. This can help you show more of your professional experience on your resume. Read how to add certifications in your resume to present your best in the interview.
A group of written questions
You might have more than one group of questions to ask an interviewer. You should write it down and keep it with you because you need to know how to ask these questions correctly. Write down all of the questions and bring a copy to the interview.
Use a cell phone as a planner
On the interview day, you must have a cell phone with you. There are plenty of chances that the interviewer will ask you to come back for the next round or about the results, so bring a cell phone with a calendar or a planner to help you keep track of the critical dates.
A few business cards
You must bring business cards to an interview as documents required for job interview. For example, when the interviewer gives you their business card, they might want you to provide them with yours, or they might even ask you to give them your card so they can keep in touch with you and tell you the latest news about the interview. Keep a few business cards in your portfolio or your pockets to use when necessary.
A printout of the route
If you want to be relaxed on the day of the interview, you can try to figure out how to get there and bring a printout of the route with you. This will keep you from having to waste time. There are also other ways to see the route on a cell phone, but there is a chance that the phone will run out of power or have some other problem. So, bring a printed copy of how to get to the place of the interview.
Interview call letter
Even though this important thing is at the bottom of the list of documents required for interview, it is the most important thing because it lets you identify yourself on the day of the interview and proves that you have to go to the interview finally. So, bring an interview call letter with you to the interview. Know how to get a job as a fresher in your passionate field.
Freshers!!! You can just look out for freshers jobs in Mumbai as many companies provide jobs for recent graduates in various fields.
A handkerchief or clean tissues
Having a handkerchief or a few clean tissues on the day of the interview will be a relief. You might be scared or need to wash your face before you leave the hall. So, bring a handkerchief with you so you don't look bad or dull when you cough or need to wipe your face.
Mouth fresheners or a peppermint
 This is optional for all of them. But it's best to bring it, so you don't have bad breath and feel good while you talk in the interview. A recent study found that chewing gum or using a mouth freshener makes people feel more comfortable talking to a stranger for the first time. Also, don't chew or have something in your mouth as you walk into the hall.
Do your research on the company.
Whether a technical or non-technical interview, there will always be a few basic questions about the company. The interviewer should expect that the person being interviewed knows a lot about the company. So, learn as much as possible about the company and write it down so you can review it before the interview as documents for interview. You must know how to research about a company.
Bring cash
Never go to an interview without cash, even if you think you have a credit or debit card. Remember that you might need to call a taxi or pay for food in the cafeteria. Only some people take cards. So, bring enough cash with you so you can get some money immediately.
A small umbrella. 
It goes without saying how important this is as necessary things, but you must bring a small umbrella to the interview. It could be a sunny day or a day with thunderstorms, so you should get an umbrella just in case.
A watch
Remember to wear a watch, because it could keep you from getting nervous and having to look at your phone or wall clocks all the time.
A health emergency kit
These are very important needed things in an emergency. Keep a few tampons, bandages, paracetamol, and a needle kit in your bag if you need them. You might be glad it came up so quickly on the interview day. So, make sure you put it in your bag.
A snack between meals to give you more energy
 Bringing a few nuts, chopped fruit, or digestive biscuits is always a good idea if you have to stand for a long time. It's always a good idea to bring anything healthy with you.
You can look out for freshers jobs in Hyderabad and get excellent exposure or experience by attending various job interviews and land your dream job.
Conclusion
I hope you have got an idea of what all have to be carried for an interview as necessary things. No one can always be perfect when they go for an interview. Make sure you remember a few essential things. Plan and ensure everything on your list is done before the big day. This post gives you an idea of what you should bring to a freshers jobs interview.