Candidates interested in management courses can enrol in a Postgraduate degree programme, such as a BBA, MBA, PGDM, or another management-related course. You can appear for exams like CAT, CMAT, XAT, and SNAP/MAT to get into MBA and PGDM programmes at different colleges. Here, we talk  about the MAT exam and the preparation tips for MAT. MAT is a challenging entrance exam accepted by most of India's best B-schools and management institutes. Candidates can get into well-known Business Management schools by passing this exam with the right MAT preparation. You can even go through the CAT preparation tips to land at big business schools.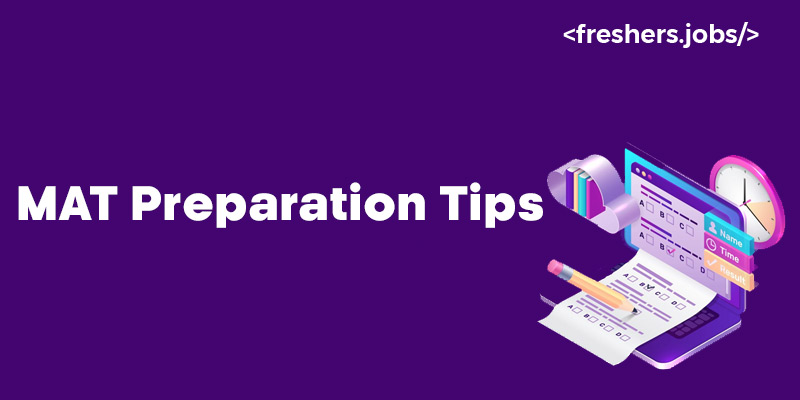 Let us know about the MAT exam
The MAT, which stands for "Management Aptitude Test," is given by the All Management Association (AIMA) and is accepted by 600 businesses in the country. Every year since 1988, this Test has been conducted. It was approved by the Government of India's Ministry of Human Resource Management in 2003. Thousands of people can take this test to get into top B-schools for management programmes like MBA, PGDM, etc.
Eligibility Criteria
AIMA decides who is eligible to take the MAT Exam. To take the MAT, candidates must have a bachelor's degree from a recognised university in any field and any university. Also, students from different groups, such as Foreign Nationals, NRIs, and Indian Nationals, can take this exam with good MAT exam preparation.
You can get into the top Business schools like IIM and Symbiosis and graduate to get wonderful job opportunities from freshers jobs in Bangalore with the right strategies.
We shall discuss the MAT preparation tips in below sections,
MAT Exam preparation tips
MAT Preparation Section by Section 
Each section of MAT Preparation can be started one at a time. Working on the basics, getting better at reading, and practising reading comprehension are all essential to getting ready for the MAT Language Comprehension section. Preparing for Data Analysis and Sufficiency is the same as preparing for the MAT Mathematical Skills section. Practise a lot and focus on the basics. A good GK book is an excellent way to prepare for the MAT's Indian and Global Environment sections. 
MAT preparation for Language Comprehension 
How to crack MAT exam

? Read when you have free time and make it a habit. Every day, try reading the newspaper.

Learn the basics of grammar, like how to use tenses, articles, prepositions, etc., correctly. 

Downloading free apps and using flashcards can help you learn new words. 

You can also sign up for some YouTube channels that post great things to help you improve your speaking and vocabulary.

If candidates want to do well in the Language Comprehension section, they should choose the right topic for the reading comprehension section and understand the passage's main point. 

If the candidate gets the passage's main idea, it's easy to answer questions about it. Know

how to improve your communications skills

to perform better on the MAT exam.
MAT Preparation for Math Skills 
Make sure you fully understand the basics of

MAT preparation strategy

. If you need to, look at the books you read in high school.

Work on your speed and accuracy.

Put a list of all the essential formulas somewhere you will see every day, like on the wall above your desk or the wallpaper. You will passively take in all of the procedures.

Start by answering the easier sample test questions before you move on to the harder ones.

Mastering this level takes a lot of work, so always solve sums.

Learn Vedic math and shortcuts to help you solve problems quickly.
MAT Preparation for Data Analysis and Sufficient Knowledge
Always you can go through the instructions carefully before you answer the questions.

The following is the order in which candidates answer: Easy>Medium>Hard.

Only try to solve the puzzle if you can finish it in the time given.

Always use the information in the question, don't guess or fill in the blanks.
MAT Preparation for Critical Thinking and Intelligence
Read the questions all the way through and know

how to crack MAT

. Make sure you know what kind of question it is before you answer it.

Because you could get stuck on a single question, you must be quick and know how to use your time well.

Don't think about it too much, but the answer is always one of the options given.

Take a lot of practice tests and other sample papers to feel better about yourself.

Even though trying this area can be challenging, stay calm and avoid overthinking it.
You can improve your critical thinking skills by reading through how to improve your critical thinking skills.
MAT Preparation for India and the World 
Make notes as

MAT preparation tips

and put them in order of importance and value.

Use flashcards to help you remember facts.

Look at magazines, newspapers, and online articles about the Indian government, world events, business, and sports.

Watch news that has been made with entrance tests in mind.

Get apps that tell you about current events and read them often.

If you need to learn more about banking and business, you should learn more about them.
As there are many Business schools and Management colleges in Mumbai, you can look out for freshers jobs in Mumbai after your graduation.
Last Week's Plan for MAT Preparation 
The following points are essential in the last week of studying for the MAT.
Review the main ideas, formulas, and theorems from each section.

Take a practice MAT test to see how fast and right you are.

Look over the quick tips and notes that have already been made.

Make a plan for the test day based on your strengths and weaknesses as

MAT preparation

.

Don't bring up new subjects in the last week.
Tips for the Last Minute to Prepare for MAT
Prioritise Important Formulas: For the math skills part of the test, candidates must review all the necessary formulas. This is vital if you want to avoid any last-minute exam confusion.
Don't learn about new things: It is recommended that candidates don't choose any new topics the day before the exam, as this would cause more confusion than is necessary. Focus on the most important things you already know a lot about.
Focus on Getting Faster and More Accurate: Since you have to answer 200 questions in 150 minutes, it's essential to work on getting faster and more accurate. Try to finish a few practice tests two or three days before the actual test. This will help you get quicker and more accurate.
Don't study on the day of the test. If you look on the day of the test, you will have more work to do and more stress. Try to stay calm and not worry about the MAT exam. Have faith in what you have done for mat exam preparation for the MAT, and you will do well. Reviewing your general knowledge notes is essential if you want to remember them. So, to do well on the MAT Indian & Global Environment, you should review the important notes for general knowledge (GK) and current events.
Focus on Getting Faster and More Accurate: Since you have 150 minutes to answer 200 questions, you need to get faster and more accurate. Try to do a few practice tests two or three days before the actual test to improve your speed and accuracy.
How to Prepare for the MAT Exam Day
Here are some of the important tips on how to crack mat exam and prepare for the MAT
Save time reading through the whole test. You should start working on the paper as soon as the test begins.

Start with the most accessible questions on your first try, and in 60–70 minutes, you should be able to answer all of the easy questions in the first four sections.

On your second and third try, answer as many questions as possible in another 60 to 70 minutes while still getting them all right.

Try your best to answer the questions that are hard but still doable in the remaining 20 to 30 minutes. If you still have time, try to answer more questions, but don't spend too much time on anyone. Questions that take the most time and are hard for you should be skipped.

You should not spend more than 10 to 15 minutes on the Indian and global environment GK section because it won't be used to figure out your overall score or percentile.
Conclusion
I hope you have an idea of  MAT preparation. The young budding minds can always aspire to join for the Masters in Business Administration in top B-Schools and come out with flying colours and path your way to become a great Business Personals or land your dream freshers jobs. This blog helps you prepare well for the MAT exams and excel with good ranks. Work Harder, Plan in a good thought structure and bloom as Business Tycoon and entrepreneur. You can refer to the Entrepreneur's skills and learn how to become a proficient Entrepreneur.