Folks, are you dreaming to get a Postgraduation in Business Management? Then the immediate step to think off is to qualify for the MBA entrance exam. If you wish to pursue MBA outside the country you can think of the GMAT. Getting into a Top B school is a dream for every graduate who wishes to get into the course of an MBA. Henceforth you will need to prepare for the CAT examination with great focus and passion for MBA. So, I'm sure that this blog will provide you with the necessary tips on how to prepare for CAT, and enough focus and strategies to land you in top B schools like IIM, ISB, and so on.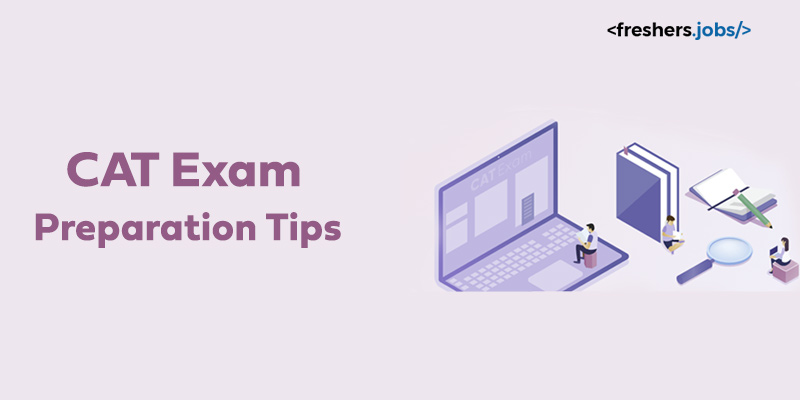 Let us know about the CAT exam
CAT is a national admission Exam conducted every year by the IIM. It is generally conducted to evaluate the graduates who want to pursue the management profession. Having passed this exam you will be able to step into the top business schools.
What requirements must one meet in order to take the CAT exam?
Candidates must hold graduate degrees with a minimum cumulative score of 50%.

This exam can be attempted in English only.

Exams for the CAT can be taken as many times as you choose.
Hence, it is very important for budding candidates to get prepared well for the CAT exam and get into top Business Schools. Thus for you to delve into the CAT exam you need to know how to prepare for the CAT exam, have a proper strategy and have an experienced faculty to guide you on the proper track.
We make sure that you receive the best preparation tips through our site freshers jobs so that you can have a plan for the exam within the stipulated time. This blog details the recent updates and latest changes given by the IIM authorities.
Advice on Quantitative Skills (QA)
Recognize Your Syllabus
The majority of the topics for the QA part are from classes 10 and 11, with a few concepts from classes 12. 

All in all, they are the subjects studied in your school. 

There are various topics covered, including algebra, averages, geometric progression, geometry, HCF & LCM, inequalities, quadratic equations, and linear equations.
Time management
It is vital

CAT preparation tips

while taking an exam like the CAT. 

It's crucial to keep track of how long you spend answering questions about a certain subject when you're practising.

Time management during the exam will be easier for you once you have a concept of how much time is required for each type of question.
Work on Your Speed and Accuracy
After you have got to know about time, working on your speed is the next phase. 

There are 34 questions in the 40-minute QA portion,

To quickly respond to the same question should be your aim. 

It's vital to practise precision as well as speed. 

You should be able to react accurately to QA  to the tune of at least 85 per cent to 90 per cent.
Select a strategy in advance
You never know what to anticipate when you step into the exam room. However, you are aware of the subjects and the questions' potential difficulty level. 

Planning your approach and having a strategy on how to answer the questions are key

CAT exam tips.
Work on shortcuts
Each problem doesn't have to be fully resolved. 

Some questions can be addressed by utilising the options. 

For instance, you can get the solution in topics involving algebra and numbers with options. 

Working on shortcuts is one of the

CAT exam preparation tips.
Select Wisely & Smartly
It is evident that you cannot treat each of the 34 questions equally. 

It is vital to pick the questions you can answer very quickly and avoid wasting time on difficult ones. 

Such questions just increase anxiety, which you should avoid solving during the 40 minutes you have for the QA segment.
Advice for Verbal Skills
The Verbal Ability and Logical Reasoning areas of the Common Admission Test are perhaps the more unpredictable of the two sections.

Aspirants can prepare from the vocabulary books, and spend a lot of time working on developing their reasoning skills. 

An exact approach that addresses getting ready for CAT questions as they arise should get you through

how to prepare for CAT.

It is well knowledge that Verbal Ability is not formula-based or objective, in contrast to Quantitative Ability and Logical Reasoning. 
Advice on Data Interpreting(DI)
The DI segment is nearly totally application-based and asks for both knowledge and a quick deduction. 

This section employs the appropriate data from the offered information to answer the questions and tests understanding of the provided information.

Calculations are needed in addition to reasoning or visually analysing the problems.

The CAT exams also include other data question types such as Venn diagrams, routes and networks etc.
Guidelines for logical thinking
The LR questions are set-based, so read carefully. 

Before determining whether to try or skip a question, it is vital that you read the complete thing. 

Compile all the facts provided in the question. 

Before choosing the proper response, make sure to carefully comprehend the possibilities.
Preparing for the CAT Using Mock Exams
The IIM that is administering the exam offers the official mock test as a description of the exam's format. 

Take practice exams from the beginning on

how to prepare for CAT

and do not rely completely on them. 

Joining a recognised test series for mock tests is vital. 

Mock tests assist in removing the majority of the unexpected parts. 

The more mocks that are attempted, the faster and more accurate one becomes. 

CAT Mock Tests are excellent for determining one's skills and limitations. 

Additionally, they aid in preparing your body to sit still for a 3-hour lengthy test.
Coaching to Prepare for CAT 
The

CAT exam preparation tips

process takes time. 

At least six to nine months previous to the exam, one must begin planning. Candidates who wish to study alone for the CAT need to get started even earlier. 

Candidates who choose to participate in coaching classes for CAT preparation receive superb mentoring from mentors and coaches. 

In addition, the coaching institute supports students with difficult concepts and challenges while giving all the CAT study resources and sample exam series trials. 

However, youngsters will have to spend six to eight hours a day in education.
Self-preparation tips for CAT exam without coaching
Review the updated CAT exam schedule and CAT course syllabus.

Select your strong and weak points in each of the three divisions, then focus on strengthening them.

To prepare, and compile the best books and CAT study materials.

As you study online, take as many CAT mock exams as you can and assess each one as a part of

CAT preparation tips

.

Attempting a mock exam without properly analysing the Mock could be worthless.

Reading various books and articles, speaking with friends in English, and even watching English TV shows and movies would be beneficial if your Vocabulary is lacking.

After reading at least five to six newspaper stories every day, make a list of any new words you come across.

For rapid calculations, use approximation techniques.
CAT Preparation Online
Online coaching sessions are becoming increasingly popular due to the expansion of technology in the educational field, and more students are choosing them for a variety of competitive tests. If your are preparing so you can look into lots of

jobs alert

posted on MBA professions.

The challenge is in selecting a reputable online coaching learning centre, despite the fact that they offer recommendations and preparation tactics on par with offline coaching institutes.
CAT Preparation Tips from Toppers
The preparation method used by CAT toppers can provide you with the ideal preparation strategy on

how to prepare for the CAT exam

within the allotted time and anticipate the greatest outcome.

The preparatory advice was provided by exam winners who had weaknesses in VARC, DILR, or Quant and showed how they overcome those weaknesses to achieve excellent exam scores.
Last-minute CAT Study Advice
Check the CAT Syllabus and Exam Pattern in its entirety to make sure you didn't leave any topics.

Focus on enhancing the areas in which you struggle rather than enhancing the ones in which you are already proficient.

Make sure you are allotted 3–4 hours daily for routine preparation.

Spend a significant amount of your preparatory time working on improvement.

Take part in mock exams very often so that you are benefitted from that to land in private jobs and

government jobs

.

Complete your CAT preparation in its entirety at least 10 days beforehand to allow for time for revision.

Consider your practice exams to be the real CAT exam.
Conclusion
Hope you have got an idea of how to prepare for CAT. The young budding minds can always aspire to join for the Masters in Business Administration in top B-Schools and come out with flying colours and path your way to become a great Business Personals. This blog helps you prepare well for the CAT exams and excel with good ranks. Work Harder, Plan in good thought structure and bloom as Business Tycoon.