An internship lets you try different careers and learn how to be like a professional. You must write a stand-out resume to get an internship at the organisation you want. It shows the employer what skills and abilities you might have and makes it more likely that you will be shortlisted. This blog discusses how to write a good resume for internship for your career prospects.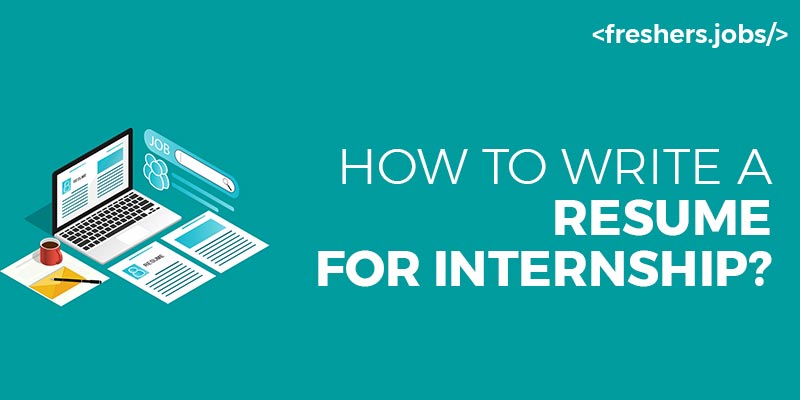 Gaining an internship can help you get started on the path to the job you want. Even if you have little or no experience, you can show a recruiter that you have the potential to do well by making an impressive internship resume. Here, we shall discuss some of the essential parts of a good internship resume and the steps you can take to follow while preparing a resume.
What is an Internship Resume?
Since you may not have much work experience, an internship resume will focus primarily on your skills, education, and other strengths. But writing an outline for an internship is a chance to think about your strengths and what makes you different.
Even if you don't have work experience, you probably have had other unique experiences that have helped you develop essential skills that would make you a great addition to a company's team. It is good to know how to develop essential problem-solving skills. You can even consider your accomplishments, such as your education, volunteer work, extracurricular activities, or any other part of your life, in the resume format for internship where you may have shown exceptional skill, achievement, or creative thinking.
Steps to follow on how to prepare an Internship Resume
These steps or preparation tips will help you write an impressive resume that shows off the unique skills you would bring to an internship:
Ask people you know
Talk to your professors, advisors, friends, family, or anyone you know who can help you plan before you start looking for an internship and know how to make resume for internship? Ask them for advice and, if they know many people in the field you want to work in, you can use them as a reference.
You can also ask people you know for ideas about what should be on your internship resume. They will probably have a good idea of your best qualities and skills and how to best present your unique qualifications and career goals.
Write a strong statement of your goals
The recruiter's needs should be considered in a strong objective statement. Read the internship descriptions of a few companies where you would like to work and list the things they all have in common. These are the skills they usually ask for and the keywords and phrases they use to describe the job say both private and government jobs.
Ensure you use key phrases and skills when writing your objective statement. In the end, you should write one to three sentences describing who you are, your main strengths, and what you want to do with your career.
Your objective statement aims to sum up what you have to offer clearly, how to write a resume for internship, and easy-to-remember words so that employers can easily see what you can do. Consider changing your objective statement for each application you send to make it stand out more.
Check out the job description for the Internship
Read the job description for the internship you want to get, and Write down the skills and abilities that the recruiter wants. This will help determine if the training is a good fit for your career. Second, when you list your strengths and qualities on your resume, you can use words from the job description. This will show that you are interested in the job and help your resume get through the applicant tracking system.
Find out about the organisation
Find out more about the company you want to join before you join and know how to create resume for internship? This will give you an idea of their work and their beliefs. Then you can decide if the company's values are the same as yours and if you want to work there. If you choose to go ahead, you can use this information in your resume, cover letter, and interview to show the recruiter how your values match theirs.
The website of the company is an excellent place to start your research. In this case, the "about us" and "work with us" sections would be more helpful. On top of the company's website, you can also read employee reviews on different jobs alert sites. In the same way, customer reviews on websites that rate businesses can tell you more about the company.
Mention Your Name and How to reach you
Put your full name, mailing address, email address, and phone number at the top of your resume so the recruiter can easily find this information. Your speech can also help you stand out if you live close to the office. Put links But make sure they have a professional look to make a good impression on resume for internship.
Use your best asset to lead
In terms of how the resume is put together, you should list your best qualifications first. Your education will likely set you apart for students and recent graduates. For people who want to change careers, the skills they already have that can be used in a new field will be their best asset. If you haven't gone to college or worked before, you might have done volunteer work or something else that makes you stand out. What makes your application stand out should be at the top of your resume, right below your objective statement.
Highlight your skills
In this section, list both your technical and "soft" skills. Technical skills have to do with your specialised knowledge about your area of experience, while soft skills are more general skills you have built up over time. Read through the Best Skills To Include In Resume. For instance, if you want an internship as a software programmer, you need to know the suitable programming languages as resume format for internship. This would be an example of technical skill. In the same way, you can do your job better if you have good interpersonal and teamwork skills, even though these are not the most important parts of programming.
The skills section helps the employer decide whether or not you are a good fit for the job. When people have the same level of education, skills usually set you apart from other applicants in resume for internship.
List all of your work experience
While applying for internships, it is less important that your previous work knowledge is directly linked to the field you are applying for and more important that you possess work experience to show.
You can also list odd jobs as long as you do them regularly. For example, doing other jobs for family, friends, and neighbours to make extra money are all excellent ways to show that you can be trusted and are motivated to work.
Add a section about what you have done
If you don't have any work experience, you might want to list your accomplishments in detail and know how to make resume for internship? You can add any awards you may have won or projects you are proud of that show essential skills an employer is looking for. You can read the relevant blog How To Introduce Yourself In An Interview?
You can also discuss your clubs and extracurricular activities and what you have accomplished here. For example, if you write for a college magazine newspaper, try to estimate how many articles you have registered and mention a specific article where you felt you overcame unique challenges.
Keep it simple
Employers who offer internships expect applicants with little experience, so you don't need to lie on your resume to make it look like you have more knowledge. Always make your resume to one single page and include extracurricular activities or achievements if you can explain how they relate to the internship you are applying for.
Also, your resume format should be clean and easy to understand, especially if you are sending it through an online system. Many online systems will run your resume through an ATS (applicant tracking system), which automatically removes resumes that don't meet specific minimum requirements. This system can get confused by complicated formatting, which could cause your resume to be thrown out even though you did meet the criteria.
Conclusion
Hope this article has seemed very helpful to you as a fresher and know what skills on resume for internship have to be added. The main point to be kept in mind has a structured resume. As we say, the First impression is the best impression your resume must be the first impression for employers to snatch you into their organisation. Read on these tips and share this article from freshers jobs on how best you can work on your Internship resume.