Is your goal to work abroad for a reputed organisation? When you graduate, do you wish to work in a job with a high freshers salary?
If so, the best graduating major is computer science engineering. It not only develops your skills and talent but also guarantees that you will have a wide range of work possibilities in the future and many computer science career options.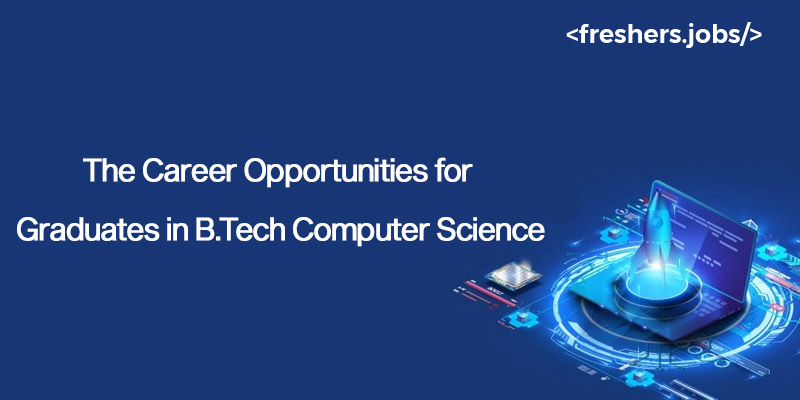 Additionally, its curriculum is designed to teach pupils about fundamental technology and the latest technologies, and modern ideas. For example, while learning operating systems and computational algorithms in the first two semesters, students must study machine learning, artificial intelligence, and other topics in the fourth year.
Students get access to the pool of recruiters to hire into the top IT organisations. It is regarded as one of the most lucrative educational programmes and freshers jobs for graduates because of this.
Related: Tap to freshers jobs in Bangalore to land your dream jobs.
We will discuss the many career options after B.Tech Computer science graduates in this blog so everyone knows their options after graduation.
Computer science engineers have the chance to work in various sectors, making it one of the top academic programmes to follow after completing the 12th grade.
 Job Opportunities after B.Tech in Computer Science
You can submit applications for jobs in the public and private sectors. Because there are so many chances, all you need to do is keep honing your abilities throughout the programme plan to ensure you can land the most excellent positions for your needs.
Numerous chances to be innovative
What to do after B.Tech computer science? Compared to many other careers, a computer science engineer's job never gets boring after a few years.
One area where ongoing innovation is necessary to move us forward is technology. There is a continuing need for innovation and development in emerging industries like Cloud Computing, Cybersecurity, Big Data, etc. Additionally, the excellent salary for computer science engineers is beneficial.
So, as a B.Tech CSE graduate, you can appreciate the need to always be at the top of your game to go up the ladder of success.
Related: Freshers, you can look for the freshers jobs in Coimbatore for your career start.
Jobs for B.Tech Computer Science Graduates in the Private sector
Students unquestionably have more chances in the private sector because it also gives them the option to relocate abroad. Additionally, it gives you more freedom to switch jobs, significant pay raises, and other benefits for job after B.Tech CSE
Nevertheless, the private sector is demanding, and students must have strong abilities and knowledge of computer science and contemporary technology fundamentals. They need to have concepts on how to put that knowledge into practice rather than just having academic understanding.
So make sure you have all the necessary abilities if you want the most incredible career in the private sector.
Related: Essential New Skills To Learn to Advance Your Career
Top Careers for CSE Students in the Private Sector
The private sector has the positions listed below for computer science graduates with a B.Tech.
1. Software Developers
B.Tech salaries in computer science engineering for software developers and jobs after B.Tech computer science in India are high. Software development is one of the most popular private sector careers after earning a B.Tech in computer science. Nearly 99% of private sector businesses use people to work as application and website developers. A backend/fronted developer or a full-stack developer may be involved. Additionally, one can work in a different programming language, such as Python, Java, or R.
2. Cyber Security Analysts
Job options for information security analysts with a B.Tech in computer science are demanding computer science career options. You can work as an information security analyst like in the public sector. Here, you will assess the information technology system's security state and create new security networks and protocols.
3. Software Testers
To verify that the developed products, any existing systems, and others perform as planned and are in sync with the expected plans, testers are responsible for evaluating them.
They use a variety of techniques, including automated testing, load testing, and performance testing. Because the product can only be released onto the market after testing processes are implemented, the software development life cycle is complete with them.
Related: Have a glance at the freshers jobs in Chennai for Software testing  jobs.
4. Artificial Intelligence Engineers
Salaries for these professionals following a b.tech in computer science are high. This is the right career options after B.Tech. You might infer from the term alone that these experts are tasked with developing various Artificial intelligence systems. They ensure all algorithms and flowcharts are implemented correctly, defining how each system works and bringing innovation to the old, out-of-date systems.
5. Data Engineer
The most valuable asset for every business is its data. When used correctly, it can provide real-time insights into various corporate activities and functions.
As a result, you can pursue a career as a Data engineer while specialising in data science during your B.Tech in computer science. For example, you may train to be a security engineer or a data analyst.
6. Machine Learning Engineer
Machine learning engineers earn a salary after completing a B.Tech. in computer science and a demanding job after B.Tech CSE. An additional in-demand profession right now is machine learning engineer. Different algorithms related to machine learning systems and machines will require professional design and implementation.
Additionally, they can collaborate with AI engineers to develop software that can extract inputs, analyse and assess them following human intelligence, and produce the most accurate outcomes.
7. DevOps Engineer
Payscale for devops engineers with a computer science b.tech are higher. DevOps engineer is another fantastic position in the professional world that a CSE engineer can choose from as as computer science career options. Given the size of the DevOps industry, there are numerous options. You can pursue a career as a DevOps developer, tester, or even in the field of deployment.
Private organisations that hire CSE graduates
Several names associated with businesses and organisations in the private sector require CSE specialists or engineers. They choose to work as website developers and testers, as well as in other positions like IT analyst, database manager, etc.
The companies that regularly engage CSE specialists and career options after B.Tech companies are listed below.
TCS or Tata Consultancy Services

Infosys

PwC or Price Water House Coopers

EY Solutions

KPGM

CTS or Cognizant

Genpact

Wipro

Accenture 
In the private sector, CSE graduates can expect to earn a high salary
The salary for jobs after CSE B.Tech graduates is more than for jobs in the government. Additionally, if you have the skills the new recruiter is looking for and leave the company after gaining experience, you might opt for a salary increase.
Depending on the position, the employer, and the location, the beginning salary for CSE engineers in the private sector range from around 4 lakhs to 11 lakhs.
B.Tech. Computer Science Employment Opportunities Abroad
Unquestionably, more lucrative and diverse career alternatives are available abroad for graduates. You can work for the best multinational corporations, find employment at domestic enterprises, and make a good living.
All that remains is for you to obtain your diploma, register for the GRE or IELTS, and pursue your goal of working for your preferred company.
Related: IELTS Preparation Tips.
Conclusion
Now that you know the best computer science career options and career prospects for computer science graduates in the public, private, and international sectors, you can see how lucrative the positions are.
For example, in addition to working as a software developer, the most fundamental job title, jobs alert, you can also hold more specialised jobs like IT security analyst, database administrator, artificial intelligence engineer, etc.
All you have to do is carefully read the course outline and practise the necessary skills. Nevertheless, you should rely on something other than textbook information because it cannot contain the most recent discoveries and ideas.
Participate in seminars and internships or take some free online courses. Doing so will teach you more about the project's ongoing management and what a CSE Engineer can do.