Amdocs is a business focusing on software and services for media, financial services providers, cloud, communications, automation, and digital organisations. Its products include software for catalogue management, IoT, network and service automation, network deployment and optimisation, partner management for digital subscriptions, and monetisation solutions. Additional services provided by the business include consultancy, content management, delivery, mobile network, operations, quality engineering, and systems integration.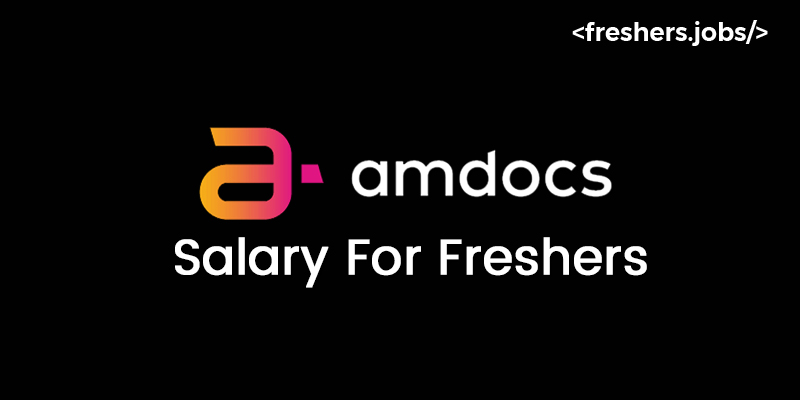 Amdocs is an excellent option for aspiring IT professionals or recent graduates seeking a new featured IT career with a competitive Amdocs salary for freshers. The organisation gives freshers a chance to work in a creative, collaborative environment. The salary for freshers at Amdocs varies depending on the job position. As a result, this blog briefly discusses the salary for freshers and the prerequisites for eligibility, specific skills, and essential tasks and responsibilities.
Related: Look for the latest jobs from freshers jobs in Bangalore for recent graduates.
Jobs at Amdocs for freshers
The first step in getting jobs there as an entry-level engineer is to complete the Amdocs Fresher Engineers Skill Development Program. A huge accomplishment is being a part of Amdocs professional programme.
The Amdocs Skill Development Training programme is a fantastic opportunity for new engineers like you. Providing a suitable Amdocs salary for freshers is crucial for them throughout and after the training or preparation time.
The well-known IT firm Amdocs has numerous locations all around the world. Do you want to advance your field, think creatively, and grow? Amdocs is the most excellent company to work for if you want to create a culture of advancement and respect.
Related: Freshers jobs in Kochi can be the right option for freshers to look out for work in many domains.
Job domains at Amdocs
Amdocs has offices worldwide, including many in India's most significant cities like Mumbai, Hyderabad, Bangalore, Chennai etc. 
Both recent graduates and professionals with experience have numerous opportunities to launch their careers at renowned organisations like Amdocs. The Amdocs will hire many people through campus recruitment, campus pool, and off-campus recruitment. In contrast to other IT behemoths like Infosys, Mindtree, etc., Amdocs employs many employees by providing them with competitive Amdocs fresher pay.
You must be aware of the domains and services the Amdocs company offers. The Amdocs administrations are listed below. Customer experience, Catalogue Management, Network and Service Automation, Network Deployment Automation, product and design, data and artificial intelligence (AI), digital transformation and operations, enterprise modernisation, platforms and cloud, and numerous more domains are centralised under Amdocs and offering high Amdocs salary structure.
Related: How to get a job as a freshers from freshers jobs in Chennai.
Job Opportunities in Amdocs
There are numerous work options for recent grads at one of the most well-known organisations. There are numerous employment opportunities at Amdocs in software, engineering, integrated supply chain and procurement, sales, marketing, sales force, business management, general management, human resources, customer experience, finance, and information technology.
Freshers have no cause for concern. As you can see, Amdocs discusses a wide range of industries by paying its employees highly. Recent graduates can choose from any of these sectors depending on their qualifications and abilities.
The time has come to discuss the many technical and non-technical job options available to freshers at Amdocs and the required abilities, Amdocs company salary, and interview procedure.
Job roles offered in Amdocs
Information Security Analyst, Middleware Engineer, System Admin, Site Reliability Engineer, Software Support Specialist, Graduate Application Engineer, Software Developer, System Engineer, Software Engineer, Tech Support Engineer, Data Analyst, Quality Engineer, Control system Software Engineer, DevOps Engineer, PHP Developer, Sales Engineer, RPA Developer, Business Analyst, HR Manager, UI/UX Designer, Cloud Engineer, and many more jobs are open at Amdocs for both new graduates and experienced workers.
Let us discuss a few of the job roles offered by Amdocs.
Information security analyst
Information Security Analysts are paid high

Amdocs package for freshers

and  Check for security problems on computer networks.

Look into security breaches and other problems with cybersecurity.

Install security measures and run firewalls and data encryption programmes to protect systems and information infrastructure.

Record security breaches and figure out how much damage they do.

Work with the security team to run tests.

To keep a high level of security, fix any holes that are found.

Keep up with trends and news in IT security.

Set up the best IT security practices for the whole company.

Test for vulnerabilities.

Help your coworkers instal security software and learn how to manage information security.

Research ways to improve security and make suggestions to management.

Keep up with what's happening in information technology and security standards.
Related: Look for Freshers jobs in Noida for the latest openings in the IT stream.
Software Support Specialist
The Software Support Specialist gets an

Amdocs salary

and Helps instal software to ensure the system is set up correctly and correctly for converting client data;

Helps test new and existing software and evaluates and figure out what software clients need.

Perform software upgrades and install the software (this may require work at night or on the weekend.

Help other employees who need it from within the company;

Help customers fill out dispatch forms. This includes entering orders, scheduling, demand graphs, ticketing, reporting, and processing at the end of the day.

Helping customers export their data to accounting systems like QuickBooks and Viewpoint.

In the incident tracking software, you can test, research, and document any software bugs that need to be sent to development.

Help customers with questions about how to use the product in general.
Site Reliability Engineer
The Site Reliability Engineer is paid a high

Amdocs salary for freshers

and Will automate the server setup process so that our networking engineering and data centre operations teams can do less work.

Do a deep dive into both systemic and hidden issues of reliability.

Drive standardisation efforts in different fields and services, working with SREs already part of the organisation.

Build and maintain systems with a polyglot architecture that are fast, scalable, and have low latency.

Ensure UA Record can handle a huge increase in users worldwide while meeting strict SLAs.

Use the best methods for collecting, monitoring, and sending alarms about metrics.

Speed up the UA Record team by making service/application deployment and builds fast, easy, and reliable.
Academic Criteria 
The candidates must have a bachelor's degree in Bachelor of Engineering, Bachelor of Technology, M.Com, BBA, BBM, BCA, and Bachelor of Science in Computer and IT-related streams. Amdocs lets people with a Master of Science, an MBA, an MCA, or a Master of Engineering apply for the right jobs with the right preparation tips to earn a high Amdocs company salary
Candidates must keep in mind a few cut-off criteria, such as the fact that there are no openings for people with backlogs and that there must be at least one year between each academic year.\
At Amdocs, you need to have specific skills.
Skills Required
You must be able to communicate well.

These skills are needed, and skilled people get a better starting salary package.

Companies look for people who are flexible, self-motivated, caring, adaptable, creative and have good communication skills.

They know that working for Amdocs will give them an advantage and offers a higher salary than an

Amdocs salary

.
Related: Tips for Launching a Career in Java Development as a Fresher
How to apply for Amdocs jobs
Amdocs puts its application form online so that people can use it to apply for these jobs. Here's what to do. Below
This is how you can look through the jobs alert at Amdocs to find the one that interests you the most.
To do this, go to www.amdocs.com, find the jobs section, and type in keywords, the work ID, and the place,

Amdocs salary structure

. Then, when you are ready, click the search button.

Keep looking through the list until you find a place that interests you, then click "Apply.
Interview Rounds in Amdocs
Multiple rounds are conducted in the selection process for hiring at Amdocs. Most importantly, applicants must pass a written test, like an aptitude test, which is an online test. Then, people must pass a Technical Interview based on their knowledge of technical subjects. The candidates who have cleared will be sent to HR interviews.
Amdocs salary for freshers
The

Amdocs salary for a freshers

Information security analyst is 4 LPA.

Amdocs's salary for DevOps Engineer is 5 LPA.

The Amdocs fresher salary for a Software Support Specialist is approximately 4 LPA.

The salary of a Site Reliability Engineer in Amdocs is around 4 LPA.

The salary of a UI/UX Designer in Amdocs is about 4.75 LPA.

The Amdocs salary for a System Engineer is 4.5 LPA.

The salary of a

Software Engineer

in Amdocs is 3.75 LPA.

The Amdocs fresher salary for a Tech Support Engineer is 4 LPA.
Conclusion
I hope you have got an understanding of Amdoc's salaries for freshers. Amdocs salary blog has given you a better understanding of the numerous qualities you need to possess before working in the IT sector. Start your career with Amdocs, which provides the best freshers jobs opportunities and freshers salary for freshers bundles and value-added benefits. Candidates can advance by submitting an application and joining a fantastic IT company with a high Amdocs salary.