The GRE (Graduate Record Examinations)is an essential requirement examination for admissions to graduate schools in the United States, Canada, and a few other countries. Most people are wrong about saying how hard it is to pass the GRE. You need the right tips for GRE to excel in the exam. The GRE General exam is taken by people from all over the world who want to get a Master's and specialised Master's in business, MBA, or doctoral degree from great reputed universities abroad.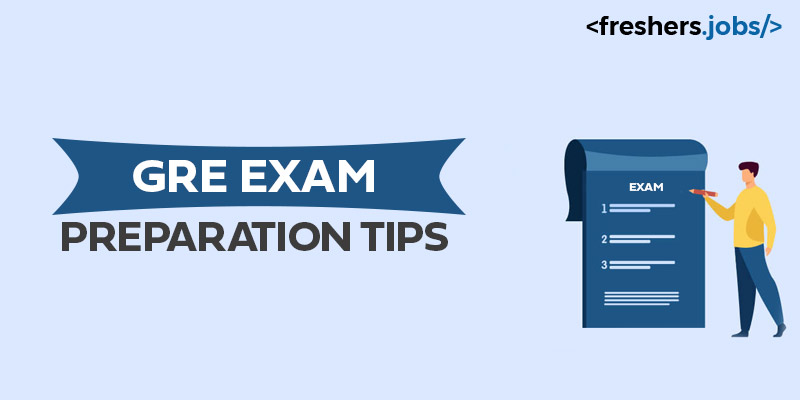 Who is eligible to apply for the GRE Exams?
GRE Eligibility criteria
The people in charge of the GRE exam haven't set any rules about how old you must be or what you need to know to take the exam. 

But since the GRE is an exam for getting into graduate school, candidates are expected to have finished their undergraduate programmes like

B.E/B.Tech

and so on successfully. Candidates should know that not all graduate programmes and universities require a GRE score to be accepted. 

Whether or not a candidate needs to submit his GRE scores as part of the application process is up to the university and the programme they are applying for. 
Let us see the preparation tips for GRE Exams which are very useful for every section of the GRE. Here are many preparation tips you can go through before starting your preparation for GRE.
Get to know the Exam format of the GRE
Before you prepare for GRE,

tips for GRE exam

are that you must know about the exam format, which is an essential step that should be taken while preparing for any competitive exams. 

Learning about the exam format will make it easier for you to prepare for the GRE Exams.

The GRE comprises three main areas: Analytical Writing, Verbal Reasoning and Quantitative Reasoning. 

The GREs last for about 3 to 4 hours and include six sections. 

The first Section is Analytical Reasoning, followed by two verbal reasoning sections and two quantitative reasoning sections, and the paper also contains an unscored section. 
Try to know which GRE Section is most important
Indeed, one of the GRE Sections will be more crucial for your Graduation school application than the other. 

If you select any math or science field, you must concentrate on the Quant score. 

If you are looking for the area under humanities, then you will have to focus and concentrate more on the Verbal score. 

Always remember not to neglect other sections while preparing for the different sections.
You must know how much you have to study for the GRE
The Time required to study for GRE depends on how far you are from your goal score and how well you do on the exam right now. 

If you haven't already, taking a full-length practice GRE test to get a better idea about your score is the best

GRE exam preparation tips

.

Generally, your GRE score goal should be 1-2 points higher than the highest average score reported for all the programmes you're interested in. 

Since the GRE is only one part of your application to graduate school, having a score above the range of applicants is always good.
Make your study Plan
Once you know the exam pattern or sections, you can develop a study schedule to see when you can start studying for the GRE and set up a track. 

Plan the timetable accordingly to include the study, revision, and relaxation time. 

Plan for a study schedule that provides more time for the major sections of the GREs. 

Having a structured timetable and proper timeline execution can help you gain excellent scores on GRE. 

If you are a student preparing for a GRE, the

best way to study for GRE

is you can plan the preparation accordingly.

 If you are a professional preparing for the GRE Exams, you can design it accordingly after your working hours. 
Get High-Quality Study Materials
You can achieve the best adequate GRE preparation with high-quality preparation materials. 

Good Study material will always help you get accurate solutions, explain precisely what you will be asked during the GREs, and give you some real sample questions.

 Plenty of books are available for GRE Preparation, and you can choose the best one and start preparing from it for GRE Exams.
Regularly Practice
You should also take full-length GRE practice tests and use suitable study materials. 

When you take a GRE to practise test, you will find out how you do on long tests, how you should pace yourself on exam day, and what questions are most challenging for you.

While preparing for the GRE, you should take at least two practise tests, ideally three or four, as

tips for GRE

.

Take an official GRE practise test as your first test to find out where you stand.

Take a second official practise test right before you take the actual GRE to see if your scores are in the range of your goal scores or not. 

You can also take more practice tests as you study to see how well you are doing. 

Check out the entire collection of GRE practice tests to learn more about the best ones to take.
Review your Answers for practice papers
Once you have finished your practice test papers, make sure you look out for the wrong answers, and you can work out the questions that went wrong and pay close attention to those questions. 

By repeatedly practising, you will never make mistakes. 

This tip can be time-consuming, but it is equally essential for you to clear the GRE accurately. 

These

preparation tips for GRE

can be a learning step from mistakes and help you score a good GRE score.
Be Cautious of the timing
Even if you get every question right on the GRE, it doesn't help much if you don't have enough time to answer all of them. 

So, time yourself during practise sections and try to stay on track. 

Both Verbal and Quant sections will have 20 questions per section. 

You have 30 minutes to finish the verbal parts of the exam, which gives you 1 minute and 30 seconds per question. 

Quant sections have a 35-minute time limit, giving you 1 minute and 45 seconds per question. 

Different questions will take time, but you should practise staying on track.
Try other study materials
The main vital step you can do for the GRE is to figure out which ways of studying work best for you. There are many tips for GRE, and each has its pros and cons. The main ways to learn are:
Online GRE class 

Self-study

In-person GRE class

Private GRE class.
Almost everyone who takes the GRE will do some self-study. For many exam-takers, that's all they need. But if you're having trouble staying motivated, understanding specific ideas, or getting the GRE to score you want, trying a new way to study can help a lot.
GRE Study Tips for Analytical Writing Sections
Use these tips to study for the first part of the GRE, the Analytical Writing Assessment (AWA). You will have an hour to write two different essays.

You don't have to spend a lot of time on each topic or memorise an outline, but we recommend that you at least skim through them to get a sense of what is covered and what patterns emerge as easy

tips for GRE exam.

It's also a good idea to practise outlining a few essay topics before you write the essays for the exam.
Study Tips for Verbal Reasoning Section
One of the hardest things about the GRE is that you need to know many words. Half of the Verbal Reasoning section tests how well you know some hard and advanced words.

 In this section, you will be asked to choose words or groups of words to complete sentences. 

Even if you did well on the vocabulary questions, you would probably need to study for the GRE because it has a more complex vocabulary and tests more vocabulary words. 

Use flashcards as

preparation tips for GRE

.
GRE study Tips for Quantitative Reasoning Section
Know what math topics the GRE will test you on and which ones it won't before you start reading books on calculus or advanced math. 

No higher-level math like calculus is tested, and most questions don't require much more math knowledge than what you learned in high school. 

This means that college students who didn't study advanced math will find it difficult. 

Instead of testing you on complicated math ideas, the Quantitative Reasoning questions are meant to test your basic math skills, how well you understand basic math ideas, and how well you can reason quantitatively and use quantitative methods to solve problems.
Conclusion
I hope we have discussed almost all the most important things you need to know about Preparation tips for GRE. Read the preparation tips if you want to study well for the GREs or any other competitive exams. Most people will do well on the GRE if they stay positive, stick to their schedule, join the best universities Abroad, earn a master's degree, and land your dream freshers jobs.