In recent years, the number of apps and websites has grown by leaps and bounds. There are about 400 billion active websites on the internet at the moment. Much of this growth has been caused by more people using the internet on their phones and computers that have been developed by programmers using various methodologies where in JavaScript is one among them.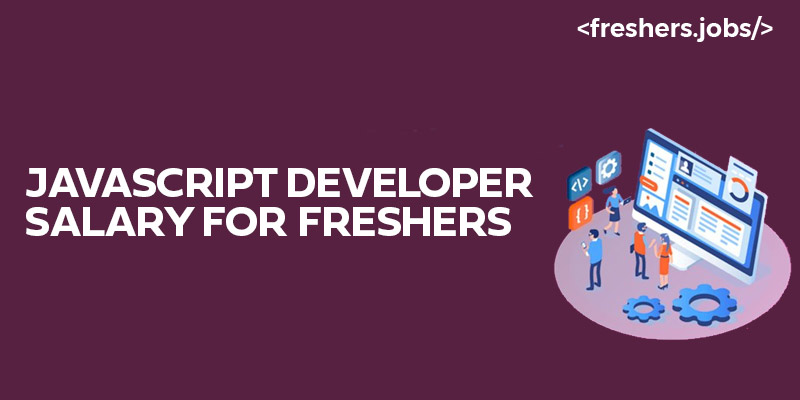 Javascript has been an essential linkable Language for web developers for a long time, helping them make their websites more useful. This evolvement has led to many job opportunities for freshers and experiences with a high javascript developer salary. Companies want to add new features and updates to their apps and build new applications. This has led to the rise of web applications, websites, and apps. 
In this blog, we shall know what Java script is, who a Javascript developer is, and the fresher's salaries for JavaScript developers.
About JavaScript
JavaScript is a portable programming language developers often use to make web pages, apps, servers, and even games with more dynamic ideas. Most developers use JavaScript in addition to HTML and CSS. When styling HTML elements, the scripting language works well with CSS. But JavaScript lets users use it independently.
Who is a JavaScript developer?
JavaScript developers are responsible for programming, developing, and implementing a website and earn a high javascript salary. They may have to do a lot of different programming tasks that go into making websites. They might be in charge of an entire site or just certain parts or pages of one or more sites.
JavaScript development is a challenging job that requires many skills, such as the ability to work with others, communicate, and write technically. Back-end web developers usually help JavaScript developers, and JavaScript developers often work with front-end web developers who focus on markup and styling.
Why do freshers learn JavaScript?
If you want to become a web developer, it's clear that you should learn JavaScript. Even if you don't want to work in tech, if you know this language well, you'll be able to build websites from scratch, which is a pretty valuable skill in today's job market.
Know the reasons why you should learn if you want to become a JavaScript developer and earn a javascript developer salary in india for freshers.
Most popular Language in the world
JavaScript is the most popular programming language in the world, and it has always been a developer's career choice. 

This happened because JavaScript had sneaked into the browsers when it was not that much flourished.
JavaScript is everywhere
Javascript is everywhere. The javascript works on NodeJs and has been working in browsers for two decades. 
The Javascript works on IoT Devices. JavaScript is used to make cross-platform apps. 

It's used to power smart TVs, you can use it to make music, and you can use it to make the next great piece of generative art. 

I think this is enough to make you want to learn JavaScript and get a

javascript developer salary

. In summary, it's everywhere!
JavaScript is Easy to learn
JavaScript is easy to learn and a natural language to use. 

JavaScript turns complicated details into general ideas, making things easier for people who are starting. 

JavaScript differs from higher-level languages because it feels more like a natural language.
JavaScript jobs for Freshers
JavaScript is already on every web browser, so beginners don't have to worry about setting up development on Java Script with a splendid

javascript salary

. 

Anyone can jump in and start coding right away. It's one of the easiest ways to learn how to code, making it a good choice for beginners. 

Also, JavaScript is an excellent tool for programmers who are just starting and want to learn more languages. 

JavaScript helps you remember essential skills like object-oriented, functional, and programming styles.

To get a good

javascript developer salary, beginner developers can use these skills to learn any new programming language, such as Python, Java, or C++.
High Career opportunites in JavaScript
As more and more businesses and organizations go digital, there is a growing need for developers who know how to use the most common programming languages. That's JavaScript, as we've already said.
As it turns out, there aren't enough good JavaScript developers, so there's both a rise in demand and a lack of qualified people. 

According to a report, 70% of companies surveyed want to hire a JavaScript developer. 

Also, the need for data scientists who know how to use Python is growing. Shortly the market for JavaScript developers is expected to grow significantly. This means that there will be large new job openings. 
Since the front end of every Python web app is written in JavaScript, it's clear that the Language is necessary.
Benefits of getting Certifications in JavaScript
JavaScript is the primary Language of the internet browser and one of the most powerful programming languages overall. JavaScript developers have a lot of great options on the market. Developers of JavaScript-based software are in high demand, and they need to have a lot of skills.
This makes a big difference in the number of JavaScript programmers. 

To improve your chances in a competitive job market, you need to get more education and show you can do the job.

Getting certified in JavaScript is a great way to help you reach your goals.
This makes a big difference in the number of JavaScript developers. 

To improve your chances in a competitive job market with a high

javascript developer salary

, you need to get certified and show you can do the job.

Getting certified in JavaScript is a great way to help you reach your goals.
Advantages of Getting Certified in JavaScript
You will learn new skills and grow as a good JavaScript developer.

Having the chance to get a certificate is a great way to get yourself to learn.

You get clear instructions on what to learn, and you're not distracted by many other things. This makes it easier to understand.

This is the best way to learn new things and improve your job.

Of course, it's a great way to add to what you already know.

With a professional IT certificate, you can add to your professional profile, such as your CV or website.

Better chances of getting a job

JavaScript Certification is a great way to improve your skills and advance your career.

With certification, you can prove that you have professional skills.

You have a good reason for wanting a better job or a higher

javascript developer salary

.
JavaScript Developer Salaries
JavaScript developer salaries are exceptionally very high for freshers. Here we shall discuss the Javascript salaries and a few factors that influence JavaScript developer salaries.
The main factors influencing the Javascript Developers salary are Experience, Location, Company, and freshers jobs roles. We shall discuss the factors in detail one by one and the varying salaries.
JavaScript Developer salary as per the Experience
JavaScript Developer is hired by almost every company worldwide by paying them outstanding salaries. As a fresher, you will earn a reasonable salary, and as you upskill yourself and gain more Experience, you will be paid more. Here we shall see the salaries paid as per the experiences.
The entry-level JavaScript Developer's salary is around 3.50 LPA

The JavaScript Developer worked for a few years and gets a salary of about 7.5 LPA

The JavaScript Developer worked for many years and gets a salary of approximately 10 LPA.
Salary of a JavaScript Developer as per the Location
As most companies hire JavaScript Developers to work on their projects, and in every city, the pay for JavaScript developers is different. Top cities like Bangalore, Hyderabad, and Chennai pay outstanding javascript developer salary in India for freshers. Let us know the salaries paid for the JavaScript developers in different locations.
Bangalore : 3 LPA

Hyderabad: 2.5 LPA

Chennai: 2.75 LPA

Coimbatore: 2.5 LPA

Mumbai: 2.35 LPA

Delhi:  2.08 LPA
Salary of a Java Script Developer as per the Company
The salary for this job profile varies for each company. When looking for a good job, you should consider more than just the workplace. For instance, you should consider the perks, benefits, and other things the employer offers. At a top company, the salary for a new JavaScript developer is good. Let us check it out.
Salary of a JavaScript Developer as per the job roles
Almost all companies hire javascript developers, and as stated above, JavaScript is used everywhere. There are lots of job roles working on JavaScript. We shall see the different job roles and the javascript salary offered for them.
Front end developer: 2.45 LPA

Backend developers: 3.4 LPA

Full stack developers: 3 LPA

Web developers: 2.35 LPA
Skills required for JavaScript Developer
You must possess these skills to earn a higher salary and become a proficient javascript developer.
Learning how to write code with JavaScript starts with understanding the Language itself.

Good knowledge of Angular JS or React js

Learn how to write code that works well in different browsers so you can make websites and apps.

Node JS is another essential skill for a JavaScript developer to have to acquire more

javascript salary

.

Learn Git as well if you want to write JavaScript.

jQuery is the next JavaScript library that you should learn.
Responsibilities of a JavaScript Developer
Building code that will last and could be used in the future.

Make sure that UI/UX designs can be put into action.

Improving how well the main front-end website works.

Changing the plans and specs of complicated applications.

Analyzing the code, the requirements, the system risks, and the reliability of the software.

Getting front-end and back-end web developers to work together.
Conclusion
JavaScript remains one of the most used computer programming languages. Developers from all over the globe utilize it. You should always upgrade your talents to stay effective in a constantly evolving world of technology and work. The salary numbers are only estimated approximations. The main things that decide your income are your abilities, how well you've mastered them, and how quickly you acquire new things and help the organization expand by receiving a good javascript developer salary.