PwC is a multinational professional services network offering audit, advisory, and tax services to businesses and organisations of all sizes. PwC operates in over 150 countries and employs over 250,000 people worldwide. PwC offers a range of career opportunities and freshers jobs across its different service lines and industries, including audit and assurance, tax, consulting, financial advisory, technology consulting, and more. PwC's career paths are designed to provide employees with opportunities to develop their skills and experience and advance their careers within the company with a high PwC salary.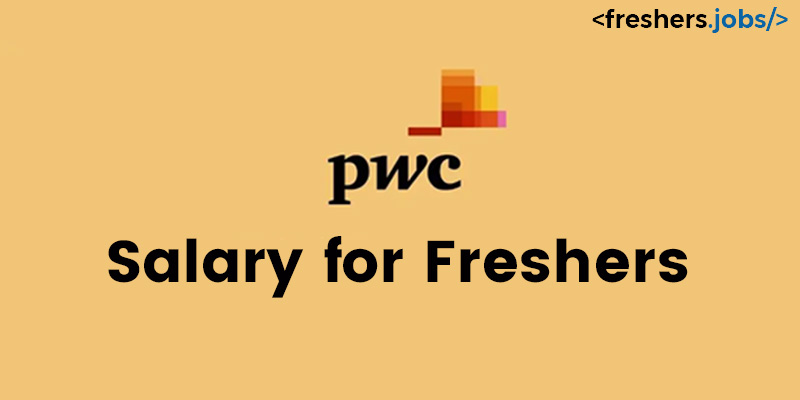 PwC is committed to diversity, equity, and inclusion and has a range of initiatives in place to support its employees, including flexible working arrangements, mentoring programs, and employee resource groups.
Overall, PwC is a highly reputable and respected company in the professional services industry, offering a range of career opportunities for individuals looking to build a successful career in this field.
Why do freshers prefer to work for PwC?
Brand reputation: PwC is a well-established and respected brand in the professional services industry, which can be attractive to job seekers looking for a reputable company.

Career opportunities: PwC offers its employees a range of career paths and development opportunities. Freshers may be attracted to PwC's focus on employee growth and development, which can help them build a successful career within the company.

Training and development: PwC invests heavily in

on job training

and development for its employees, offering a range of training programs and resources to help them build the skills, abilities and knowledge they need to succeed in their roles and earn a high

PwC salary for freshers

.

Global exposure: PwC operates in over 150 countries, allowing employees to work on international projects and gain exposure to different cultures and business practices.

Collaborative culture: PwC is known for its collaborative and supportive culture, which can appeal to freshers looking for a

positive and inclusive work environment

.
Job Domains in PwC
PwC offers various job domains with good PwC salary structure across its different service lines, providing opportunities for individuals with multiple skills and interests. A few of its job domains are Audit and assurance, Tax, Consulting, Financial Advisory, Technology, IT,  Risk assurance, digital strategy, cybersecurity, and Data Analytics, Management Consultant, Strategy Consultant, Technology Consultant, or Human Capital Consultant.
Job Roles Offered in PwC
Tax Analyst, Strategy Consultant, Technology Consultant, Human Capital Consultant, Business Analyst, Financial Advisor, Valuation Analyst, Technology Consultant, Data Analyst, Cybersecurity Specialist, IT Advisory Associate, Artificial Intelligence Analyst, Risk Consultant, Financial Analyst, Accounting Associate, Financial Controller, Tax Accountant, Marketing Associate, Marketing Manager, Digital Marketing Specialist, Brand Manager, Business Development Associate, Human Resources Associate, Human Resources Manager, Talent Acquisition Specialist, Administrative Assistant, Project Coordinator, Procurement Specialist are the job roles open for candidates to apply for the high PwC package for freshers jobs.
Now we shall discuss a few of the job responsibilities of job roles.
Financial Analyst
The Financial Analyst boosts financial success by analysing economic outcomes, projections, discrepancies, and trends.

Make suggestions that can be given to administration and executives.

Create financial models to aid in forecasting, budgeting, and valuation.

To assist in the procedures of capital budgeting and expenditure plans.

Cross-reference incoming and outgoing data to reconcile existing transactions. 

Perform comparables analysis and market study to support internal financial analysis.

Keep your technical understanding of financial instruments, market conditions, and trends up to speed to earn a high

PwC freshers salary

.
You can tap for freshers jobs in Noida for more jobs and exposure, as there are many career opportunities.
Artificial Intelligence Analyst
The

Artificial Intelligence

Analyst Advises business leaders and C-suite executives on various technology, strategy, and policy problems relating to AI.

Focus on functional requirements, process design (including scenario design and flow mapping), modelling, testing, training, and defining support processes with a group of advanced engineers and senior leadership.

Declare and document the design of the answers and the lessons discovered for each investigation and accelerated development.

Organise a team to perform analyses of the AI and automation market and the competitor's landscape.

Act as the go-between for project teams and stakeholders, providing feedback and enabling team members to adjust the product's performance or presentation.
Cyber Security Specialist
The Cyber Security Specialist earn a splendid

PwC jobs salary

By carrying out routine checks, you can identify security violations and inefficiencies.

Upgrade our infrastructure and network networks.

Establish and upkeep security measures.

Determine and address current and prospective security issues.

Analyse the present situation, consider trends, and foresee security needs.

Prepare performance reports to educate users, stating the system's state.

Uphold high levels of service by abiding by company policies.

Maintain technical expertise by taking training sessions.

Add to the team effort by completing pertinent tasks as necessary.
The Interview Process in PwC
The interview rounds at PwC (PricewaterhouseCoopers) may vary depending on the position and location but typically include the following. You can excel with the right tips in the interview.
Initial Screening: This may involve a phone interview or a virtual interview with a recruiter to discuss your qualifications and experience.
First-Round Interview: This may be conducted over the phone or via video call with a recruiter or hiring manager. During this interview, you may be asked questions about your background, skills, experience, and interest in the company and the position.
Second-Round Interview: This may be a virtual or in-person interview with a senior team member. You may be asked more in-depth questions about your skills and experience and your knowledge of the industry and the company.
Assessment Centre: For some positions, you may be invited to an assessment centre to participate in group discussions and individual assessments to demonstrate your skills and competencies to get a high PwC salary for freshers.
Final Interview: This may be a virtual or in-person interview with a senior manager or partner, where you will have the opportunity to discuss your interest in the company and the position and ask any questions you may have.
Throughout the different interview process, you may also be asked to complete skills assessments or case studies, depending on the position you are applying for.
Basic Skills Required to join PwC
PwC (PricewaterhouseCoopers) is a leading professional services firm that provides a range of services, including audit, consulting, tax, and advisory services. The specific skills required to join PwC and earn a lucrative PwC salary will depend on the position and department you are applying for, but some basic skills that are typically valued across the company include the following:
Strong Analytical and Problem-Solving Skills: PwC requires employees to be able to analyse complex data and information to solve problems and provide recommendations to clients.
Excellent Communication Skills: Employees must be able to communicate effectively, both verbally and in writing, to clients, colleagues, and stakeholders.
Adaptability and Flexibility: PwC operates in a fast-paced and constantly changing environment, so employees must be able to adapt to new challenges and be flexible in their approach to work
Teamwork and Collaboration: PwC values employees capable of working collaboratively with others and contributing to a positive team environment.
Technical Experience: Depending on the position and the PwC package for freshers, PwC may require employees to have specific technical experience in areas such as accounting, finance, tax, or technology.
How to apply for PwC Jobs?
To apply for a career at PwC (PricewaterhouseCoopers), follow these steps:
Visit the PwC Careers Website: https://www.PwC.com/careers to explore job opportunities with PwC. You can search for jobs by keyword, location, or job function.
Create a Profile: Click the "Join our talent network" button to create a profile and upload your resume and cover letter. You can also create job alerts to notify you of new job openings that match your criteria.
Search for Jobs: Use the job search function to find positions that match your skills and interests. Once you find a job you want to apply for, click on the "Apply" button.
Complete the Application: Follow the prompts to complete the application form and upload any required documents, such as a cover letter, resume, and transcripts.
Submit your Application: Once you have reviewed your application and made any necessary changes, click on the "Submit" button to send your application to PwC.
Wait for a Response: After you submit your application, you will receive an email confirmation. If your application is selected for further consideration, a recruiter may contact you to schedule an interview or request additional information, such as the PwC freshers salary.
PwC Freshers Salary
The PwC salary for a fresher's Tax Analyst is 4.5 LPA.

PwC's salary for

UI UX

Designer is 4 LPA.

The PwC fresher salary for an Artificial Intelligence Analyst is approximately 5 LPA.

The Business Marketing Associate in PwC freshers salary is around 3.5 LPA.

The salary of a Digital Marketing Specialist in PwC is about 3.6 LPA.

The PwC salary for a Human Resource Associate is 3.5 LPA.

The salary of an IT Advisor Associate in PwC is 4.2 LPA.

The PwC fresher salary for a Full Stack Developer is 5 LPA.
Conclusion
Now you would have an idea of the freshers salary structure of the different domains of jobs in PwC. This is the apt time for you to start applying for jobs on PwC. Similarly, candidates can benefit from various advantages in addition to being easily placed and receiving a competitive PwC salary. So now is the appropriate time and location. Apply right now!