Selenium is an open-source technology for automated tests on a multitude of formats and systems. Python, Java, and other computer languages can be used to create Selenium test scripts. Selenium is a software suite, not just a single tool, that covers all of an organization's testing requirements.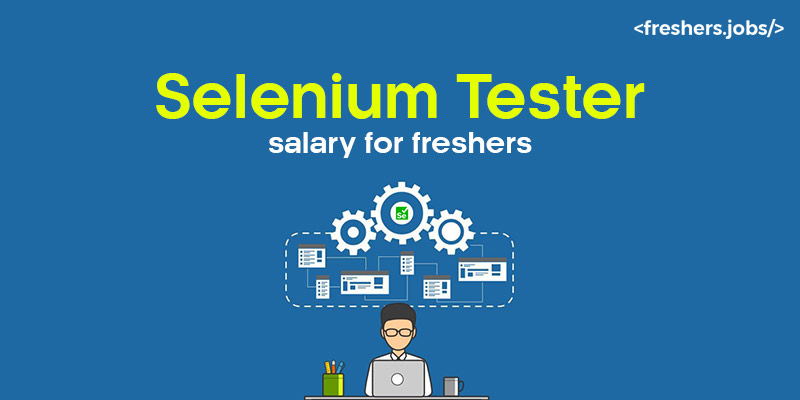 As a Selenium tester, numerous freshers are hired. However, in order to secure a job and get an incredible selenium tester salary as a Selenium developer, you must have exceptional Selenium abilities. Selenium jobs are in high demand, therefore there's a lot of hiring for freshers Selenium developers.
Why Selenium for freshers?
Start your career with the most recent job vacancies in Selenium Jobs. Explore various skills such as Big Data, Embedded System, AutoCAD, Tally, AWS, Python, and more. If you're getting ready to work on automation scripts, test web apps, and want to work in the Selenium area, don't wait to start looking for jobs.
Scope of Selenium
Selenium testing is among the most widely used solutions for software engineers. Selenium is the most popular web testing tool, according to BusinessWire, with a 300 percent increase in job posts in the last three years. Furthermore, Selenium has the greatest widespread adoption amongst accessible automated tools. What makes Selenium even more popular, to the point where significant corporations are turning to it, include:
A non-proprietary application.

Compatibility with several browsers.

Support for Multiple Platforms Cross-browser evaluation.

Programming Options like Test Mobile Web Applications with Language Support.

Support and documentation are extensive.
Selenium is the most in-demand skill in the testing arena, with enormous traction in the United States, Australia, the United Kingdom, India, and other countries, where job opportunities are exploding with high selenium automation tester salary. Selenium is also preferred by many top organizations such as Microsoft, Facebook, Google, Linkedin, and others for their automation testing needs.
Is Selenium Testing a viable career option?
Yes, Selenium Testing is an excellent career choice because,
In fact, many manual testers are studying Automation testing, not only because of how important it is in organizations' and industry's

software testing

 life cycles but also because of the lucrative Selenium testing compensation they may make.

Yes, the Selenium Automation testing compensation is another reason why new and experienced testers alike are drawn to this form of testing as a long-term career option. 

Do you want to know how much money you can make as a Selenium Automation tester based on your experience, region? Continue reading.
We'll also provide the appropriate abilities to add at the bottom that can help you earn more money as an Automation testing engineer. Also, if you don't want to stay afloat in simply one Automation Tester function, we have additional possibilities for you. But first, let's look at the things that influence your selenium automation tester salary in India positively or adversely.
Salary of a Selenium Tester in India
In India, pay for selenium tester salary can range from 3 LPA for freshers with Selenium abilities.
Factors influencing Selenium Automation Testers salary
You are living in a fantasy world if you believe that being an automation tester with Selenium abilities will guarantee you the precise pay that you read about on the internet. There seem to be a number of significant factors that may force you to compensate more or less than you expected. Keep reading to learn more about the factors that influence Automation Testing Engineer pay.
Selenium Course & Certificate 

Workplace

Knowledge and skills that are desired

Negotiation skills and confidence in resume and interview performance

Level of expertise
1. The location of the employment
Every job location has a unique automation tester salary structure, which varies greatly depending on the need for Selenium automation testers and other economic reasons. 

If you want to work in testing and earn good pay, we recommend moving to the United Kingdom, the United States, Canada, or Australia.
2. Selenium Certification and Training
You need to be a proficient and qualified selenium tester to earn a good living. 

You can certainly watch tutorials and learn the fundamentals of Selenium testing, but for real-world application of Selenium IDE and writing test scripts, you should enroll in Selenium training online, which will prepare you end-to-end with Selenium testing concepts and will also help you hatch the popular Selenium certifications, resulting in amazing

selenium automation tester salary

and overall career.
3. Knowledge and skills required by the company
If you possess all of the skills that a recruiter looks for in an automation tester's job responsibilities during the interview job posting, you have a good chance of earning the right salary.

If you have less competent skills but a lot of potential to develop and progress, you might be hired, but your pay may not be what you expected.

Concentrate on brushing up on the skills that recruiters are looking for.
4. Interview and Resume Preparation
A bad CV and interview performance can potentially hurt your chances of getting the best

quality control salary in India for freshers.

 

Improve your Selenium resume by adding relevant skills or work experience (if any). 

Also, review the prior interview questions to help you prepare for your interview.
5. Confidence and negotiation abilities
Your worth is not always described by a few words on a CV, sometimes you must exalt it during interviews. 

If you have excellent bargaining skills and the confidence to define your area, you may still make a difference and persuade recruiters to reward you for desired automation tester rates, even if you start at an entry-level Selenium tester income.
6. Level of Experience
Finally, it is your experience or seniority level that qualifies you for higher-paying opportunities in the future. 

The longer you stay in this profession, accumulate experience, and earn a senior badge, the higher your automation testing compensation will be.

Selenium Automation Testers are in high demand, and once you get started, your career will grow steadily but firmly. 

You can anticipate adding a senior badge and performing well in 3-4 years.
Selenium testers are required in a variety of industries
Here are a few businesses that use the Selenium tool to maintain the long-term performance of their applications and web programs, have a high need for Selenium Testers and pay excellent selenium automation tester salary  to experienced people:
Information Technology and Consulting

Software testing on computers

Hardware for computers

monetary services

Fitness and healthcare

Telecommunications

Retail Marketing & Advertising on the Internet

IT

and computer software are the two most common businesses for hiring Selenium Testers and paying decent

quality control salary in India for freshers.
Job roles working on Selenium and their salaries
Selenium job positions range from mobile development to web application development, depending on the firm. As a Selenium WebDriver professional, you can consider the following job roles like Java Selenium Automation Engineer, Selenium Tester, Selenium Automation Engineer, and Selenium Quality Engineer – Automation. Let us see how they work on selenium and how much they are paid.
Java-Selenium Automation Engineer
Assess the business requirements and collaborate with the business team to resolve any issues. 

Selenium Web Driver Testing, and automation test cases are designed, executed, and maintained. 

The salary of a Java Selenium Automation Engineer is around 3.8 LPA.
Selenium Automation Engineer
Effective test automation solutions are designed, scripted, and deployed. 

Identify software issues and provide testing reports for the developer.

The

Selenium tester salary

for an Automation Engineer is approximately 3.5 LPA.
Selenium Quality control Engineer
Writing test cases and executing user requirements for a JAVA-based clinical application. 

The salary of a Selenium Quality Control engineer is around 3 LPA.
Selenium Automation Analyst
As a Selenium Test Analyst, you will answer questions from the team on various modules. 

You will gather information from SMEs, existing systems, users, and other sources to produce specifications and assist in the translation of these into functional requirements.

The Selenium Automation Test analyst's salary is 4 LPA.
Selenium Tester
Selenium IDE, Selenium RC, Selenium Grid, and Selenium WebDriver are all products in the Selenium suite.

Implementation of the Test Automation Framework concept

File handling, error handling, database operations, and OOPS ideas are all concepts covered in Java programming.

Must be able to use Selenium WebDriver and the IDE to build and execute test cases.

Determine the Selenium approach required for test automation based on company requirements.

Create a test strategy and test scripts.

Existing regression suites/test scripts should be maintained.

Attend Agile meetings on assigned projects (sprint planning, backlog refinement, and daily scrum sessions, for example).

The fresher salary of a Selenium tester is 3.75 LPA.
Selenium Tester Skills 
Beginning level (0-2 yrs)
The candidate should really have created test suites and recorded programs using Selenium.

He must have addressed menu option test cases that help validate the program before deployment.

For advanced talents, he can have used continuous deployment systems like Bamboo or Jenkins.

He should be able to use the Jenkins dashboard to conduct Selenium tests.

Working with online apps necessitates a basic understanding of HTML5

,

JavaScript, and CSS.

Working on all of the above software, you can excel in this field and get an incredible

software tester salary for freshers.
Future Prospects for Selenium
Because many firms believe web applications to be the next big thing, test automation market trends are continuously expanding, with widespread demand for Selenium. 

Many major companies throughout the world use Selenium resources for test automation. 

If you are willing to dive deep into test automation and build advanced-level skills in it, Selenium will help you land a better and more enjoyable job in your field. 

However, no software has ever been created without flaws, emphasizing the value of automation testing. 

As a consequence, Selenium's prospects are bright, with seemingly endless possibilities. 
After considerable discussion, we can say that professionals interested in pursuing a career in Selenium will have a lot of choices. So, You can visit in Freshers jobs page for applying for the recent jobs as selenium testers. Moreover, since robotics is the backbone of the computer industry, freshers interested to pursue in this area will get the best selenium tester salary.