Software testing is the process of examining and verifying that a software product or program does what it is supposed to do. Testing benefits include fault prevention, reduced development costs, and improved performance. For freshers interested in a career in IT, software testing is the most typical stepping stone. Starting as a Software Tester is usually a fantastic option, even if you plan to transfer to Software Development later in your career and earn an excellent software tester salary for freshers. This post will go through everything you should in order to get your first testing job.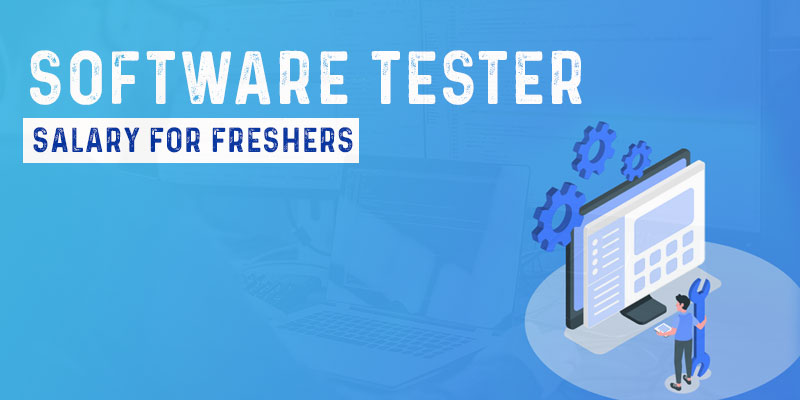 Software Testing's Scope 
Because technology is always changing, choosing a career in

software

testing is always the best choice

More than 75% of IT organizations are currently focused only on maintenance, ensuring that software runs smoothly. 

As a consequence, those interested in pursuing a career in it have a variety of possibilities. 

There will always be a fantastic opportunity to work in software testing as a manual tester and earn a good

manual tester salary for freshers

as long as new apps are being produced. 

It is the most difficult role in information technology, with many opportunities for promotion. 

Competition is severe in this field, as it is in all others, and success requires specific characteristics.

To be an excellent Quality Analyst tester, the individual must be goal-oriented and committed.

Companies also provide training programs in order to develop ability in software testing. 

The technique of testing is evolving in tandem with technological advancements. 

A training program is available to increase awareness of the new testing tools. In this industry, there is a lot to learn and grow and earn a good

software tester salary for freshers per month.
How can you become a Software Tester?
Only those people who are enthusiastic about this field and desire to advance as Quality software Testers are offered the finest positions where you can earn a profitable salary.

Anyone can be trained, but only those who have a genuine passion in the field will succeed.

So, get to know the principles of Software Testing and take an interest in it. 

You will only be able to succeed if you are sincerely engaged and passionate about your Software Testing career.
Job Description for an Entry-Level Software Tester
Any organization's entry-level job opportunities require you to have some abilities. 

A typical job description is assisting management with reviewing and analyzing product requirements using established engineering procedures to satisfy business objectives.
Do you understand why testing is becoming increasingly popular? Let's try to figure it out
When demand rises, supply rises in tandem. 

Yes, as technology advances and new applications are released, the demand for testers has increased.

Applications deserve quality in order to survive in the market, thus QA is a must-have skill, and pursuing a career in this field will propel you to new heights of success.

Industries pay

a handsome

software tester salary for freshers

based on their expertise and skills. 
As a result, if you have the ability to study and begin your career as a proficient tester.
Quality Assurance is the place to begin
Software Testing

provides a career with ongoing growth opportunities as Quality Analyst and earn a good

software tester salary for freshers.

As a result, we can appreciate the value of this field.

Working as a Quality Assurance or Tester promises a prosperous future. 

You will be presented with countless opportunities if you have a positive encounter.

Instead of working a job for the rest of your life, you can start your own business or work as a consultant. 

As a result, when it comes to Software Testing, the future is always bright.
Salary of a Software Tester
The pay fo

r software testers

varies depending on the region and location, Salary Policies in the Workplace, Years of Experience, and so on

Hiring managers are looking for

software developers

who can help improve their company's development process while also contributing to high-end applications and software development.

A higher

manual tester salary for freshers

can be obtained with the correct set of skills and expertise.

Meanwhile, look into job market salary trends and upskill yourself to guarantee that hiring employers see you as a capable software tester.

The salary of a manual tester is approximately 3 LPA. 
Salaries for Software Testers in India
The income of a software tester is determined by several factors, including
Skillset – Having the right skill set and the will to learn and apply them properly enhances remuneration.

Understanding of software testing – A person's knowledge of software testing and prior experience will be reflected in the upcoming employment, raising the package.

Working at top IT firms will increase your salary.

The cost of living in different parts of India has an impact on salary levels.

Working in IT Tech cities will result in higher compensation.

A software tester's typical income ranges from 1.8L PA to 5 LPA.
Creative Experience
Because the subject is rich in tools, the candidate must plan for testing depending on the requirements. 

It stimulates creativity and keeps the mind active.
 Organizational Size
The

software tester salary for freshers per month

is also influenced by the size of the company. 

A software tester in a large IT firm will be paid more than a startup that is bootstrapping its goods.
Software Tester Salaries in Companies
Software testers are paid well by tech giants all around the world.

If you want to work in a related field, you should research the top organizations and their average wage packages to obtain a feel of market value.
Training & Certification
Advanced abilities are gained through certifications and training. 

The more well-known certificates you hold, the better your chances of earning a higher wage.
Technical Expertise
The software industry in the twenty-first century is extremely fast-paced. And technology is rapidly evolving. 

If a candidate is knowledgeable about current technologies and processes, they may be able to command a greater

software tester salary for freshers

than other candidates.
Skills required for a software tester
Software testers must have technical skills. The key talents that any software professional requires are willing to learn, communication, documentation, and networking with other professionals. Below are a few technical abilities that software testers, particularly newcomers, should develop to stand out in the business and earn a good software tester salary for freshers.
Agile and

DevOps

approaches should be learned by testers.

It's critical to understand automated testing and the software that's employed.

The various phases of the SDLC should be understood by testers.

A software tester's ability to write test cases is a must-have skill.

Mobile and web analysts should be knowledgeable about current technology.

Testers should use rational analysis and logical thinking to help them find and analyze unusual errors.

Testers should improve their communication skills so that they can collaborate with their colleagues to learn, solve problems, and increase their expertise at various stages of the application development process.
Responsibilities of a Software Tester
The following attributes are commonly included in software tester job descriptions.
Examine the system's requirements.

Participate in the formulation of the test plan.

Prepare scenarios for testing.

Prepare test cases.

To gather the test data.

Make a few test batches.

To conduct the regression testing.

Change the test cases and go through the process again.
Software Testing Career Opportunities
For many people, software testing has recently become a very lucrative career. Software testing provides a wide range of professional opportunities. 

You can work as a test manager, senior testing manager, QA manager, and many more positions. 

Professionally qualified software testers are in high demand today. 

One can either start their own software testing company or work for a large corporation's internal software testing department.
 Junior Software Tester
According to statistics, quality assurance analysts' employment is expected to expand 22% by 2029. 

This demonstrates that these specialists, along with quality assurance analysts,

software engineers

, and testers, are in high demand these days.

Furthermore, these experts verify that the program passes all tests before it is released to the general public. 

They also supervise all phases of design, development, testing, and delivery to ensure that the product satisfies quality requirements, and they operate as part of a team and report to a manager.

The Junior

software tester salary for freshers

is  3.5 LPA.
Future scope of a software tester
Finally, as more organizations invest in the development of digital products, the demand for software testers is growing every day. 

These goods had to undergo significant testing before they were released into the market. 

Because software testing is such a broad field with so much potential, pursuing a career as a software tester is a sensible decision. 

Working as a Quality Assurance or Testing Engineer promises a bright future.

As a result, when it comes to Software Testing, the future is always bright.
So, folks, the field has a lot of promise, and now it's up to you to see how much money you can make and how much you can learn from it. Our team Freshers jobs will provide you with the necessary assistance and job openings on software testing positions and please continue to browse the page!!!