When you think of an online food delivery app, there are many to scroll, but Swiggy is the first one for every person to check out an order for some delicious food. You are served at your doorstep. This is realistic and possible only by the technologies adapted by Swiggy.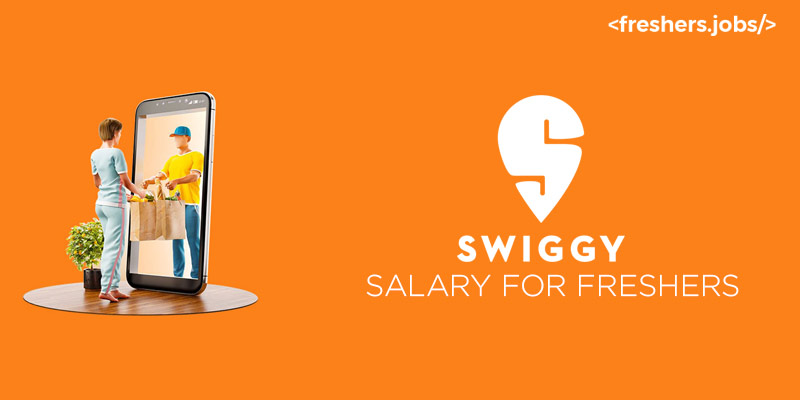 Swiggy is a Startup company with a business model based on hyperlocal on-demand food delivery business Operation. Swiggy is the right platform for freshers who wish to work for the startup and learn the latest advancements on online platforms. Swiggy looks in for pulling in some brilliant minds who think on new perspectives and creative ideas. The people out there in Swiggy are earning excellent swiggy salary. 
Why do freshers prefer to join Swiggy?
Swiggy Job vacancies
Swiggy is an Indian startup with offices in every top metro city. Various jobs are available for the freshers and the experienced, from the delivery persons to the higher managerial level jobs. You can apply for these job opportunites as per your relevant qualifications. Your swiggy job salary will be higher when compared to any other organization's salary.
Let us see the domains on which Swiggy has started its services.
Services of Swiggy
The working model of Swiggy comprises Technology that is Engineering, Business, Delivery, Cloud Kitchen, Customer Care and Corporate Functions.
There are enough job openings available in swiggy for the fresher graduates. Candidates from the engineering, MBA, and Science stream can apply for the jobs. The Swiggy offers jobs as Delivery persons for 12th pass candidates. Young new graduates who are just passed out of top Business Schools and IITs are part of Swiggy and aspire to work for this boomed startup Swiggy.
Are you aiming to become a Swiggyster to earn a high swiggy salary? Start applying for the jobs at Swiggy.
Different job roles in Swiggy
Data Scientist, Software Development Engineer, Sales Manager, Accounts Manager, Key Account Manager, Assistant Manager, Software Engineer, Product Manager, Shift Manager, Unit Manager, Sous Chef, Manager(Content Development), Fleet Management Executive.
These are some of the job roles available in Swiggy. The freshers and the experienced can explore all the freshers jobs roles and earn a higher swiggy salary structure. We shall see the roles and responsibilities of a few fresher jobs in Swiggy.
Data Scientists
Software Development Engineer
Sales Manager
Let us discuss the recruitment process in Swiggy
Swiggy follows a five-step recruitment process to grab the most accomplished  freshers and offer them a high swiggy salary per month. Swiggy always aims at hiring multifaceted candidates who can think wisely and innovatively. Check out the five steps.
Application procedure
Applying for jobs is the initial step done in Swiggy. The candidates can go through the jobs alert posted by Swiggy and apply for the same through the application form. 
Written Technical Round
If the recruiter is impressed with your profile, you will be informed via mail or phone for the Written Techncial round. All details regarding the test venue and the date will be notified via mail.
Personal Interview
The personal Interview round is the third recruitment process in Swiggy. Candidates who have cleared the written round will be called for the Personal Interview round. This is a face-to-face interview, and you will be posed with some techncial questions.
H.R. Interview
H.R. Interview in Swiggy is conducted to hire candidates who have cleared the Written test and the Personal Interview Rounds. The general personal questions and the discussion regarding the swiggy salary will be asked in the H.R. round.
Final Review
Once you have completed all of the rounds of Swiggy, you will have to hold on to the hearing for the final results for a couple of days or weeks. The Internal Recruitment Team will audit your profile and performance and get back to you with exciting offers. 
Qualifications Required to Join Swiggy
Swiggy jobs are exciting and provide great perks and benefits for their employees. The freshers looking out for jobs in Swiggy can feel excited as Swiggy specifies no specific qualification requirements. There are jobs for Higher secondary passed out candidates as delivery persons. To work for managers posts, the candidates must have any degree graduates such as B.SC, BCA, B.Com and so on. If you have applied for any techncial areas of Swiggy, you should have acquired graduation and post-graduation courses like B.E/B.Tech, MBA, M.E/M.Tech etc.
Hope you have got to know about Swiggy and its functions, Job roles, recruitment process and the qualifications required. Next, in the below sections, we shall see the Swiggy Fresher salaries.
Swiggy Fresher salary
Conclusion
Hope to know that you have got a clear picture of the salaries offered in Swiggy for freshers. Swiggy jobs are highly prideful for young minds because of the high swiggy salary. Most young minds tend to move on to Startup jobs these days. You can explore the Startup culture with loads of exposure to the latest developments online at Swiggy. Get into Swiggy as soon as possible and become a Swiggster.