The IT industry is growing rapidly, with a high demand for skilled coders. Many entry-level jobs are available if you are looking for a career in programming. Some of the best entry-level coding jobs include web developer, software engineer, and data scientist. These job roles offer a good package and more career growth opportunities.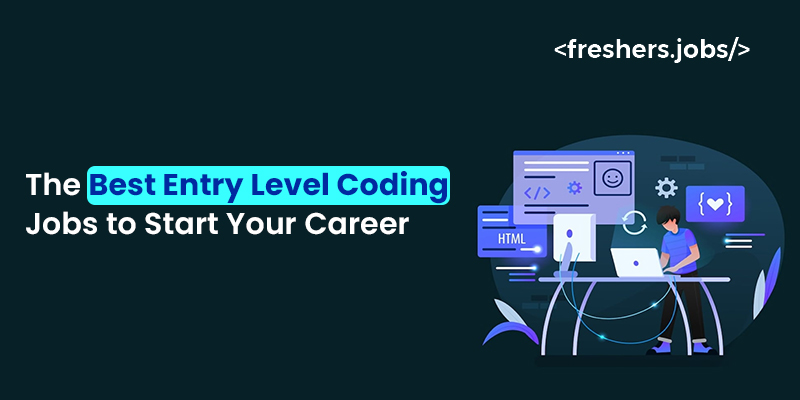 From web development to data analysis, entry-level coding roles open up many opportunities for aspiring programmers. Developing your skills according to the industry's needs is important for entry-level IT jobs. This means learning the programming languages, technologies, and concepts that are in demand by employers. From this blog, you will get a clear idea about what is coding jobs and their salary.
Best Entry-Level Coding Jobs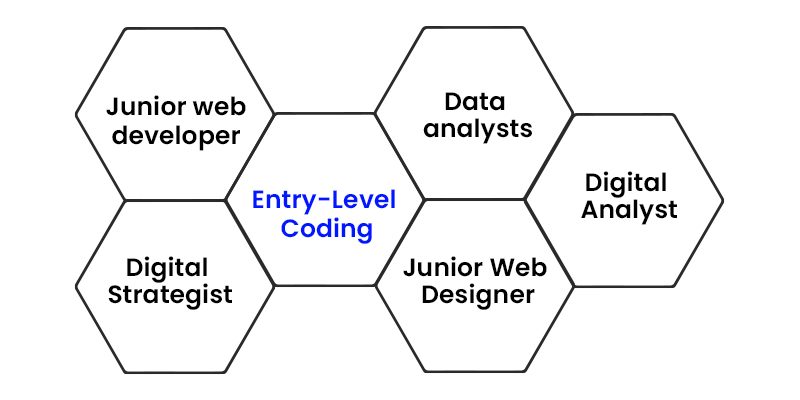 Some of the best Entry-Level Coding Jobs are listed below
Junior Web Developer 
Junior web developers are responsible for developing back-end programming for web applications and software. They typically work under the direction of a project manager or senior web developer, collaborating to develop your problem solving Skills. Junior web developers generally hold a bachelor's degree in Engineering, many companies also consider candidates with experience gained through coding boot camps or other training. Essential skills for junior web developers include Java, Python, CSS and HTML.
Data Analysts
Data analysts gather and analyse data to help businesses make better decisions. These will help to build a better career portfolio. They use their statistics, mathematics, and computer programming skills to extract data insights and communicate them clearly and concisely.
Data analysts must also know how to design effective graphics or other data visualization materials. This is because they could communicate the results of their analysis in a way that is easy to understand for both technical and non-technical persons. Data visualization can create charts, graphs, maps, and other visual representations of data and interactive dashboards and reports.
Digital Strategist
Digital marketing specialists are creative individuals who use their technical skills to help businesses create and execute marketing campaigns that reach their target audiences. They also work within a digital marketing team, where they help to develop content marketing, digital advertising, and social media engagement.
The top skills for a digital strategist which helps you to find more job opportunities which include the following:
Interpersonal communication.

Understanding digital marketing technology like search engine optimisation (SEO) and search engine marketing (SEM).

The ability to interpret analytics and data.
Junior Web Designer
The Role of the Junior web designers is to design websites with a visual appearance and easy to use. Web designers are creative individuals who use their strong technical skills to develop websites that are visually appealing and easy to use. They need to have a clear understanding of web design principles and techniques and the ability to use various web design software to get an IT Jobs. In addition to understanding many programming languages, such as Python, Java, JavaScript, and Ruby, web designers must also work with graphic design programs. Many companies hire candidates with an associate degree in computer programming, graduation from coding boot camps, or a work portfolio demonstrating their skills.
Digital Analyst
Digital analysts use data to design and measure the effectiveness of SEM and paid media campaigns. They carefully study consumer behaviour and demographic data to help inform the digital marketing strategy. Digital analysts must have a strong understanding of data analysis and digital marketing principles. They need to be able to use data from Google Analytics and WebTrends to track and measure the effectiveness of marketing campaigns.
Coding careers outlook
The demand for coding related jobs is rising, and companies struggle to recruit talented programmers. Many companies have implemented programs to retain their tech workforce and help them advance their careers through training programs, annual training budgets, or stipends for ongoing learning.
As a coder, you must constantly learn new skills and update with the latest trends and technological changes to stay competitive. As you develop your coding skills and expand your portfolio, you can definitely see increases in your package and responsibilities. Your entry-level job in coding can launch you into a career path with higher-paying opportunities. 
To get the best Entry-level Coding Jobs, start applying for the latest openings in Zoho jobs for Freshers.
Entry-Level Coding Salary
The salaries below, reported by the PayScale survey, represent the average salary for each Role after five to nine years of experience.
Entry-level coding salaries range from 3LPA to 4LPA.

Salaries can vary based on their geographic location, industry and company size.

Career growth

coding job opportunities

can impact future earning potential.

Tech hubs and significant cities generally offer higher entry-level coding salaries.

Specialised coding skills like machine learning or cybersecurity may lead to higher pay.

Generally, some companies offer additional benefits, such as health insurance and retirement plans.

Demand for coding skills remains high across various industries.

Educational qualifications and certifications influence entry-level coding salaries.

Building a solid portfolio and showcasing coding projects can improve job prospects and salary offers.

As technology advances, the demand for more skilled coders is expected to grow, potentially leading to increased compensation.
To start your entry-level coding job for freshers, you may consider recent openings for freshers jobs in Coimbatore.
How do I get a non-coding job with no experience?
Getting a non-coding it jobs for freshers without experience can be daunting, but it is achievable with a strategic approach. To become a coder with prior experience, you can begin by learning the coding basics through online tutorials, coding boot camps, or free resources. As you gain knowledge in coding, start building a portfolio of coding projects to showcase your skills and experience to potential employers. These projects can be anything from simple websites to complex applications. When building your portfolio, choose projects relevant to the jobs you are applying for. Participating in open-source projects on platforms like GitHub is a great way to collaborate with experienced developers and gain practical experience.
Networking is also crucial. Attending coding meetups, workshops, and tech events can help you connect with many other professionals in the industry and learn from their experiences. Consider internships or freelance opportunities to gain hands-on experience and add real-world projects to your portfolio. Stay persistent, continuously improve your skills, and demonstrate a willingness to learn to increase your chances of landing that valuable first coding job. For the latest entry-level coding jobs, check freshers jobs and get updated for recent openings.
How do beginners learn to code?
Various online resources are available which help you to learn coding. Several online learning platforms offer introductory courses covering computer programming, web design, or data science fundamentals. You can also check out coding boot camps. These intensive programs can prepare you for building a coding career in at least three months. Many also provide career search assistance which helps you find your first coding career.
In conclusion, entry-level coding related jobs provide a foundation for an exciting career in technology. By learning the fundamentals of computer coding and gaining experience in an entry-level role, you can develop the relevant skills and knowledge necessary to advance your career in this growing field. By gaining experience in these roles, programmers can develop their skills which help to enhance their careers. As you start this exciting journey, let your curiosity and dedication put you forward, giving you endless possibilities in the ever-evolving coding domain. We will provide an overview of each job, including the skills and experience required, the salary range, and the job outlook.