A career portfolio is a representation of a person's professional achievements. It is a collection of records, certifications and documentation that shows one's skills, knowledge, and accomplishments throughout their career. A career portfolio allows people to showcase their skills, emphasize their advantages, and illustrate their differences to employers or customers.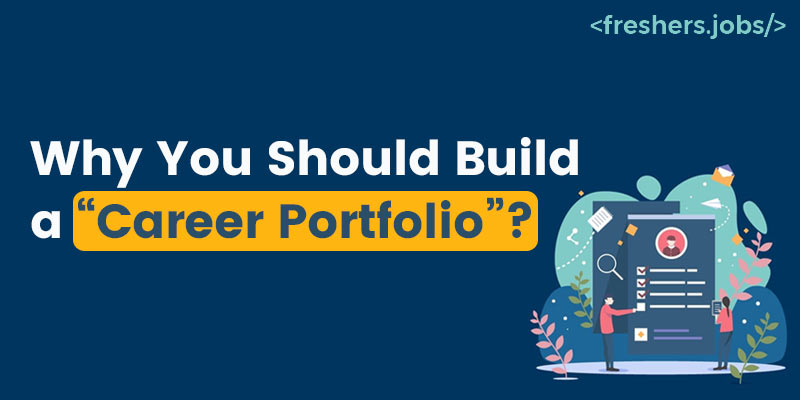 What is a portfolio? Any professional can benefit from creating a career portfolio because it enables them to present themselves as a qualified and experienced candidate. A career portfolio may make you stand out in a crowded freshers jobs market, whether you are a recent graduate trying to launch your career or an experienced professional looking to highlight your experience.
A career portfolio that can be easily shared and accessible online is beneficial in this era of remote jobs and virtual networking. It may be an effective marketing tool that helps you establish your reputation, develop a strong personal brand, and leave a lasting impression on employers or clients. Whether you are a writer, engineer, artist or any other professional, a career portfolio may show off your unique skills and abilities and further your career.
Why is a Professional Portfolio essential for Job Searching?
For several reasons, a professional portfolio can be a important tool in your job search:
Showcase your Abilities and Experience: what is portfolio for job? A career portfolio verifies your knowledge, accomplishments, and experiences. It enables you to highlight your experiences, projects, and work samples, which may aid prospective clients or employers comprehend your skills and what you can offer their business.
You can always make yourself stand out from the competition by using a career portfolio to set yourself apart from other applicants who might have similar training and experience. Creating a polished and organized portfolio may leave a lasting impression and highlight your exceptional worth as a candidate.
Create a professional portfolio to exhibit your dedication to your work: A career professional portfolio shows that you are dedicated to your work and take pride in it. It demonstrates that you made an effort to arrange and display your achievements professionally, which may signify your work ethic and attention to detail.
Create your Brand: A career portfolio can show off your professional identity and help you create your brand. You can construct a compelling and appealing narrative about your abilities, experiences, and career objectives by offering work samples, recommendations, and other pertinent data.
Share your career portfolio with potential employers, clients, coworkers, and networking contacts to increase your job opportunities. It can act as a potent marketing tool, assisting you in growing your network and opening up new job prospects.
Let us now see what to include in a career Portfolio
Here are a few things you may want to include in your job portfolio to make yourself stand out from other applicants:
Summary of a Career
A career summary is a short paragraph that describes your relevant work experience, skills, and professional achievements. A job portfolio summary aims to get a potential employer interested enough to read the rest.
Putting it at the beginning of your portfolio helps companies see what you can do for them and their business. Try to write between two and four sentences for your work summary. Include numbers when you can, like "Increased overall sales by 14% for the third quarter.
Having the right career portfolio, you can start looking out for jobs from freshers jobs in Pune.
Mission Statement
A mission statement in a portfolio for job is a statement that says what you wish to be, do, and have in your work. It explains what you believe in as a professional. This gives companies a chance to find out what makes you tick. 
A Short Biography
Adding a biography area lets you show off your personality and get to know employers more personally. It also answers the interview question, "Tell me about yourself." When writing your history, you might want to include the following:
The most important thing to know is who your audience is and what you want to accomplish with the biography, such as getting a  job, a freshers salary raise, or new clients.
Storytelling Elements: Try writing about how you overcame problems. This can interest the reader, so they want to learn more about your story.
Links to what you have done: By linking to examples of your work, companies can quickly see what you have done well in the past.
Uniqueness: Consider changing your biography for each job to show the essential information.
Humour: how to make portfolio for job? Depending on the employer, you may include a funny part of the information that gives the idea that you have a humorous side.
Resume
Even if you sent your resume with your application, including it in your portfolio could be good. It makes your work knowledge and skills easy to find. Most resumes have parts like these:
The goal of a career objective or the purpose of portfolio is to explain what you want to do with your job. Most career objectives are only one or two sentences long.
Work History: Your work history includes any related jobs you have had in the last ten years. Include at least two or three jobs and a bulleted list of your daily responsibilities and tasks for each job.
Skills: The skills part is a list of bullet points that describe your skills that are relevant to the job, such as managing your time, being organised, and communicating.
Education: This part is where you list any schooling or college you have finished, like high school or college. Include the name of the school, the month and year you spent, and the type of degree you got.
Marketable Skills
In this section, you can list special skills that make you a good candidate. It is helpful to look up a list of skills, write down the ones you have, and then narrow it down to the ones most relevant to the job you seek.
You should always include both hard and soft skills. Hard skills are the technical skills you have learned in college, on the job, or by living.
Accomplishments in the Workplace
In this part of job portfolio, you can list your professional accomplishments to show an employer how valuable you are. Depending on your experience, you should list your accomplishments in different areas, such as educational and work-related achievements. You can put them all in one section, start with the most current one, and work your way back.
Work Samples
Sharing examples of your work is a great way to show off some of your best work. Try to show how good you are at many different things for portfolio for job. It depends on what you do for a living, and your work samples could be projects, papers, brochures, reports, or presentations.
If you're a teacher, include a lesson plan that went well. You can also include any comments that your samples gave you. If your boss liked your lesson and gave you good feedback, have that so companies can see why other employees liked the sample.
Awards
When you show a company your past awards, it can show them that they can expect you to do an excellent job if they hire you. You should include scholarships, certificates, job-related awards, and places of school leadership. 
Transcripts, Degrees, Licences and Qualifications
Adding documents and licences to your professional portfolio shows you know what you're doing in your field. Attach PDFs to this part if you're sending in an electronic portfolio. If you give them an actual portfolio, ensure it has copies of everything necessary.
Getting Better at your Job
Professional development is training or education that helps you stay current on your field's latest technologies, trends, and best practices. Adding any professional development you've done can show employers that you're interested in learning and excited about your job. Include any webinars, workshops, seminars, or other types of professional training related to the job.
Volunteer Work
Some companies like to hear that a candidate has done volunteer work or community service, which must be included in the job portfolio. Volunteering can show how dedicated you are to your job and how much you care about helping others. If you have little work experience, you can also show that you want to learn more work-related skills by listing any volunteer work you have done.
Freshers can start applying for recent job openings from HP jobs for freshers.
References from other Professionals and Reviews
References from professionals may be an essential thing you want to add. Employers can learn much about you from what your former coworkers and bosses have said about you.
Try to include the contact information for three to five professional references so that HR can contact them to check your data for a portfolio for job. Depending on your business, you can also add customer reviews that show how happy they were with the work you did for them.