In the current period, the job market evolves rapidly and presents new opportunities as well as challenges for freshers entering into the workplace. As there is high demand in the job market and industries getting adapted to constant changes and developments, certain skills emerge as a high demand skills for employers.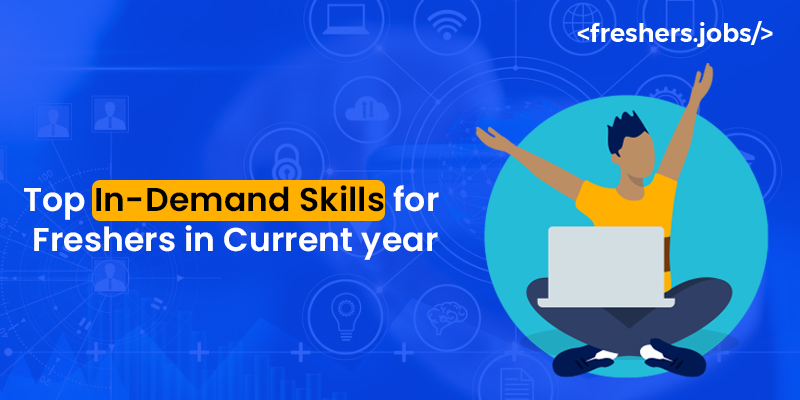 So it is very essential for candidates seeking fresher jobs to equip themselves with these in-demand skills to survive in the current competitive job market. So in this blog, we will discuss the most demanding skills in future. By developing these skills, freshers can enhance their professional skills and boost their employability across various industries.
Why is developing skills required? 
High-income skills are specialized abilities or expertise that are in high demand in the job market.In the current job market, Many companies expect candidates to possess some technical skills in addition to their qualifications. So, as a  fresher it is important to  improve their technical skills. These skills will become an advantage to advance your desired career path and place in a prominent position. If you aim to improve your career, you have to focus on finding a way to improve your  skills. Mastering these skills can significantly increase your earning potential and open doors to diverse opportunities. By continuously learning and expanding your high-income skills, you position yourself as a valuable asset to employers and clients, which leads to leadership roles, promotions, etc.
If you are in search of any job opportunities in Kolkata, look for job openings available in that city. Click at fresher job openings in Kolkata to find job openings that are relevant to your skills and interests. 
Top High-earning and High-Demand skills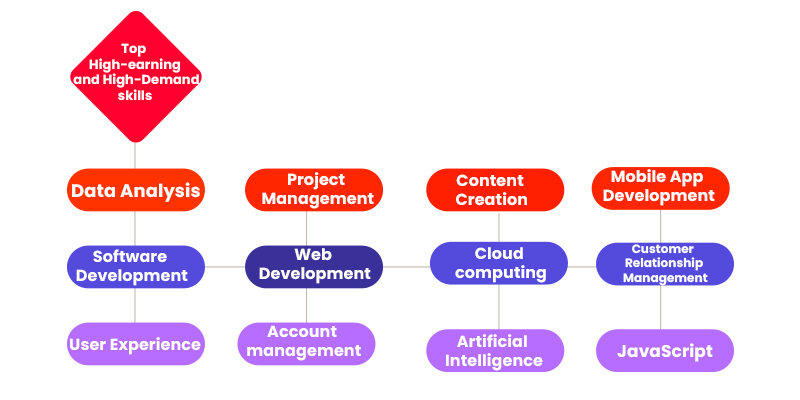 Top in demand skills to learn for freshers
Data Analysis:

Data analysis is the process of cleaning, examining, interpreting, and transforming data to discover meaningful insights, draw conclusions, and support decision-making. It involves using various techniques, tools, and methodologies to make sense of raw data and extract valuable information. Innovation and analytical thinking are the top most skills in demand for the current job market. Businesses nowadays totally rely on data to make informed decisions, so companies demand candidates with the ability to interpret, share and collect data to solve all the business issues. People who are skilled in Data Analysis will use a wide range of tools like SQL, Microsoft Excel, Tableau, R, Google Sheets, or Python. Some career opportunities that use Data Analysis are Data analyst, Data Engineer, Business Analyst, and Data Scientist.

Software Development:

Software development is the process of creating, designing, maintaining, and testing computer programs and applications. Industries are turning towards Technologies to develop their business capabilities. Software Development is one of the high income skills, so candidates who are skilled in improving, developing and maintaining technological systems are in high demand. People who are skilled in Software Engineering or DevOps with coding knowledge in  Python, C++ or Java. They mostly use tools such as Jenkins, Git, Kubernetes, or Dockers. Some career opportunities in this field are

Software Engineer

, DevOps Engineer, Application Developer, System Developer.

User Experience:

People who work in UX know the best way to present the product to the consumers. Even Though UX involves some data, it also requires a high level of social perceptiveness since this field includes creativity and designing. UX writer, UX researcher, User Interface (UI) Designer, UX Designer and Product Designer are some of the job roles offered for candidates who are skilled in UX.

Project Management:

It is one of those

high paying skills

since many companies use an organizational structure in which different team members, departments, or teams all work on a single product or project. Candidates who are skilled in coordinating efforts across each of those touchpoints are skilled in project management. These team members are responsible for organizing budgets, maintaining schedules, and communicating with project stakeholders. Some job roles offered for candidates skilled in project managing are Program Manager, Portfolio Manager, Project Coordinator, and Project Manager.

Web Development:

Web development involves creating and maintaining web applications and websites that are accessible over the internet.

It also involves the basics of software development and user experience, including the technical aspects of the design elements. Some career opportunities for candidates who are skilled in Web developing are Front-end Developer, Back-end Developing and Full-Stack Developer.

Account management:

Account management skills incorporate both the interpersonal skills required to productively negotiate and maintain relationships and organizational aspects required to close a business deal.

This skill is highly valued in sales positions,

account management skills allow you to confidently position your company and its products to customers. Career opportunities offered for candidates with Account Management skills are Business Development Associate, Sales Representative, Business Development Manager, and Account Manager.

Content Creation:

Content creation mainly involves creative storytelling and is often very essential for marketing careers. It is one of the best

skills to learn

since this skill includes originality, social perceptiveness,

creativity skills

, and emotional intelligence.

Taking these skills to the next step adding data analysis to your toolbox, and specifically focus on marketing analytics so that you can evaluate the audience engagement with your content.

Career opportunities offered for candidates with Content Creation and  Management skills are Digital Marketing Manager, Social Media Manager, Brand Marketing Manager and Content Marketing Manager.

Cloud computing:

Cloud computing is a leading technology that involves the delivery of computing resources, like storage, servers, networking, databases, analytics and software over the internet ("the cloud"). Candidates with skills in cloud computing are in high demand due to the increasing number of companies that are moving business functions to the cloud. Cloud engineers are the people who are responsible for managing and developing these cloud computing systems so end users can store files and back up their data. Companies offer diverse job roles such as Cloud Computing Professional, Cloud Engineer, Cloud Security Engineers, Cloud Solution Engineer for those with high skills in Cloud Computing.

Artificial Intelligence:

Artificial Intelligence (AI) is a process of simulating human intelligence in machines that are programmed to learn, think, and perform tasks that typically require human intelligence.

It is one of the

high paying skills

since it involves testing, implementing, and building AI models, as well as maintaining the organization's AI infrastructure. If you want to develop your skills in artificial intelligence, you'll need a strong foundation in statistics, software design, engineering, coding, and similar fields.

Job opportunities

offered for candidates with knowledge in Artificial Intelligence are Artificial Intelligence (AI) Engineer, Machine Learning Engineer, and Robotics Engineer. 

Mobile App Development:

Mobile app development involves creation of software applications that are designed to operate on mobile devices like smartphones.

This Industry grows as the Mobiles and Tablets are the center of Communication and work. Technological development and Business have emerged at an impressive pace which results in a high demand for people with experience in App Development. Companies offer various job opportunities for candidates with skills in Mobile App Developing.

Customer Relationship Management:

CRM provides a great platform for sales and marketing teams to effectively manage customer interactions. Customer relationship management totally centralizes the maintenance and creation of mutual and long-term beneficial relationships with important markets. Customer Relationship Management enables a company to understand  the needs of the customer and ensure long-term customer loyalty. Marketing Specialist, CRM Developer, Consultant and Sales Specialist are some of the job opportunities offered for candidates skilled in CRM.

JavaScript:

  As 95 percent of all websites use JavaScript as client side programming language, JavaScript is a high demand skill for the current Job market. If you want to get an

IT job

, improve your skills in JavaScript though it will be the

most demanding skills in future

. Job opportunities offered for candidates who are skilled in JavaScript are Front – end Web Developer, Web Application Developer,  and JavaScript Developer.
Paypal offers diverse job opportunities for freshers. Candidates can click on  Paypal Jobs For Freshers to apply for positions that are aligned with their skills and abilities.  
Benefits of improving your skills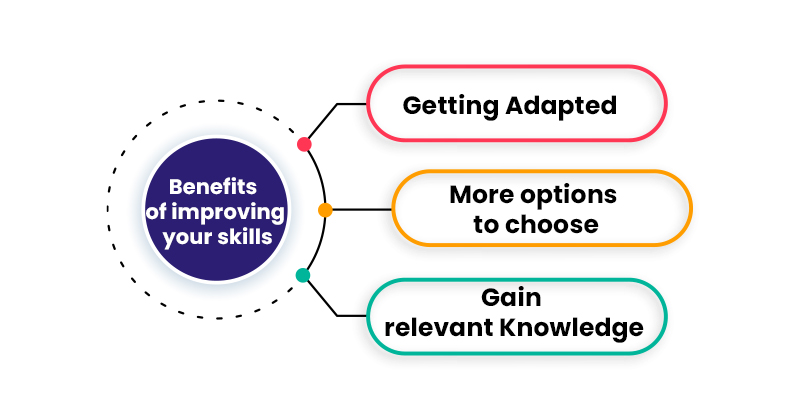 Getting Adapted:

Learning a new skill can help you to adapt with the changes happening in your workplace and profession by enhancing your versatility. It equips you to tackle emerging challenges, take on new responsibilities, and opportunities that arise.

More options to choose:

Gaining more skills will provide you great choices and also helps you to advance your career. It opens up a new path for career progression and enables you to explore various roles within your field. As you acquire additional skills, you will be equipped to handle complex projects, take on leadership positions, and contribute significantly more to the success of your organization, and will help lead to greater job satisfaction and increase your opportunities for professional development.

Gain relevant Knowledge:

Learning these

high income skills

will lead a new path for you as the working style becomes more innovative. Embracing these advancements will not only boost your employability but also position you as an expert in your field. Continuous Skill improvement and Professional development will help to be updated with all the advancements and changes in latest Technologies. This can open doors to higher earning potential, exciting job opportunities, and the ability to make a significant impact on your profession or industry. Continuous learning ensures that you remain competitive, adaptable, and ready for today's rapidly evolving job market.
In conclusion, freshers who are entering the job market in the current year, should improve certain skills that are highly in demand which can significantly help you to get high-paying jobs to enhance their career prospects. Freshers should centralize on developing and showcasing a combination of these high demand skills to succeed in the current job market. Continuous learning and gaining practical experience in high income skills through projects and internships can significantly increase their chances of landing their desired roles and advancing their careers in the modern professional landscape.