Walmart is a retailer that owns and runs hypermarkets, inexpensive department stores, and grocery shops worldwide. The corporation is best recognized for offering a variety of fresher possibilities to younger job seekers, offering a splendid Walmart Fresher Salary.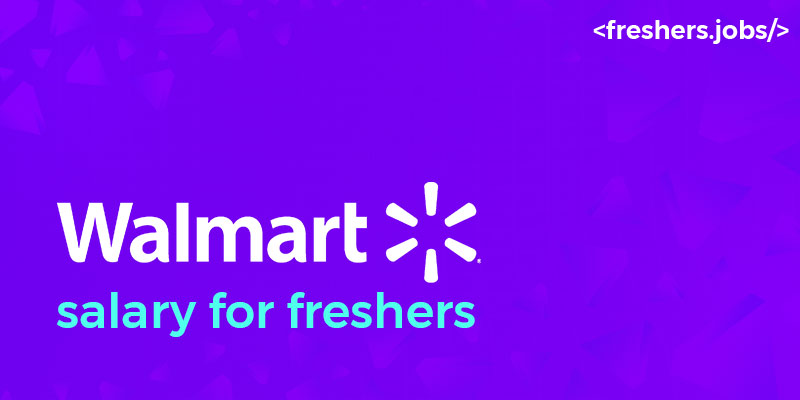 This blog will give you all of the details you'll need to apply for various Walmart positions. Let's discuss the fresher's jobs in Walmart, salaries, skills required, and the fresher benefits. Sit back and scroll to read the complete blog and tap to apply for jobs in Walmart.
Why do freshers prefer to join Walmart?
Takes advantage of a variety of flexible work options, such as taking time off or pursuing your passions.
We place a premium on overall career development through upskilling options such as training and mentoring.
Our workplace is based on trust and transparency, and it encourages diversity and inclusion.
With hands-on experience in the most cutting-edge technology, create ground-breaking products and solutions for the world's largest retail giant.
Walmart recruitment
Walmart is looking for freshers graduates and working candidates for various job roles across their establishments. This is an incredible opportunity for the aspirants to begin their careers with Good Walmart package for freshers.
Academic requirements
To join Walmart, freshers must achieve 60% of the qualifying criteria, which include grades in 10th, 12th, and graduation.
The candidate should not have any pending backlogs when applying for Walmart Recruitment. All graduates and postgraduates, including BE/B.Tech, MBA, MCA, ME/M.Tech, are welcome to apply to Walmart.
Walmart is a highly great company to get into because it is quite popular and chosen by a lot of people. Freshers who work at this organization get an exciting Walmart salary for freshers.
Skills Required
Strong problem-solving, analytic, and decision-making abilities, as well as excellent communication and interpersonal skills, are required.
You should be detail-oriented and competent in understanding data and trends, diagnosing problems, and devising effective strategies for overcoming obstacles.
You must be self-motivated and self-assured, with an entrepreneurial spirit and a desire to work in a fast-paced, results-oriented environment with a variety of tasks.
To apply for jobs in Walmart
The procedure for applying for a job at Walmart is straightforward and detailed, as detailed below.
Create an account on Walmart's employment website, http://careers.walmart.com, and finish the job application by filling out the forms, including your personal information and other details.
If you don't want to apply online, you can also download the PDF job application form, fill it out, and submit it to the HR manager.
Following the completion of the application procedure, they will review your application and, if it meets their requirements, you will be invited to an onsite interview.
If your interview goes well, you will be offered a job and requested to complete the next procedures, which include a pre-employment check.
After you've completed all of the procedures, you'll be given an orientation and begin working for the company.
Walmart's fresher roles and salaries
Although the Walmart salary for freshers in India differs from that of professionals, we have assessed the typical compensation package for various Walmart roles, as shown in the list below.
Software Engineer: 2.2 LPA
Full-stack developer: 4.5 LPA
Sales Associate: 2 LPA
Support Engineer: 2.5 LPA
Data Engineer : 3 LPA
Software Trainee: 2 LPA
The above mentioned are some of the fresher job roles offered for freshers in Walmart. As you see the salaries offered for these roles are exceptionally incomparable. To accomplish fresher roles and great salaries one must possess some of the skills, which are discussed below
Sofware Engineer
Software engineering is a field that is continually changing and developing.
Many people want to work as outstanding software engineers for reputable companies that pay well Walmart fresher salary.
In the realm of software engineering, success and growth, not just monetary but also knowledge growth and success, are at an all-time high.
This field has a decent balance of established and exciting locations.
True, this industry necessitates learners, problem solvers, and enthusiasts who are eager to study and adapt to change at a rapid pace, as technology evolves on a daily basis.
With so many young, vibrant, talented, and diligent minds vying for positions in the software engineering field, it's vital that they grasp the skills they'll need to succeed.
Full-stack Developer
Full-stack developers are among the most in-demand professions in the software industry.
Because of this essential mix of abilities, the area is experiencing faster-than-average job growth listing it as one of the top careers as well as a more competitive Walmart package for freshers.
As a result, fresher full-stack engineers must be proficient in a variety of programming languages (Java, HTML, Ruby, and others), as well as the LAMP stack (Linux, Apache, MySQL, and PHP), as well as database technologies and frameworks (JSON, NGINX, Angular, and React).
A bachelor's degree in computer science or a closely related discipline is frequently a useful starting point. Given how quickly programming languages and web development technologies progress, it's a good idea to enroll in an online course or Bootcamp to keep up with the most up-to-date tools, languages, and best practices.
Taking a class might also demonstrate to hiring managers that you're dedicated to remaining current with industry advancements and appreciate continued professional growth.
Sales associate
A Sales Associate Knowing how to use a CRM (customer relationship management) system is a must-have ability for salespeople.
If you've never used a CRM before, our comprehensive guide will teach you all you need to know.
If you start as a sales associate, you have the option of moving up the corporate ladder in the same or a different industry earning a good Walmart fresher salary.
Alternatively, you can broaden your horizons by entering into similar disciplines such as marketing, trade marketing, or brand management.
The abilities required to succeed as a sales associate might be either company-specific or generic to the area of sales.
Support Engineer
Freshers looking for a good Walmart package should consider becoming a technical support engineer because the company pays well right away.
In order to be considered, the candidate must possess the following skills: Computer science, corporate technical support, IT support, critical analytic ability, client control abilities, and good verbal and written communication skills are all required for a Fresher Technical Support Engineer.
Data Engineer
Anyone with Python and SQL skills who wish to be actively involved in the building, testing, and maintenance of data process architecture and pipelines for Extract, Transform, and Load (ETL) operations would be excellent for this position.
You will join a professional team as a Data Engineer business and benefit from a productive and welcoming work environment as a new member of the team.
International travel, a competitive Walmart package for freshers, an annual performance bonus, training, and assistance in attaining technical certifications are all benefits of working with Walmart.
Software Trainee
Software trainees have many career alternatives, but they may only pursue them if they have the following skills: a solid understanding of development languages such as Java,.NET, C++, and others, up-to-date knowledge of technologies, knowledge of one or more programming languages, and a keen eye for Operating Systems.
If the candidate shows an interest in software, most degrees will count toward a software trainee plan, but a relevant certificate or degree would be advantageous offering a good Walmart fresher salary.
Benefits of Walmart
Walmart's paid-time-off programs provide you the freedom and flexibility to take time off for holidays, sick days, vacations, or just to relax. Maternity and paternity leave are two types of parental leave. Birth mothers can take up to 9 weeks of paid leave, while all other parents can take up to 6 weeks for a birth, adoption, or foster care placement.
Work culture in Walmart
Walmart has an open work environment, and upper management is easily accessible.
Striking a work-life balance is also a smart idea.
Employees, as well as the firm as a whole, aims to live up to the company's values and ideals every day.
The retail industry is a fantastic place to learn new skills and advance in a rewarding career.
Retail, now the second-largest industry in terms of employment behind health care, is a cornerstone of the American experience and practically everyone can find a way to a wonderful job at Walmart.
Identifying your skills and deciding which opportunities are right for you is the greatest technique. Join Freshers.jobs to find out about current openings and salaries for recent graduates. Many job searchers strive to obtain the positions they desire and to live productive, professional lives. First and most important, You have the opportunity to show off your expertise at a fantastic firm. The greatest Walmart fresher salary and the benefits encourage every candidate to apply to this company.