A probation period is a preliminary phase during which an organisation evaluates an employee's performance, suitability, and compatibility. It is a predetermined duration, typically from weeks to months, during which the employer and the employee assess their fit.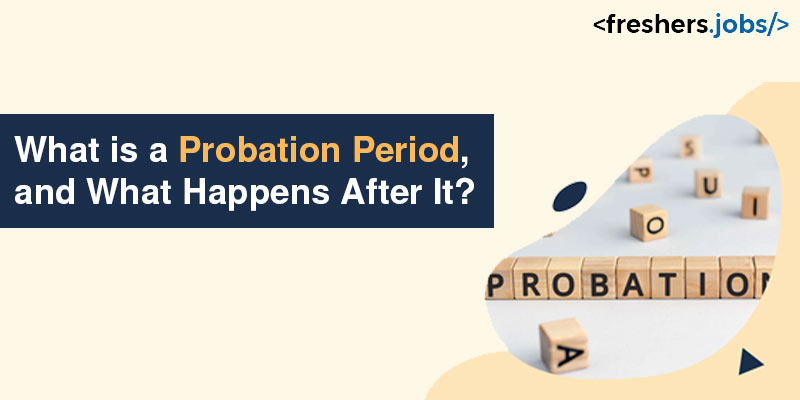 The probation period allows the employer to check the employee's abilities, work ethic, and overall suitability for the position while offering them an opportunity to acclimate to the work environment and showcase their skills. Depending on the evaluation results, various outcomes are possible once the probation period concludes. This blog explores the concept of a probation period, its purpose, and what typically happens after its completion.
A probation term is typical when starting a new career in India. It is an excellent approach to look if you can be an apt fit for a specific role while your company decides your suitability. Understanding your rights and responsibilities during probation will help you complete and transition into a real job.
Initially, let us know what is a Probation Period
What is probation period? A probation or trial period is a specified timeframe during which an employer assesses an employee's performance and suitability for a particular job. It serves as an initial evaluation phase, typically occurring at the beginning of an employment relationship. The probation period allows the employer to closely observe the employee's skills, work ethic, adaptability, and overall compatibility within the organisation. It allows both parties to determine whether the employee fits the position and the company culture. The duration of a probation period can vary depending on company policies and the nature of the job, ranging from a few weeks to a few months. During this period, the employee may receive additional training and development, guidance, and feedback to help them succeed. At the final stage of the probation period, the employer evaluates the employee's performance and decides on their continued employment.
When does the company put you on probation Period?
A company typically puts employees on probation when newly hired or promoted to a new position. This probation period assesses the employee's performance, suitability, and compatibility with the job and the company. Here are a few criteria by which a probation period may be implemented:
New Hires: When an organisation employs or hires a new employee, especially for a permanent freshers jobs position, they may institute a probation period to evaluate the employee's skills, work ethic, and ability to adapt to the company's culture and processes. This period allows the employer and the employee to assess their mutual fit before making a long-term commitment.
Job Transfers or Promotions: A probation period may be imposed if an existing employee transitions to a new role within the same company. This allows employees to demonstrate their capabilities in the new position and adapt to the different responsibilities and expectations.
Performance Issues: In some cases, an employee struggling with performance-related issues may be placed on probation. This serves as an opportunity for the employee to improve their performance, address any specific concerns raised by the employer, and prove their commitment to the job opportunity.
During the probation in job, the employee may receive additional training, guidance, and support to help them succeed. Regular check-ins and performance evaluations may take place to provide feedback on strengths, areas for improvement, and overall progress. This will allow the employer to make an informed decision about the employee's suitability for the position and the company's long-term goals.
At the end of a probation period, the employer assesses the employee's performance and determines the next action. If the employee meets the required expectations and demonstrates a good fit, their probation may be completed, and they continue as a permanent employee. Alternatively, suppose the employee's performance does not meet the desired standards or has significant concerns. In that case, the employer may terminate or extend the probation period for further improvement. You can read the Most Important Steps to take when you get Laid Off.
It's important to note that the specific policies and procedures regarding notice period during probation may vary between companies. Employees should familiarise themselves with their organisation's probationary policies to understand the expectations and guidelines during this period.
Let us know what precisely a probation period is in Software Industry
The Probation Period in software companies lasts longer, almost one month or three to six months. In most cases, it may extend up to a year. The companies use the probation period as the final and end level of the assessment to determine whether the newly recruited candidates are suitable for the organisation. The exact probation period depends on and varies from company to company.
The probation period in software businesses is usually shorter, ranging from one to twelve weeks. Some organisations may waive the probation time for experienced professionals, while others may use it to assess your motivation and attitude towards work and the workplace.
What is a Probation period in Government jobs?
Most central government jobs have a two-year probation period. UPSC, Union Public Service Commission, SSC, or Staff Selection Commission, have a two-year probation period. As a result, all Class III and Class IV positions, such as Assistants in the Central Secretariat Service, Tax Inspectors in the Central Board of Direct Taxes, and Assistant Enforcement Officers, have a two-year probation period.
The probation period for state government positions varies per state. However, most state governments, like the federal government, have a two-year probation term.
Just as in the private sector, you must take all precautions to finish your probation in jobs in government sector effectively. You must view it as a learning opportunity to take on the proper responsibility of a permanent job.
Pay for the Probation Period
During the probation time, you are allowed to pay. Your wage, leave privileges, and employment contract details will govern other work benefits.
Depending on your pay grade, government employees typically have a fixed wage throughout the probationary term. However, private-sector businesses are significantly more flexible regarding their remuneration practices. Before accepting a job offer, it is preferable to haggle over your wage and work advantages like paid time off, health insurance, and transportation.
For a higher salary during the probation period, you can tap into freshers jobs in Hyderabad.
What Takes Place Following the Probation Period?
Your ability to get a permanent position inside the company after completing your probationary period affords you superior job security and perks.
What is probation period? During the probation period, potential employers assess your suitability for the position. During this time, they train you and keep track of your performance. Periodic feedback from your manager or team leader will help you perform better. Companies evaluate your performance after the probationary phase to determine whether you need an induction to start working full-time. Companies may hire you as a regular employee, let you go, or extend your probationary period, which could be based on the outcome of such a review.
Continual employment
After the probationary term, if your company is satisfied that you can execute your job obligations properly, they will hire you as a regular employee. Employers may evaluate you based on factors besides work efficiency and performance, such as how you interact with coworkers and generally approach work.
After converting to regular employment, you can be eligible for more excellent freshers salary pay and work benefits. Given that a standard employment contract would now cover you, your contractual obligations may also vary, for example, by requiring a lengthier notice time.
The end of employment
A probation period typically makes it easier and requires less notice for your company to terminate your employment. You have a similar degree of flexibility. After probation, you may quit the organisation if you believe another position will better satisfy your needs. Similarly, your employer may terminate your employment if they believe your skills and abilities may be used more effectively elsewhere than in the current position or business.
How Can You Successfully Complete Your Probation Period?
Here are a few useful hints to assist you in completing your probationary period:
Improve your abilities
A probationary term provides an opportunity to observe and pick up new abilities. Try comprehending how the sector operates and becoming familiar with the company's unspoken norms. Look into new opportunities to improve the current work environment.
Keep your performance in mind
Be proactive in your work and continue to assess your progress. Concentrate on attaining the goals established as conditions to pass the probationary term. Display your knowledge, enhance your skills, and desire to work for the organisation. Be receptive and diligent in your efforts to achieve deadlines. Give it your all notice period during probation and treat it like any other job.
Be receptive to criticism
Pay close attention to anything your boss says. Feel free to solicit criticism. Accept your manager's criticism gracefully, then focus on the areas that need improvement.
Be creative and updated to apply for Infosys jobs for freshers to have a great start during the Probation period.
Keep a positive outlook
Positive thinking and enthusiasm for your task are essential. Establish a connection with your superiors and peers. Socialise in a professional manner at work. Strong interpersonal skills are demonstrated through having positive relationships at work. It also enables you to receive informal comments on your work.
Please your employer
Organisations frequently keep an eye on your behavioural pattern in addition to performance. Because of this, it's critical to impress your employer throughout the probation period term. Make every effort to maintain your professionalism. By your company's dress code, wear business formal and arrive on time to work. For increased productivity and improved time management, keep yourself organised. Be kind and considerate to everyone in the workplace.