As eCommerce grows, the need for Angular Js developers is expected to grow. Most people applying for a web development job with AngularJS can have good career growth. With the right skills, experience, and hands-on training, web developers can specialise in one area and move their careers in the right direction. Angular Js developers have a lot of options in the market today. Most startups and multinational corporations hire AngularJS developers to work on their web development projects with a high angular developer salary in India.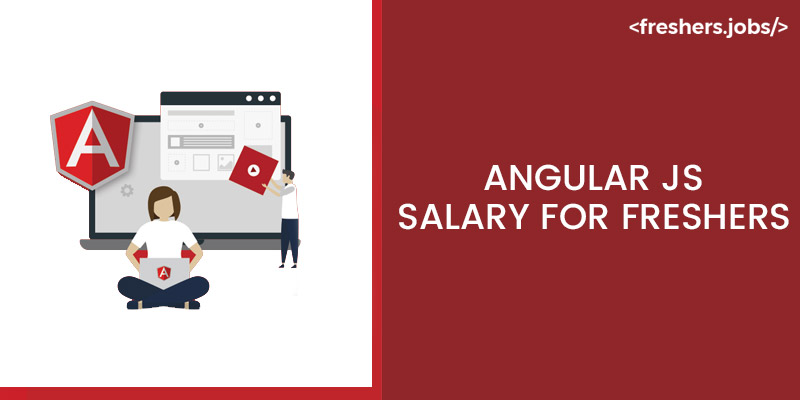 Angular Js jobs are right for new graduates. But you must be very good at Angular Js to get a job as an Angular Js developer. Angular Js jobs are in high demand. There aren't enough Angular Js jobs right now, so there is a significant need for skilled Angular Js professionals on the market.
AngularJs has become the most popular framework. This JavaScript framework has many benefits that many developers swear by. Angular training could make you much more valuable to employers. It is a complex script that works with HTML to improve its performance and make the process of making UI, from designing them to testing them.
Reasons to choose Angular Js
Since its release, Angular.js has become very popular, and good angular js developer salary in India shows no signs of slowing down.
Here are the reasons,
It provides a client-side solution.

Angular makes testing more accessible because it is simple.

SPA(single page applications) and angularJS go hand in hand. It has features that are good for SPAs.

Because there is less code to write, creating an Angular app is simple.

It uses a descriptive framework.
Scope of Angular JS
Angular JS is among the best frameworks on the market right now. 

Web applications and development are expected to grow significantly in future years.

Most of India's job search sites say that many companies are looking for developers who know how to work with Angular JS frameworks with high

angular js salary in India

. 

It is also noted that developers mostly use the Angular2 Version in the IT field. 

So, this is one reason why Angular JS is so essential.
  Let us know what Angular Js is
AngularJS is a framework for building web apps that change over time. 

It lets you use HTML as your template language and add to HTML's syntax to describe the parts of your app clearly and concisely. 

All of this happens in the browser, which makes it an excellent match for any server technology.
Who is an Angular JS Developer?
In the past, we've talked about developers who use Node.js, Java, and Python. Who is an Angular developer, though? 

These developers work on the software's client side. 

They make UI parts for websites and web apps using the Angular framework.

Also, they are known for making software that works well and has an interactive user interface for websites and web apps. 

An Angular developer makes modules and components and puts them together to produce essential apps.
Why do freshers need certifications in Angular JS?
The AngularJS Course helps you learn the best way to build dynamic web apps with the proper framework and earn a high

angularjs developer salary in India.

Angular JS frameworks are used by small, medium, and large companies to help with their projects. 

Angular JS Developers have a lot of job opportunities and potential, and you can improve your career by taking Angular JS Training and learning the course professionally.

AngularJs is a skill that is very in demand on the job market. Web application development is the most in-demand skill in IT right now, and AngularJs is the best way to learn this. Taking an AngularJs course can help your career growth.

When you add this to all of AngularJs's other benefits, it is not surprising that this is among the most in-demand abilities for web development jobs.

It's essential to learn all the versions of Angular that are currently in use as well as the newest one when you're learning it. 

This will help you understand the code written for older versions and give you the skills to make new apps with the most recent version.

If you know some basic HTML and CSS and have an intermediate level of JavaScript knowledge, you should think about learning AngularJs to advance your career.
Angular Js Salary
Let us discuss the angular developer salary in India. Varying factors influence the Angular Js developers. Here are the factors
Experience 

Location 

Organization 

Job roles 
Salary of an Angular Js Developer as per Experience
In any field, a person with more experience will always make more money than someone with less. Even in this field, the more experience you have, the more you get paid. You need to improve your skills to grow and get paid more.
The entry-level

angular js developer salary in India

gets a salary of 4 LPA.

The mid-level Angular Js Developer is earning a salary of approximately 8 LPA.

The senior Angular Js developer is getting a salary of about 12 LPA.
Salary of an Angular Js Developer as per the Location
As the number of people who use web applications grows, so does the need for Angular Js. Because there are numerous firms in most of the top cities, they always have a lot of job openings for new graduates because Angular Js developers are paid well. As soon as they graduate, the candidates rush to the cities to find jobs as Angular Js developers in the IT field. Let's see how much Angular Js in India make in different cities.
Bangalore: 3 LPA

Chennai: 2.89 LPA

Hyderabad : 3 LPA

Pune: 3.2 LPA
Salary of an Angular Js Developer as per the Organisation
Companies with a good reputation and a long history are looking for a skilled Angular developer. They want these Angular developers to be seen as the best developers in their company. Also, they want to make UIs that users can interact with and find interesting. So, you can expect top companies, like Microsoft, L&T, etc., to pay more angular js salary in India with more experience and skills. With the right location, skills, knowledge, and company, an Angular developer will have a bright future.
Salary of Angular Js developer as per Job roles
Angular Js is vast. So, people work in many different areas. Let's look at the job roles of Angular Js and how much they get paid in India.
Web developer: 3.28 LPA

Web app developer: 2.32 LPA

UI developer: 3.12 LPA

Front end web developer: 2.33 LPA

JavaScript developer: 3.3 LPA
Hope to know that you have got an idea about the varying salaries on various factors. But to acquire these angular js developer salary in India and land in a great organisation, you must possess some skills. Below are the skills required for an Angular Js developer
Skills required for an Angular Js developer
Npm is the primary tool for installing, finding, generating, and publishing hundreds of client-side Node programmes.

Understanding HTML and CSS is one of the essential skills for Angular developers.

It also facilitates writing code and ensures that your programme is promptly updated. This makes it an essential skill for Angular developers.

Using Git is one of the essential skills for Angular developers while developing new features or coding techniques.

Angular Developers must thoroughly understand how programming works and be able to read other people's code.
Responsibilities of an Angular Js Developer
As Angular developers, they will be a vital part of developing and maintaining web applications.

The Angular developer will be accountable for the applications' usability, performance, and security.

Additionally, they must participate in creating novel features and abilities.

Making use of the AngularJS framework, create user interfaces.

Work closely with backend engineers and web developers

Make web apps that are effective, dynamic, and responsive.

Fix the application after testing the code at the unit level.

Create your guidelines and elements.

Good debugging skills and experience with unit testing tools.
Conclusion
This Blog helped you with the details of the angular developer salary in India. AngularJS is one of the worthful choices for web developers. For those skilled at Angular programming, it is an asset. Making an AngularJS career choice has many advantages. Whether starting your IT career for the first time or looking for a shift, Angular development offers several opportunities and earns a high Angular Js salary. Learn the most recent techniques and tools to dazzle prospective employers and set yourself up for a successful AngularJS career.