CSS Corp provides technical assistance for business, consumer products, IT infrastructure management, and network deployment. It provides warranty management, remote technical support, troubleshooting, service desk support, and installation and configuration support, among other services. At CSS Corp, we've established a competitive culture that encourages employees to learn new technologies, and solutions and earn a high CSS Corp salary for freshers.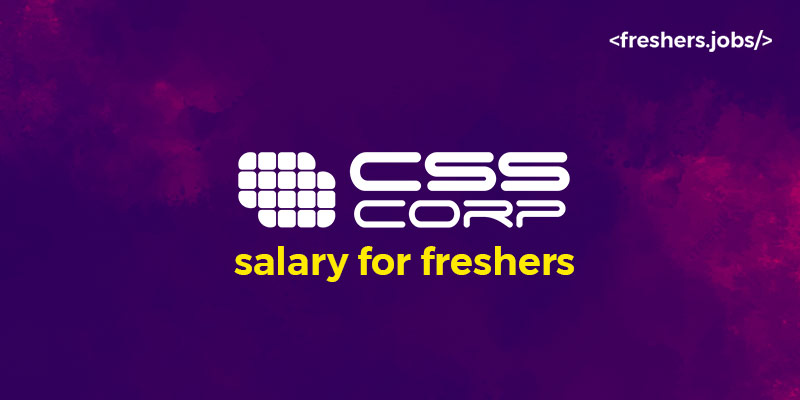 CSS Corp is a thriving, new-age IT services firm that provides digital and customer experience solutions to some of the world's most well-known businesses. The freshers can expose and explore these areas and get benefited and can advance their careers in every manner.
Why do freshers prefer CSS Corp?
At CSS Corp, we've established a competitive culture that encourages employees to learn new technologies and solutions.

We work with some of the most influential technological disruptors, and their ecosystem is undergoing major changes.

We've invested in cutting-edge technologies and established, and motivated energetic freshers.

We now have the scale to compete with larger companies while yet maintaining a start-up mentality.
Who is eligible for applying to CSS CORP
CSS Corp is looking for people who are skilled at problem-solving, writing, and verbal communication, as well as people who are persistent.

Most importantly, the candidate must be able to communicate their views through their enthusiasm.

Because the organization is looking for extremely competent individuals, passionate, active, self-motivated, and diligent candidates are more likely to get hired and earn a high

CSS Corp package for freshers.
CSS Corp first career program
If you are a recent graduate seeking a satisfying job in the field of ITES, this is a fantastic chance for you.

Start your career by working in our Consumer Technology Application Support Services division with a pleasing

CSS Corp salary package for freshers

.

Work your way up from the Enterprise Tech Support area to your ideal job in network security,

cyber security

, firewall, and wireless

networking

, and

full-stack development

options in our Digital Engineering space.

Our Skill plus Learning Academy's Career Aspiration Management Program (CAMP) will provide you with the knowledge and skills essential for freshers.

In addition, selected employees can be funded by CSS Corp to pursue a higher education program at a reputable university in India.
To work for CSS Corp company
Freshers pay and professional opportunities at CSS Corp provide the best training and advice from successful pioneers.

They will assist you in carrying out your tasks.

CSS Corp ensures that projects are finished to a high standard and assists with expert trainers

CSS Corp offers a demanding job profile, a good

CSS Corp salary structure,

salary pay increments, safety perks, reimbursements, and other incentives to entice people to pursue a career with the corporation.
CSS Corp recruitment
Candidates must have a degree in any of the following disciplines:

B.Tech

(

IT

,

CSE

,

ECE

,

EEE

),

BE

,

MCA

,

B.Sc

,

B.Com

,

M.Tech

,

BCA

,

BBA

,

BA

,

MBA

,

ME

,

M.Sc

,

M.Com

, BBM, BHM.

Candidates must also have a 60 percent cumulative grade point average in their academic pursuits (including 10th grade and 12th grade).

Candidates should be able to design with new and innovative ideas.
To apply for CSS Corp jobs
Create a profile at www.csscorp.com and complete the job application by filling out the forms, including your personal information and other details.

You can also download the PDF job application form, fill it out, and submit it to the

HR

manager if you don't wish to apply online.

They will examine your application after you have completed the application procedure, and if it fulfills their requirements, you will be invited to an interview.
Skills needed in CSS Corp
Every recruiter looks for these skills in candidates for entry-level positions with a competitive

CSS Corp salary for freshers.

Candidates can be updated on most of the system languages and recent technologies.

A candidate must be fluent in languages such as

JAVA

,

PYTHON

,

C C++

,

SQL

, and others to be considered for a position at CSS Corp.

Because current technology is so adaptive, every applicant should stay on top of the latest developments. In the interview, candidates who are well-versed in new programming languages, coding, and other areas will do well.
Freshers' jobs and salaries in CSS corp
CSS Corp Freshers' initial salaries vary based on the position. We've depicted several roles together with our estimated wage package for freshers in the list below. The following is an overview of the CSS Corp package for freshers, as well as the skills required for these positions.
Technical support Engineer: 2.7 LPA

JAVA Developer: 3 LPA

Customer support executive:2 LPA

Systems analyst:2.5 LPA

Network Engineer: 2.7 LPA
To Establish these roles every candidate must acquire and learn newer concepts or enroll in various software courses to get into these fresher positions by getting a good salary. Let us see what skills are much needed for candidates.
Technical Support Engineer
Beginners looking for a good CSS Corp package might consider becoming a technical support engineer, as the company offers a great CSS Corp salary package for freshers

right away.

In order to be considered, the candidate must possess the following skills: Computer science, corporate technical support, IT support, critical analytic ability, client control abilities, and good verbal and written communication skills are all required for a Fresher Technical Support Engineer.
Java Developer
A Java developer should be familiar with the many programming languages that are utilized on the job.

Java programmers must know how to code in Java,

JavaScript

,

HTML

, and CSS.

A thorough understanding of System Design and Architecture is also essential.

It's also crucial to understand your firm's tools to deploy and test Java projects.

According To Current Compensation Trends, a JAVA developer makes a high competitive

CSS Corp salary for freshers

pay.
Customer Support Executive
You must have great interpersonal and communication skills, as well as a professional look, to be effective as a customer service representative.

These abilities will come in handy while mentoring your team members and mediating with clients.

A great customer service representative should have a track record of providing excellent customer service and management.

The candidate must be capable of leading a group, have Computer abilities, and have a thorough understanding of CRM systems.
Systems Analyst
Systems analysts acquire on-the-job training on various essential systems incorporating hardware and software, and embarking on this career path typically allows for specialization.

If you have a bachelor's degree that isn't connected to computer sciences, you may be able to expertise by enrolling in and passing extra courses to meet the role's minimum education requirements.

In order to be effective, systems analysts must have some soft skills in addition to the technical knowledge required for the job offering a great

CSS Corp package for freshers.

Problem-solving and critical thinking abilities are required for identifying problems and evaluating numerous solutions to determine which is the best.

The new System Analyst must be familiar with Windows NT 4.0, Windows 98, Unix

, DOS, and

Linux

.

Knowing how to use this software will help you progress your career and earn great CSS Corp fresher pay.
Network Engineer
In order to manage network maintenance and system upgrades, such as patches, service packs, security configurations, and hotfixes, a new

network engineer

should be convenient with computers, routers, firewalls, and other devices.

They must have the ability to expand their knowledge through ongoing education or other means.

A bachelor's degree in computer science or information technology is preferred.

Freshers can make a nice

CSS Corp salary package for freshers

with all of these skills.
Benefits for Freshers in CSS CORP
CSS Corp provides a nice working environment for its freshers, including medical, insurance, and other perks.

The culture, the teams, and the job exposure will all be enjoyable for any CSS Corp newcomer.

Because there are so many employees of varying ages, there is always something new to learn from one's coworkers.
Work culture in CSS CORP
CSS Corp is ranked 10th on Times Ascent's list of "Dream Companies to Work For." The work atmosphere is energetic and adaptable, resulting in higher employee output. This organization has been delivering thorough Tech Support, Hi-Tech CMS, and security services to its consumers for the past 23 years.
I hope this information helps you understand the career domains and salaries available for freshers at CSS Corp, one of the most reputable businesses in the world. Every newcomer can gain confidence by working for one of the most reputable companies. Candidates can inquire about current jobs and CSS Corp salary for freshers and the company's fantastic work culture and chances. Simply visit freshers jobs to search for CSS Corp job vacancies and be enthusiastic about the fantastic pay on offer.