Data is a vital thing that every business keeps very safe. Suppose you are working for any organization with any security issues. The protection of that data in its digital form is called cybersecurity, and the person working on it is the Cyber Security Analyst. The extreme goal of a company is to maintain its data secure, private and accessible.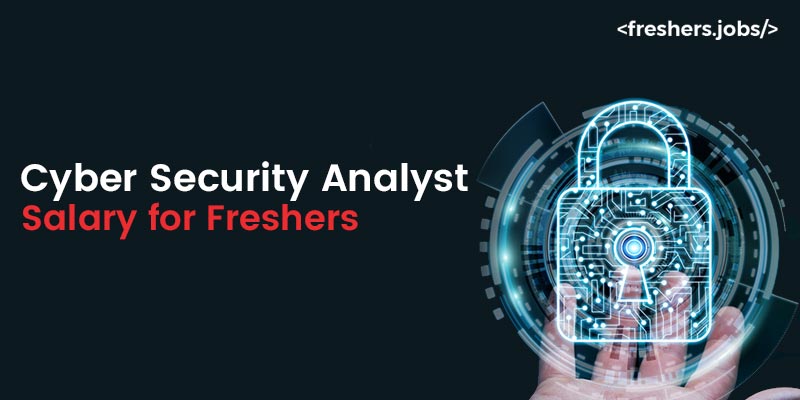 Getting a job in Cyber Security with a high cyber security analyst salary means joining a booming industry with plenty of job opportunities for freshers and experienced. Cybersecurity is the most lucrative, attractive career field for candidates who are good at the latest technologies. A job in cyber security can also make way for tremendous professional growth. 
Scope of Cyber Security careers
A cyber security career is considered highly rewarding and one of the fast-paced domains for those who aspire to take up the challenges and exhilarate in solving the problems. 

As per the reports, the demand for Cyber security analysts is at a highly increased rate and will grow higher over the next ten years.

There is an ever-increasing demand for skilled cyber security analysts as the technologies are evolving daily.

The candidates have many recent job possibilities because of the drastic increase and expansion of cyber security employments in very recent days. 

As there are few skilled persons for cyber security analysts so anyone passionate about taking up cyber security careers can expect a wide range of career streams and high

cyber security analysts salary in India

, and also avail excellent benefits. 

There is a broad spectrum of jobs in cyber security. A Cyber security analyst is an option for an entry-level security professional.
Now let us know what a Cyber Security Analyst is
The main job of a cyber security analyst is to handle the system's and the data's security and avoid security threats. The process of protecting data from threats, unauthorized access, or file damage is all the work a Cyber security analyst does.
Why do you have to choose a career in Cyber Security?
Cybersecurity is one of the IT sectors domain with the fastest growth and most significant demand. Whether you are considering continuing your studies, have just graduated, or are contemplating a change in profession, jobs in cyber security offer the opportunity of a high cyber security salary for fresher as well as fascinating and varied experiences.
How do you get hired as a Cyber Security Analyst?
The report states that the most common entry point into cybersecurity is a degree in engineering and IT or a related subject or math. 

Many workers start their IT jobs before developing cybersecurity experience.

However, due to the growing need for cybersecurity jobs, many people join the field with graduation and closely connected experience. 

Students who attend training courses can be ready for careers in cybersecurity in three to six months.

In cybersecurity, professional certifications can be just as necessary as degrees. The CompTIA Security+ certification is required for many entry-level Cyber security jobs.
Why do freshers require Cyber Security Certifications?
Suppose you're trying to advance or change careers. In that case, there are several compelling reasons to get a cyber security certification, including the high demand for qualified applicants on the job market, the cyber security salary for freshers, the career alternatives, and the ease of certification. 
It is not necessary to return to college for a four-year degree or to build up years of professional experience before becoming a cyber security specialist. You can start a career in this swiftly growing profession provided you have some IT experience and the required cyber security certifications. An IT certification might increase your work prospects if you're already an expert in the field. Positions in this area include chief information security officer, security engineer, security auditor, and computer forensics specialist with a high cyber security analyst salary. Cybersecurity courses come in a variety of formats, including:
The CompTIA certification is a suitable alternative if you're new to the industry. With this qualification, you should be able to start in a tech support position.

The Certified Ethical Hacker (CEH) certification can help you learn challenging ideas like malware and reverse engineering.

The Certified Information Systems Security Professional (CISSP) credential benchmark for information security. With the help of this certification, you can learn how to describe every area of IT security, including architecture, design, management, and controls. Most IT security positions favour or necessitate CISSP certification.

Your ability to supervise and manage an organization's information technology and successfully conduct a security audit on any business will be taught through the Certified Information Systems Auditor (CISA) certification.
A strong job market, competitive pay, continual challenges, and ease of entering are just some compelling reasons to get certified and work in this lucrative and exciting field. You can enter this growing sector even if you are a full-time worker in another domain by enrolling on Training or courses on Cyber security and certificates. You can set your time to accomplish your objectives.
Cyber security Analyst Salary
Various factors impact cyber security analyst salary in India. We shall discuss the factors in detail one by one.
The Location

The Experince

The Organization

The skills set
Let us discuss in detail every factor and see the varying salaries.
Salary of a Cyber Security Analyst as per the Experience
Experience has a significant impact on a cyber security analyst salary range. Due to the fantastic boom in hacking and security, more applicants are looking for work in this field. With experience and promotion, the pay scale rises.
The Entry level Cyber security analyst salary is around 2 LPA.

The mid-level Cyber Security Analyst's salary is approximately 6.5 LPA.

The Senior level Cyber Security Analyst will get a salary of 10.93 LPA.
Salary of a Cyber Security Analyst as per the Location
The cyber security analyst salary varies by location. Many businesses are looking to hire engineers for Hackers and Cyber Security Analysts. The top cities recruiting Cyber Security Analysts with excellent starting salaries are listed below.
Bangalore: 3.58 LPA

Hyderabad: 2.5 LPA

Chennai: 2.75 LPA

Mumbai: 2 LPA

Delhi: 2.5 LPA

Pune: 3.06 LPA
Salary of a Cyber Security Analyst as per the organization
A more significant organization will have a lot of open positions. Therefore, more prominent organizations would have their own Cyber Security platform or app. They are ready to offer the most excellent cyber security salary for fresher in such circumstances. The companies below all compensate their Cyber Security Analysts quite well.
Deloitte: 4.5 LPA

Wipro: 2.9 LPA

Schneider Electric : 3 LPA 

Vodafone: 3.45 LPA

Unisys: 3.5 LPA

Ford Global Business Services: 2.89 LPA

Larsen & Toubro Limited: 2.55 LPA
Salary of Cyber Security with different job roles
Many different job positions and job domains are involved in Cyber Security. Every employment role is unique, and every package will be different.
Network Security Engineer: 2.5 LPA

Cyber Security Analyst: 2 LPA

Ethical Hacker: 2.8 LPA
Salary of a Cyber Security Analyst as per the skills
New hires must enter the workforce with the appropriate skill set for their chosen career. Developing relevant abilities can advance your career and raise your pay as a Cybersecurity analyst. The skills that Cyber Security Analysts use and their cyber security analyst salary in India are listed below.
Linux: 2.75 LPA

C, C++ : 2.45 LPA

Python: 2.5 LPA

PHP: 3.03 LPA 

Javascript: 2.89 LPA
I think you must have a clear picture of the salaries of Cyber Security Analysts. The salary numbers are just approximated figures. To achieve these figure Salaries, you must possess some essential skills that the companies will require. Let us check it out.
Skills Required for a Cyber Security Analyst
 The candidates must have good knowledge of Networking and System Administration to earn a high

cyber security analyst salary for freshers

.

 In-depth Knowledge of Operating Systems and Virtual Machines.

 You must know about the networks and how routers, firewalls, and other devices work.

As a cybersecurity professional, you must learn C, C++, Python, PHP, JavaScript, HTML, and SQL programming languages.

The candidates must have a well-versed knowledge of cryptography.

The concept of Assembly will help you learn how malware functions work and help you defend against it.
Responsibilities of a Cyber Security Analysts
Looking for cybersecurity flaws and reacting to them when they do.

Updating security software, such as firewalls and encryption programmes, avoids breaches and looks at system flaws.

Setting security standards and best practices.

Informing the public on the cybersecurity measures undertaken, attempts to commit, and intrusions.

Assisting in creating and testing emergency recovery strategies for circumstances.

Monitoring new developments in cybersecurity gear and software.
Conclusion
I hope my blog post on India's cyber security analyst salary was beneficial. The salaries listed are simply estimates. Your income will increase significantly if you contribute to the organization's growth with your knowledge, experience, and growth in Cyber Security.
India is attracting increased interest from Cyber Security professionals. If you want to take full advantage of this opportunity, consider improving your talents and skills. You can enrol in Cyber Security Courses to further comprehend the many modern Cyber Security concepts. You can also search for Cyber Security jobs at freshers jobs. You can now advance your abilities as a Cyber Security Analyst to command excellent salaries.