Mobile application development is in high demand these days. The most extensively utilized mobile technology must be selected because more and more people are using it. Since Apple's iPhone, iPad, and iPod are so well-liked and in such great demand, it makes sense to draw the conclusion that a career in iOS development is a sensible choice.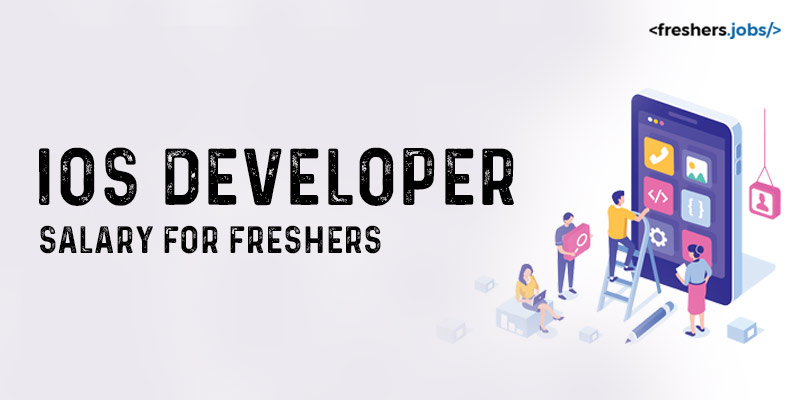 For experienced and freshers, many career opportunities in the field of iOS development offer a competitive iOS developer salary and the possibility for career advancement. Additionally, a recent survey of mobile app developers found that iOS is the best technology to spend your time and grasp it.
Let us know what is iOS?
Apple uses iOS as its mobile operating system for its iPhones. 

It was formerly used in iPads.

The iOS operating system is the one that all iPhones use. 

iOS was first made available in 2007 with the iPhone and later began to function with iPad and iPod Touch versions.

Since then, the iPads now run on a larger screen-friendly version of iOS iPadOS, even though it is still quite comparable, and the iPod Touch has largely become outdated.
Who develops iOS? 
For mobile operating systems, software applications are made by iOS developers.

Using

programming

languages, they develop, test, and optimise software that is easy for people to download and use. 

iOS developers in a software company have the choice of working independently or in groups with other

software engineers

and IT specialists by earning high

iOS developer salary in India.
What does a developer for iOS do? 
An iOS developer's primary objective is to create mobile applications that are user-friendly.

Despite the fact that an iOS developer's day-to-day tasks can vary, there are some common responsibilities they are usually in charge of doing to earn an

iOS developer salary in India.
How to become an iOS Developer?
iOS developers must be well-versed in Swift and Objective-C, two programming languages. 

Many undergraduate degrees include course work in programming languages. 

For instance, programme languages are typically studied in computer science degrees. 

The next step for the developer to learn is how to use newly learned programming skills in the iOS environment. 
iOS Certifications for freshers
The iOS development courses will teach you how to build newer applications. 

You will know how to create a structure of applications and also work with the latest Apple Frameworks, Swift UI. 

Additionally, you can learn how to launch an app-based business.

It's vital that you must understand app marketing and how well you can get downloads. 

You will also be understanding the user interfaces, graphics and animations. 

You can also understand the design wireframes, mockups and prototypes.

Having all these certifications can get you a high-paying

iOS developer salary for fresher

and career advancement.
Let us know how to become an iOS developer
Here are some of the steps you need to keep in mind to become a proficient iOS developer with a good iOS developer salary.
Get an Undergraduate Degree
When you want to become an iOS developer you will have to possess an undergraduate course in Software Engineering, Computer Science and mathematics so that you can excel in the field as an iOS developer. 

Many recruiters prefer a candidate having relevant certifications to work as an iOS developer. 

You can also take some of the courses related to this field such as the

Mobile development, Data Structures,

web development

, Computer programming languages, Embedded systems and so on. 
Freshers can always join these courses online or offline training to excel in the field of iOS and earn more salaries.

Additionally, pursuing courses in SwiftUI and objective C will allow you to create variables and write functions.
You are able to develop your own programmes
One of the finest methods to improve your abilities as an iOS developer is to start making your own apps. 

You can try alternative approaches and get practical experience using multiple programming languages if you do.

These created applications can impress your hiring

managers

and also gets a chance for a higher

iOS developer salary in India

.
Acquire Work Experience
If you want to get an experience in iOS look for entry-level jobs and gain work experience. 

Most iOS developers start their careers as web developers and quality assurance analysts by getting a wonderful package of

iOS developer salary for fresher.

Working in these streams can enhance your career possibilities and get industrial experience.

You can always ask anyone who ever worked in the relevant stream for assistance and help you perform better well on the duties and responsibilities of an iOS developer. 
Let us now discuss iOS salaries and the factors affecting them
We all know that iOS development has greater scope throughout the industries, especially when is meant for Apple. Here are the factors influencing the salaries of an iOS developer.
Experience

Location

Organization

Skills
Let us discuss each one of them in detail and look at what salaries are they paid
Salary of an iOS developer as per the Experience
As cited above, Experience plays a vital role in deciding the salaries of an iOS developer. As you are familiar and experienced with the programming languages mentioned above in the section on acquiring work experience, you will be paid more salaries. Here are the salaries of a fresher iOS developer, mid-level and the most experienced iOS developer.
The fresher iOS developer gets a salary of 2.59 LPA

The mid-level

iOS developer salary

is approximately 7 LPA

The senior-most iOS developer's salary is paid around 11.5 LPA
Salary of an iOS developer as per the Location
As you know in recent days IT is booming to a greater extent and it a well known that most of the IT companies are located in the top cities of India. Here is the list of iOS app developer salary in India offered in different cities for fresher iOS developers.
Hyderabad: 2.6 LPA

Bangalore: 3.55 LPA

Chennai: 2.67 LPA

Mumbai: 2.95 LPA

Pune: 2.59 LPA
Salary of an iOS developer as per the Organisation
As larger the company, the greater salaries you get. Top IT giants offer great salaries for iOS developers as per the reports. Let us see how the salaries are varying as per the organizations.
Walmart: 3.2 LPA

Optimhire: 3.05 LPA

Netmeds: 3 LPA

Barclays: 3.2 LPA

Furlenco: 3 LPA

Infosys

:2.9 LPA

Paypal: 2.48 LPA

TCS

: 3.1 LPA

Phone Pe: 2.75 LPA
Salary of an iOS developer as per th skills set
Having the right skill set is very important for freshers to join in any career they choose. Adapting the right skills can also boost your career level as well as your iOS developer salary. Here is the list of skills on which the iOS developer works and their salaries
Mobile development: 2.93 LPA

Web development: 3.27 LPA

Networking

: 3.3 LPA

Embedded Systems: 2.8 LPA
To accomplish the above-stated salaries. One should possess relevant skills and earn a great salary.
Skills required for iOS developer
Having knowledge of the below-mentioned areas can boost the iOS developer salary in India.
Swift and/or Objective-C programming languages.

iPad SDK.

Frameworks and APIs like Foundation, UIKit, and CocoaTouch follow Apple's interface guidelines.

Apple's Xcode IDE.

Familiarity with iOS 10 and newer OS versions.

OpenGL or Metal, iOS graphics APIs.
Roles and Responsibilities for an iOS developer
Apple creates cutting-edge apps for its iOS mobile platform.

For the goal of designing, defining, and delivering new application features, cross-functional teams are important.

Low latency and scalability must be considered when developing apps.

Unit-test code for robustness, including edge cases, usability, and general reliability to ensure application quality and speed.

Some of the tasks include identifying potential issues, correcting mistakes, and removing application bottlenecks.

Bugs should be fixed before the programme is formally released.

Sending software for download to the App Store.
Future Scope for iOS developers
Since the market and the

iOS developer salary for fresher

for the platform is anticipated to grow, the future appears to be extremely promising for iOS developers. 

It is vital to be aware that there are alternatives to employing iOS developers to build iOS apps available on the market.

Because iOS is the most widely used operating system for Internet of Things (

IoT

) devices, the future of iOS development looks bright. 

Furthermore, the only platform being used to develop cutting-edge home automation apps is iOS. 

More technologically it is anticipated, especially for iOS developers, including proficiency in creating cross-platform and hybrid apps in addition to native apps for operating systems like iOS,

Android

, etc.
Conclusion 
Hope you have got an idea on the blog of iOS developer salary for freshers.As this steam is highly productive and emerging in the IT industry. Candidates can feel astonished to learn more about iOS development. iOS has a higher market share and the Apple today has almost billions of iPhones all of which run on iOS. Thus increasing the demand for iOS developers. Look on to fresher.jobs for iOS developer jobs. You will be selected in the top organisation and can skyrocket your career.