Web development is a rapidly growing challenging career focused on problem-solving and recent innovations. As a web developer, you will work with various teams of designers, developers, and other managers to know about the projects. Henceforth, web development has a wide career scope and freshers can always think of applying for jobs as web developers and earn a potential web developer salary for fresher.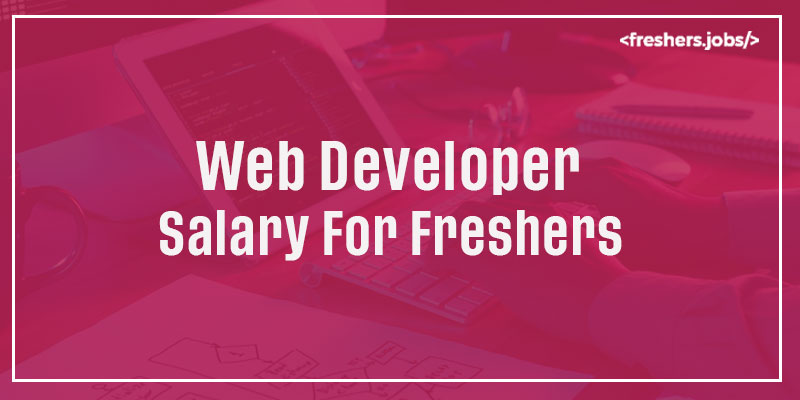 Web developers come from various backgrounds. Many web developers come from a core technical background, we have assessed that anyone can become a web developer if you have enrolled in web development classes. For example, there are many successful web developers working in the domain of Marketing, Sales, HR, and so on.
Huge demand for Web developers
The latest era is making the industry move very fast and web developers are updated, learning, and elevating their careers.

There is no limit on how much you can develop your skills and progress in your web developer jobs.

As per the reports, the demand for web developers is expected to grow faster than the average compared to other jobs.  

The rising demand for mobile devices and e-commerce will cause the demand to rise even more.

By becoming a web developer, you will get opportunities in working for startups, larger companies and even freelancers. 

As a web developer, you may even work from home and earn a profitable

web developer fresher salary

.

From the latest self-driven cars to the

Internet of Things

, web developers are stunning in every field and changing the world.

Web developers are streamed to make a difference.
Now we shall know more about web developers. Very first, explain what web development is. 
Web Development
The process of building websites for the Internet is referred to as web development.

Web development has a lot of potential applications.

You can always create a website page or multiple websites with almost thousands of pages that can be done technically.  

Having these processes can be termed web development.
Who is a Web developer?
The terms, web developer and web designer sound the same. 

They share common responsibilities to some extent. But differ in certain areas. Web design mainly works on the front end of the website with concern for the appearance and user experience. 

On the other hand, web development mainly deals with building the technical front end or back-end code that always confirms the site functions. 

They always work on the front-end, back-end, or even both, and nowadays much modern work is implementing

web designing

.

The

freshers jobs

as web developers require a certain extent of coaching and training. 

As the world is expanding and technology is developing, so the demand for web developers is drastically increasing, making this an attractive option and also offering a good

web development fresher salary.
Why choose Web development as your career
Progress your careers
Candidates for web development frequently have prior experience in fields like programming or web design. 

With the necessary skills, hands-on training, and experience, web developers can become proficient in a certain area of development and improve their careers in the right way. 
Easy to Learn
Web development is considered as being an easy subject to learn due to the acquiring of information and the availability of instruction.

Despite your educational background, you can still get the dream job of your desire. 

You are on the correct track to becoming a web developer if you are driven and have the required skills.
Huge Earnings
The salary of a Beginner

web developer salary for fresher

ranges from around 1.2 LPA to 5.5 LPA. 

It's a common known fact that as you gain experience you will get more salaries. 
High Demand
The job of a web developer is in high demand where huge scope and security are the main aspects that work with the web development careers. 

The demand for web developers is tremendously increasing and recruiters are willing to pay more web developers salaries for the appropriate skills and talents.
Highly potential to work in Industry
Excellent Job Growth
Through 2018, job growth is anticipated to outgrow all jobs due to the development of mobile technology and eCommerce.
It's Creative
Developers are generally seen as the issue solvers in the IT business and are important to accurate development. 

Being a front-end developer would enable you to create attractive websites and provide users with an excellent experience and earn a good

web developer fresher salary.
You are part of the community
The community is vital, but so is your work. 

Web development has access to many active communities offering first-rate technical support when and where needed. 

Because the communities are such a great forum for them, you can learn a lot from them.
It is Prospective
The abilities of developers tend to advance and become more in demand as time goes on and we adopt the newest technologies. 

These programming languages become more valuable over time.
Web Development Courses for Freshers
You can enhance your skills and make sure you are up to date on current development methods with the help of web development certificates. 

Listing your web development certifications on your resume will help you communicate your qualifications to employers and show that you are potential and value your education. 

Yes, obtaining a web development certificate is a good option that will enable you to build the skills that employers want in applicants. 

Additionally, it will give you additional chances to progress professionally and increase your income.
Web developer salary
Let us now discuss the web developer salary for freshers and the factors influencing them.
The four main factors influencing Web developers salaries are Experience, Location, Company, and Job skills. Let's go over each of them in-depth and keep an eye out for the differences in salary.
Salary of a Web developer as per the Experience
It is well known that when you join as a fresher to any company you will be offered a fresher salary which might be not very high. But as you get experienced, your salary will rise. Here is the proof for web developer salaries as per experince.
The entry-level web developer salary for freshers is around 2.5 LPA

The mid-level web developer's freshers salary is approximately 5.81 LPA

The senior-most web developer's salary is around 9 LPA.
Salary of a Web developer as per the Location
The salary of a Web developer mostly varies as per the Location. As there are lots of companies located in most of the large cities and thus having many numbers of organisations in those cities and thus hiring of the web developer are more in these cities. Let us see how much the web development fresher salary are paid in each city.
Bangalore: 4.5 LPA

Chennai: 3.63 LPA

Hyderabad: 3.97 LPA

Kochi: 3.18 LPA

Mumbai: 3.46 LPA

Delhi: 3.81 LPA

Kolkata: 2.48 LPA
Salary of a Web developer as per the Organisation
As cited above, many companies are hiring many web developers on a large scale offering a good web developer salary for fresher. As the organisation is big, the salaries will also be higher for the web developers but equally, your skills also play a vital role in large companies as you will be facing many competitors. Let us see how well organisations are paying web developers.
TCS

: 3 LPA

Wells Fargo: 2.4 LPA

Accenture

: 2.7 LPA

IBM

: 2.5 LPA

United Health Group: 2.93 LPA

Paypal

: 3.2 LPA

Walmart: 2.6 LPA

JP Morgan: 3 LPA
Salary of Web developers as per the Skills
Having the right skills will always fetch you a great web developer with high fresher salaries. So sort out all the skills that are required for you to become a web developer and work, enhance on it as the competition for web developers is fierce. Let us see how the salary are varying as per the skills.
Java Script

: 3.5 LPA

Web development : 3 LPA

PHP

: 3.4 LPA

HTML :  2.15 LPA

Full-stack development: 3.7 LPA

Angular JS: 2.75 LPA

Mern stack: 3.7 LPA
Skills required for a Web developer
Let us check out what are the skills required to increase your web developer jobs for fresher salary and how to grow within your organisation and stay updated on the latest technology of web development
HTML, CSS skills.

Basic knowledge of programming languages.

Ability to analyse.

JavaScript Experience.

Debugging and testing abilities.

Backend fundamentals.

Eager to build answers and solve difficulties.

Ability to perform basic computer tasks.

Superior communication abilities.

Curious and eager interest in technology.
Roles and Responsibilities of a Web developer
Create well-designed, testable, and effective code by utilising the best software development techniques.

Create a website's layout and user experience using

HTML

and CSS standards.

Integrate information from several databases and back-end services.

Create and improve requirements and standards in accordance with technological demands.

Make and keep up with the software documentation.

Liable for growth, and scaling of website.

Follow emerging commercial and technical trends and incorporate them into your job.

Ensure that the visual design purpose is accomplished by collaborating with web designers.
Conclusion
I Hope this blog conveys to you the scope of the career for web developers and the web developers salary for fresher. As web development has got a boom since its evolution there are plentiful job chances for you. Having the right degree and the certifications you can outshine in the web development field and stand at the top working for the top IT giants. Here you can find jobs alert on web development. Right away start applying for web developer jobs.