If you are an individual who is enthusiastic about studying engineering at prestigious colleges in India. JEE is the exam you must apply for and prepare on to get into the top institutions like IIT, NIT, and so on.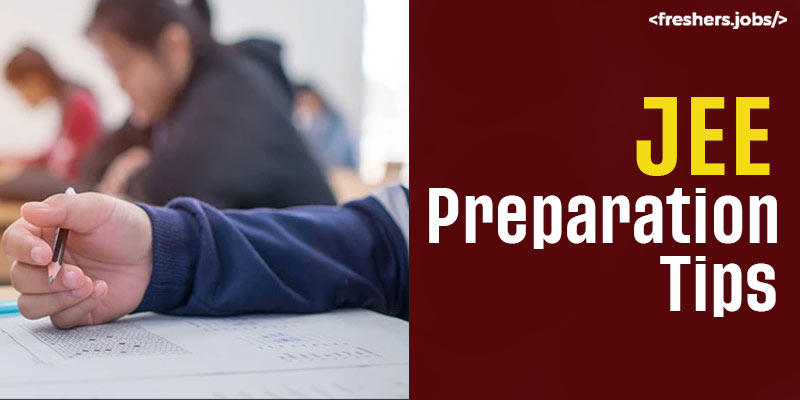 JEE exam, the competition is very fierce, and very few candidates get qualified for this exam. Every year, the percentage of qualifying students is exceptionally few out of many candidates appearing for JEE exams. As in this instance, you can get to know the difficulty of the IIT JEE exams. To step ahead in a simpler and easiest way let us know about the preparation for JEE mains by incorporating various techniques and methodologies. Here we explain the effective preparation tips and the study schedule so that you to get flourished in the JEE exams and join the best Engineering institutions. Before you look out for the preparation plans let us know what is JEE exams.
JEE Exams
JEE is an India-level conducted entrance Exam for engineering for admissions to various technical courses that are offered at the top most reputed colleges like the IIT, NIT, CFT, and other prestigious institutions.

The IITJEE/JEE is considered the country's most challenging and tough examination. 

As tight competition is rising every year, you must understand the importance of setting up a schedule before you start preparing.
Why do you need a timetable or study plan, when you are beginning with your exam preparation? 
You can accomplish your goal in a straightforward way and enhance your time management skills by creating and carrying out a plan of action for the

JEE preparation tips

, you may ensure your top position among the top IITs in the country. 

We've included some useful

preparation tips

in this blog to help you in your early JEE Exam preparation so that you can create the most efficient structured study schedule possible.
Start Early Preparation
It is quite probable that the most important aspect of getting through for JEE mains is to prepare and start your preparation at the earliest. 

Most of the students who are passionate about entering the engineering field start their preparation when they are in the class of 11 and

diploma

.

However, if you are stringent to join the best engineering institutes it is never late to start off. 

You can start your preparation at the earliest so that you can complete the preparation by finishing the syllabus on time and getting enough time for revising and practicing at the end. 

Before starting off, it is good to grasp and build a picture of how it works. As the questions asked are very complicated and twisted preparing with the right

tips for JEE mains

can definitely develop and set you on the right path towards success.
Follow a strict Routine
Create a study schedule and always make sure you strictly follow it. To follow strictly you will need preparation consistency and dedication. The JEE exam syllabus is very vast and the examination is tough to clear off so hence it is very vital to follow a schedule and follow it actively. Here are some things to be aware of and keep in mind as a part of preparation tips for JEE mains.
You can cut short big topics into smaller topics and can dedicate time to each topic. 

You can set a daily study target and make up your mind to achieve it by the end of the day. 

You can prepare for Physics, Chemistry, and Maths simultaneously so that you don't get bored.

You can take breaks in between your preparation time to refresh your mind and boost yourself.

You can make time for the essential activities that happen in your daily routine.
Revise your syllabus
Revising is the main and vital path to success in any competitive exam.

Revision must be a part of your daily schedule and preparation plan. 

Dont ever drag or postpone your revision time to the nth moment or last minute.

You can always try to revise what you have learned every day. 

I strongly recommend students prepare some

tips to crack JEE mains

or notes that are written down in the notepad to avoid last-minute confusion and tension during the JEE exams or any competitive exams. 

For easier purposes, you can figure out flashcards, flowcharts, diagrams, etc.
Practise mock tests
There is no one-stop result until and unless you keep up your mind for practicing mock tests. 

Spend time practicing as many mock tests as you can before the JEE exams. 

Taking mock tests can help you analyze your preparation level and develop your confidence and problem-solving skills. 

Students can pretend to take the mock tests as real exams by setting up the time and then starting with it. 

Once you have completed your mock tests check out the mistakes you have committed and try to correct them at that moment itself. 

Practicing mock tests will let you formulate effective exam day plans.
Solve previous year's question papers
JEE question papers are the most useful sources for candidates to prepare as

JEE  preparation tips

for Mains exams.

Solving previous year's question papers will help you know about the question paper pattern, the question types, the marks weightage, the repeated questions,  and so on.

You can confirm on the question paper whether it is difficult, easy, or medium level.

Solving the previous year's paper can also boost your confidence level, strengths, weakness, and also time management which is very important.
Learn Online
Nowadays, getting information through the internet is quite simple.

You can use your computer or phone to access several websites that offer structured educational content and study materials.

You can also get chapter-by-chapter PDFs of all subjects, preparation suggestions, live and recorded video teaching sessions, and so on.

These will assist you to improve your knowledge and achieve a higher exam result. 
JEE Main Preparation Tips: Important Books
Every person who wants to get into JEE Main should look at NCERT books because they cover everything.

Use other sources to learn about related topics.

There are some books with

tips for JEE mains

that also cover different subjects.

These books will have practice problems at the end of each chapter and thoroughly explained each idea, making it easier to prepare for the JEE Main exams.

A candidate can work on important topics with the help of reference books. 
JEE Preparation Tips by Toppers
Toppers are experts who have practical knowledge and can explain how the test genuinely happens.

We've put together a list of great ideas and ways to help you get ready quickly and easily.

You will require a better grasp of the subject matter and the format of the exams.

Top students say that you should pay closer attention to the IIT JEE syllabus and how the exam pattern changes.

The test has two parts, each of which takes three hours.

Both of the papers are equally important.
Start getting ready early
Start getting ready for IIT JEE while you're in 11th grade so you can get a good handle on the whole curriculum and finish IIT JEE preparation on time.

The person who did best on the JEE Main exam in 2020 started studying for it in the 11th grade, which helped him do well.

He did well because he started off his preparation early.
Toppers' IIT JEE preparation advice
The best resources for IIT

JEE preparation tips

are the previous year's papers and mock exams.

Toppers have a great motivation to practice using exam questions from prior years and mock exams.
Positive Attitude
You should maintain a cheerful attitude at all times.

Believe in yourself.

Always keep the big picture in mind.

Additionally, you can read motivating books and display inspirational posters in your space.

Don't lose hope.

Eating healthily and exercising on a daily basis can help you relax.

Don't waste time watching TV or surfing the internet.

Be optimistic and begin working in the right way.

Learning the fundamentals and sticking to the proper approach is critical for passing JEE Main and Advanced exams.

Make your own unique plan using the above-mentioned guidelines.

You will most likely be entering your dream college if you follow your plan and you can get into private and

government jobs

as you have desired.
Conclusion
I hope we have covered practically all of the crucial preparation tips for JEE mains. To adequately study for the JEE exams, or any competitive exams candidates are surf to use fresher.jobs. Candidates who maintain a good mindset and follow the planned schedule will likely score well on the JEE exam. Candidates can thrive as Great Young Engineers and emerge with flying colors. An outstanding field!!!