The CLAT(Common Law Admission Test) is the most acceptable entrance exam for law students who want to become lawyers. The Consortium of National Law Universities gives the CLAT exam for people who wish to get into their five-year undergraduate integrated law programmes and postgraduate courses. The CLAT exam tests applicants' abilities to see if they are ready to become lawyers privately or in government jobs. You can thus implement a well-planned preparation for CLAT exam. Every year, students at both the undergraduate and graduate levels take this test.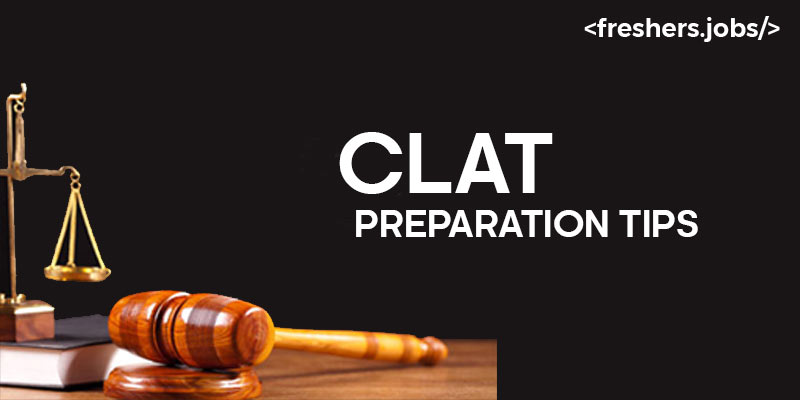 Eligibility for CLAT
Education Requirements: You should have finished 12th grade from a recognised board to meet the requirements. If you are in Class 12 and take the board exams, you can also take the CLAT. To take the CLAT PG, you need to have a five-year BA LLB or a three-year LLB Course which is approved. The candidate would also have to show a certificate from the board that says they passed. You must have gotten at least 40% in Class XII to pass. The Bar Council of India has not defined age limits.
Let us see some of the Preparation Tips for CLAT
As CLAT preparation strategy, you must review the syllabus, practise English comprehension, improve reading skills, and take practice tests. Many people fail the Common Law Admission Test because they didn't study enough. Before filling out the CLAT application form, candidates must prepare for the tests. In this Blog, we'll talk in-depth about how to prepare for the CLAT.
Know the test pattern
Before candidates start studying for the CLAT exam, they should know how the exam is set up as

CLAT preparation tips

.

It is essential information that candidates should know. 

Chapters like this that raise many questions shouldn't be skipped over. Candidates need to make a table of test formats and put them in the correct order. 

For every candidate, one part of the subject is the hardest. They are told to study for that part before looking for the test's basics.
Find out the weightage
Before studying for the exam, knowing how much weight each paper has is essential. 

There are 150 questions on the CLAT question paper for the UG programme, and for the PG programme, there are 120 questions.

Subject-wise, each section has a different weight.
Learn the Course Outline
Before studying for the CLAT, candidates should look at the syllabus as

preparation tips

. 

The CLAT curriculum will help candidates plan better how they will learn

CLAT tips

. 

It will help you figure out how to prepare for the test. 

The questions on the entrance exam will be based on the topics on the CLAT syllabus.
Try a mock CLAT test
The practice test will help you get better. 

The mock test is just like the actual test. 

The mock test lets the candidates find out where they are weak and work on those areas. 

Based on the CLAT test, the questions will be asked. 

Candidates can look at their grades to figure out what they can do. 

Mock tests are an excellent way to see how quickly you have been studying for the actual test, and they can be a deciding factor for the candidates.
Taking notes is the best thing to do
The best way for a candidate to improve at the

CLAT preparation strategy

and remember what they have studied is to write notes or make notes while learning.

The candidates can make points, write down all the points in a notepad, or write down the essential topics in a diary. 

This will be an excellent way to study, and all of the vital facts will be close at hand.

Make sure you write down the points clearly so that you can understand them during the test and avoid getting confused.
Focus on the most important things or sections
No man is perfect, as we say. A candidate can be very good at one thing but not so good at something else.

Candidates should try not to get down because of it. Plan to work harder on the parts that aren't as good to improve them.

You can get help from your teachers or friends for help if you don't understand something.

For better

preparation of clat exam

, you can always work through old question papers to find your weaker areas and spend more time on them.

This method allows you to get through the more complex parts and feel more confident.
Exam Strategies
Having plans can make it easier to get ready. Before studying, candidates should make a plan for the exam. 

It will help them get through the whole curriculum and give each topic the same amount of time. 

The first thing candidates should remember is the timetable. 

This will remind them to spend a certain amount of time on each question.
Revise Regularly
Review is the most important

CLAT preparation tips

you can do to do well on a test.

 It helps you remember more and get your thoughts for the test. 

You train your mind to recognise the questions and answers when you review. Candidates can review the questions from last year to understand what will be on the test. 

Reviewing helps calm your fears about the test and gives you a leg up at the last minute. 

It will help you get better at getting ready for the test.
Take breaks often
When studying for the CLAT test, candidates should never be in a hurry. 

This is one of the essential things that toppers did to prepare for the CLAT.

When candidates rush through the subjects, they never understand the more complicated ideas.

Some challenges, like crosswords and puzzles, are a good way for the candidates to relax. Using these ideas, you can take your thoughts back and quickly find solutions.

This is one of the best ways to prepare for the test since it does most of the hard work.

The candidates can take

preparation of CLAT exam

by making plans, taking breaks, and studying.
Eat well and stay well
Healthy foods are essential to keep your mind and body in good shape. Applicants should not only study but also take care of their health. 

They should eat right and eat healthy food at the correct times. Don't skip breakfast, lunch, or dinner.

 From time to time, drink a lot of water. 

Eating well will keep you in shape and give you the energy to study more. 

Stay away from junk food because it makes your body lazy.
The best books to study for the CLAT
Candidates can choose their books carefully to get on the right track. Look out for the top books for CLAT preparation strategy. The CLAT books cover everything on the test syllabus and help you do better on the entrance exam. For those who know nothing, here are th benefits of referring to books, 
Include examples to help people learn and understand.

The right amount of practice material will be in the books.

Readers don't make mistakes, stay on track with the curriculum, and use easy-to-understand language.

Easy to learn the pattern and keep your mind on the question.
Exercise Regularly
Working out can always help you calm down and get rid of stress. The candidates can relax by playing games outside, indoors, going for walks, swimming, etc.

You can stay relaxed and confident going into the CLAT exams, making you happier, more productive, and more motivated.

Using yoga and meditation can also go a long way toward relieving stress.

It makes it easier to focus.
It's essential to have a positive mind
Attitude is essential for any job, and

jobs alert

you take on as

CLAT tips

.

Your attitude can be a big part of your performance on the CLAT or any other competitive exam.

A positive attitude can make you feel better about yourself, and you won't ever feel like putting yourself down.

A bad attitude will diminish your confidence and make you feel like you can't do it.

Having a bad attitude will cause a lot of problems.

As soon as you start to think positively, you can feel and show creativity. You'll be open to new ideas and concepts if you have the right attitude.
Conclusion
To Wrap up, We have tried to cover almost all the essential tips for preparation of CLAT exam. Candidates can use freshers jobs to help them study for the CLAT exams. The candidates can do better on the CLAT exam by keeping a positive attitude and following the schedule they made. Candidates can pass with flying colours and do well as Lawyers in the field. A well-known and respected field!!!