Flipkart is an Online Products e-Commerce company. Flipkart began its market to sell books online. But the story is very different now, after more than ten years. Today, Flipkart is India's largest online marketplace and one of the country's top technology companies. It is changing the way people in India shop online. Very Vibrant and Multifaceted Young minds are working for the success of Flipkart. When thinking from a beginner's point of view, Flipkart is one of the apt places for you to think about starting a career in the Startup industry with massive exposure to the latest technologies and earning a high flipkart salary.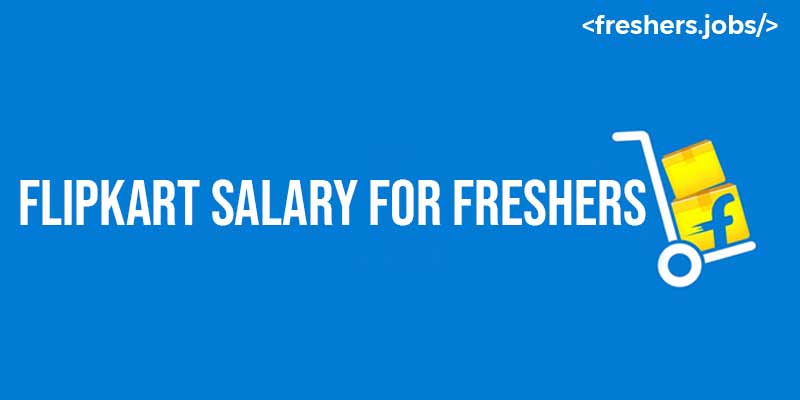 Why do freshers prefer to join Flipkart?
As an e-commerce giant that keeps growing and investing in a wide range of products that can be sold to almost everyone, it has also been successful at giving working professionals a wide range of job opportunities.

As the No.1 company on the list of the best places to work in India for the fourth year, it's hard to imagine that its employees don't like relieving work.

From an online bookstore to a "unicorn," which is the name for a startup worth more than $1 billion, it's pretty safe to say that their entrepreneurial spirit is almost always high.

These are some of the reasons we think you might want to work for Flipkart, besides, you know, the excellent

flipkart salary for freshers

they give their employees.
 Flipkart job vacancies
Flipkart is a Startup business Giant company based in Bangalore and has various domains that are evolved within the company. Every year Flipkart releases many job opportunites, as many as 100+ vacancies in many job domains for the freshers and the experienced. The candidates can apply for Flipkart freshers jobs as per their education qualifications. Every year Flipkart hires candidates from Top Business Schools by campus Placements, pool campus and off-campus. 
Let us see the service line of Flipkart
Flipkart comprises Engineering, Product, Design and Data Science, Marketing, Sales, Customer service process and many more line of services provided by Flipkart.
Freshers like you will have significant exposure to get a splendid flipkart jobs salary, and find a lot of Learning opportunites as a fresher as you will be guided in an expert way.
Job roles of Flipkart
System Engineer, Business Development Executive, Business Finance Partner, Software Development Engineer, Assistant Manager, Business Development Manager, and Engineering Manager are some job roles offered on Flipkart for freshers and experienced. 
Freshers can apply for these job roles as per the candidates' qualifications. Candidates with a Bachelor's of Engineering, Master of Business Administration, MCA, or Three-year graduation such as the B.Sc, B.com, BCA, BBM and other courses are eligible to apply for a good flipkart freshers salary. 
Let us discuss some of the fresher job roles and their responsibilities.
Business Development Executive
The Business Development Executive manages and being in charge of the operations of hyperlocal stores.

Take a look at store performance every day.

Keeping track of who is on each team.

The basis for planning shifts Volumes coming in and going out.

People management and getting team members ready to move up the ladder.

Getting stores and 3PL to work out day-to-day operational problems

QC check if the stock is new or has a short shelf life.

Taking care of vendors and making sure they work well with businesses.

Keeping track of inventory and losses Reco.

Regulate attrition/Attendance & absence management.

Getting the 3PL Management Team to help with cash reconciliation issues at the store level.

Problems With Customers Getting Worse, RCA.

Make sure that things like bags, POS machines, gel packs, etc., are available at all stores.
Software Development Engineer
The Software Development Engineer gets a high flipkart salary

Creates object-oriented models and data structures for the latest software projects, and uses a good class design to execute the business logic and data models.

Solve challenging problems creatively and come up with reasonable solutions while taking ownership and responsibility for things you're given.

Show that you can learn well and use technologies that help you build large-scale systems that work well, are reliable and can last for a long time.

Working with peers on all parts of the development process according to the industry's coding standards and making the proper technical documentation.

You are expected to work on complicated projects and take responsibility for what you are given.
System Engineer 
Need to automate Infrastructure tasks that are done over and over again.

Figure out which monitors and alerts are suitable for each service.

Watch how well the IT Infrastructure services are done.

Can Interact within the teams and make sure everyone knows about important issues. 

System administration tasks like user administration, quota management, job scheduling, security, auditing and logging, etc.
Business Finance Partner
The Business Finance Partner gets a good

flipkart salary for freshers

and Do financial forecasting, reporting, and keeping track of operational metrics.

Analyze financial data – and create economic models for decision support

Develop automated tools for reporting and forecasting to boost productivity.

Help the team grow and make sure they have a learning curve.

Ensure maintenance of Data is stored so it can be easily accessed when needed. Report on financial performance and get ready for regular leadership reviews.

Analyze past results, do a variance analysis, look for trends, and suggest ways to make things better.

Close Interaction with the accounts team to ensure that the financial reports are correct and help you make decisions.

To compare and determine actual results with plans and forecasts to determine how well the finances are doing.

Give an analysis of trends and predictions and suggest ways to improve.
Let us see what the interview Rounds on Flipkart are
Interview Process in Flipkart
Online Aptitude Writing Test
This is the first step in choosing candidates. It is an MCQ-style online aptitude test. Students will have 90 minutes (this can change) to select the correct answer for each question on the online test. The most important topics are logical reasoning, analytical reasoning, geometry, time, and work. This test doesn't have any points taken away for wrong answers, so students should try all the questions if they want to do well and get a good flipkart jobs salary.
Telephonic Round
This round is about testing your vocabulary and how well you speak and understand the language. The candidates will be facing a test on how well they know the problem and what the client wants to say.
Technical Interview Round
In this round, students have to face the interviewer and answer all of her questions on technical Subjects.
HR Interview Round
This is the last step of the section, and students need to be sure of their answers, flipkart salary and convince the interviewer that they are the best person for the job.
The work culture at Flipkart
The best teams are made up of the best people. And we do everything we can to find the right people for our high-performing, diverse teams. Everyone's words are considered, and different ideas, styles, and ways of doing things are praised. Our values of audacity, the bias for action, customer-first, integrity, and inclusion ties us all together and tell us what to do.
We have a dedicated Workplace Equality charter focusing on inclusive talent attraction, talent development and retention, culture and policies, and strong leadership commitment.
Flipkart Fresher salary
Flipkart employees have said that the salaries they pay to new hires are good, and these numbers are derived from Glassdoor.
The

flipkart salary for freshers

Business Development Executive is around 3 LPA.

The salary of a Software Development Engineer in Flipkart is around 2 LPA to 5 LPA.

The fresher salary of a System Engineer in Flipkart is approximately 2.1 LPA.

The Business Finance Manager in Flipkart gets a salary of 6 LPA

The salary of a Marketing Manager in Flipkart is earning a salary of 3.75 LPA.

The Flipkart fresher salary of a Fleet management executive is 3.44 LPA.

The Flipkart Delivery Person's salary is about 2 LPA.
Conclusion
I hope that the Blog about Flipkart salary benefited you. This online business is always going strong, and its market never goes down. As a new graduate, you can find plenty of jobs and salaries that will blow your mind. Improve your job career growth with a higher flipkart salary and development by working in the top B2B business Giant Flipkart, one of the best online e-Commerce companies. If you just graduated college and want a job, go to Flipkart.