The GMAT exam is a Master of Business Administration (MBA) programme and is a standardized entrance exam for business schools. The computer-based exam, which has sections for verbal reasoning, mathematical reasoning, integrated thinking, and analytical writing, can be finished in three and a half hours with planned preparation.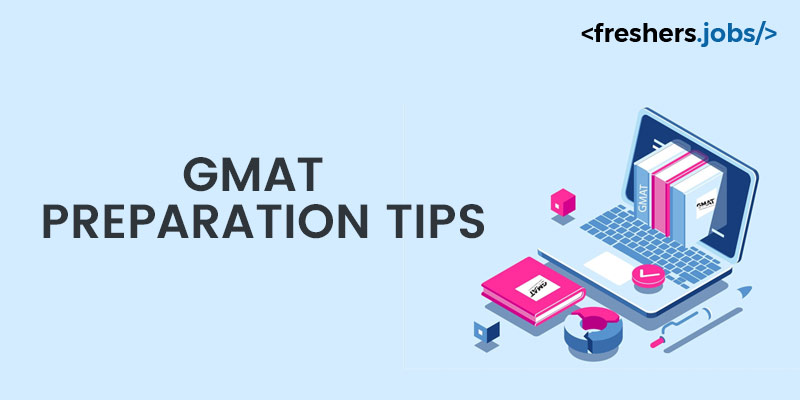 There are many types of information, different questions to get used to, approaches to understanding, equations to remember, etc. You can also use many other resources, some of which may give you different ideas about what and how to study. If you're starting to prepare for the GMAT, you might feel overwhelmed by all the information and not know where to begin.
You are at the right place to get the right GMAT tips and join the top Business Schools. We shall see what the preparation tips for the GMAT are.
Keep these foundational ideas in mind as you prepare for the GMAT. These basic ideas should be at the centre of your GMAT study plan because they help you ensure you're using the best resources and creating a study plan that fits your needs as an exam-taker.
Choose the right time slot
To get a high GMAT score, you need to plan your whole preparation process well, and the initial step is to choose the correct exam date. 

For the average student, it takes at least three months to study for the GMAT. So, give yourself more time to get ready and avoid other things.
Choose the right source to study.
To score a good ranking on the GMAT, you will need help from an expert. 

The experts can help you improve the

GMAT preparation tips

by advising you on everything from what to study to how to prepare for the GMAT exams.
Know the sections of the GMAT exam well.
Before planning to study, it's a good idea to learn how the GMAT exam is set up. The exam is divided into four sections.
The Analytical Writing Assessment (AWA) checks how well you can think critically and explain what you're thinking.

Integrated Reasoning (the IR section) contains how well you can evaluate data and understand the information presented differently.

Quantitative Reasoning (Quant part): This part examines how well you can think in numbers, solve problems, and understand graphs.

Verbal Reasoning (Verbal part): This part examines how well you understand what you read, how well you can edit, and how well you can understand written arguments.
Allow enough time to study for the exam
How much time you have to study for the GMAT depends on several factors, such as you can feel you have reached your goal score. 

A good

GMAT prep strategy

study

plan will consider how much time you have to prepare for the exam to have enough time.

You should have more time before the GMAT exam.

You should start studying for the GMAT three months before your exam date. 

This is especially true if you must improve by many points to reach your goal score.

A general rule of thumb for people taking their first exam who haven't done much studying. 

When you're just starting, it's easier to make progress because you're learning new things as

GMAT study tips

. 

For example, learning exam-taking strategies can help you make a lot of progress quickly.

Unfortunately, the more you plan, the harder it is to make changes. The longer you study, the harder it gets to improve by many points.

On the other hand, exam-takers who are quick learners or just need to brush up on a few content areas may not need as many hours to improve their scores. 

How long you must study depends greatly on how good and bad a student is.

When you start to make a plan, make sure you think about how many hours you'll need to study. 

If you think you will need a lot of time to study and you won't have that much time before your applications are due, you might consider putting off your MBA applications until next year, when you'll have more time to study.
Pick a date for the practise exam that works for you.
When you start studying for the

GMAT exam tips

, you should choose an exam date that works with your schedule. 

If you select a GMAT exam date early, you can take the exam well before the deadline for MBA applications.

Depending on your location, you may only be able to take the GMAT at certain times and places. 

If you schedule your exam early, you'll have more choices. You don't want to spend much time studying for the GMAT only to find out that you can't take it before your applications are due.

When choosing an exam date, consider your schedule and your strengths and weaknesses as an exam-taker. 

If you get up early, taking an exam in the morning might help you be alert and at your best, as

GMAT tips

. 

On the day of the GMAT, you'll already be nervous about taking the exam. 

You don't want to have to worry about getting your scores in on time or having to wake up too early as well.
Make a personalized programme for studying for the GMAT
Even though the GMAT is a standardized exam, you should not use a study plan that works for everyone. 

The effective way to study for GMAT is to make a plan that considers your strengths and weaknesses as a student.

You need not start from basic if you want to make your personalized study plan. Instead, use a sample study plan, like our three-month plan to raise your score by 50 points and change it to fit your needs and strengths.
Make a schedule for studying for the GMAT, and stick to GMAT preparation tips
It takes a lot of time to study for the GMAT.

You probably have a lot of other things to do besides looking for the GMAT, like work, college, filling out applications, and spending time with family and friends. 

Having a clear study plan will help you remember what you need to do and when you need to do it. 

You'll have clear goals and times for each day to help you stay on track and organized.

A perfect study plan and sticking to it will also help you track your progress. You'll start by getting a baseline score, and then you will do practice to help you improve your abilities in the fields you need to. 

If you practice exams and sets of questions regularly, you'll be able to see how you're getting better from week to week and how likely you are to reach your goal score on the actual exam.
Use official exams and questions to prepare
Your

GMAT prep strategy

needs to use official practice exams and questions. Actual practice exams and questions are the best because they match the content, style, and format of the questions you'll see on the GMAT on the date you chose carefully. 

You will get the best idea of what to expect on the exam and how well you are likely to do. 
Help with Targeted Study Resources
The correct path to study for the GMAT is to use real, old GMAT questions and resources like GMAT prep books that explain the content and give background information. 

There are a lot of focused study materials that will teach you how to answer the different kinds of questions on the GMAT.

If you want to save money, only buy the specific study materials you need. Focus on the two or three resources to help you in your weakest areas as

GMAT tips

. 

If you have an issue with fractions or decimals, getting a guide that focuses on those topics will help you get a lot better at them.
Analyze Your Mistakes
You can improve your GMAT score in other ways besides just taking practice exams often. 

You might as well not take the practice exam if you take a full-length one every week, grade it, and put it in a big folder. 

The point of practising is to understand better how well you do on exams so you can work on your weaknesses with more studying.

When you take practice exams regularly, you can see how you're doing about your goal score. 

You can also change your study plan based on what you're good at and what you're still having trouble with. 

As you study for the GMAT, you may find that your strengths and weaknesses as an exam-taker have changed. 

By looking at your practice exams, you can figure out when and how to change your study plan.

You should look at your mistakes on practice exams and your mistakes on question sets you use to practise as a part of

GMAT tips

. 

In the same way, looking at your mistakes on question sets will help you find minor errors that are easy to fix and more prominent trends about your strengths and weaknesses.
Use flashcards to learn important information
Flashcards are the finest way to learn the information you'll need to know for the GMAT. 

They can help you better handle essential ideas, like the formulas you  need to know to do well in the GMAT math section. 

Whenever you use a flashcard, you teach your brain to remember things more quickly and correctly.

Flashcards require active engagement. 

You won't spend time trying to remember a whole list of formulas. Instead, you'll work with each formula individually. 

When you use flashcards, you have to think about how well you know a formula and how quickly you can remember it.

Flashcards are an excellent way to learn the verbal part of the GMAT. 

You can use flashcards to understand the meanings of different idioms and spot mistakes in how sentences are put together.

Flashcards are a great way to study for the

GMAT prep strategy

because you can use them anywhere and anytime.
Learn about the exam pattern
The GMAT is very different from other standardized exams you may have taken.

In particular, the questions in the quantitative and integrated reasoning sections are very different and may be hard to understand at first.

Getting used to the style and layout of the

GMAT preparation tips

will make you feel more at ease and save time when you take it. 

If you've spent a lot of time studying how data sufficiency questions are set up, you won't get confused on exam day when you see that they all have the same five answers.

You will also save time on exam day if you know how the exam is set up ahead of time. 

You need not give as much time to read the instructions for each exam part because you'll already know what you are supposed to do.
Take a break to keep yourself going
It should be high on the list of things to do and how to prepare for the GMAT.

Motivating yourself to learn is the essential step. 

After flipping through the pages for hours, you might feel down and like you can't do it.

The topics seem unimportant, the vocabulary seems hard to understand, and the schedule appears long. Just stop for a while. Relax. Breathe.
Conclusion
We can assure that students will do well on the exam if they follow the GMAT tips and tips from freshers jobs. The best score is achieved by how hard the student works in his studies. When a student works hard, getting good grades comes easy. So, we wish all the students luck on their exams and future endeavours.