Cyber security is a top-demand field, and predicting and removing malicious cyber threats and attacks is an exciting job. Cyber security is an evolving field that meets new changes every time. Since many sophisticated attacks are emerging and the latest technologies are involved, this field is suitable for learning about the latest technological advancements.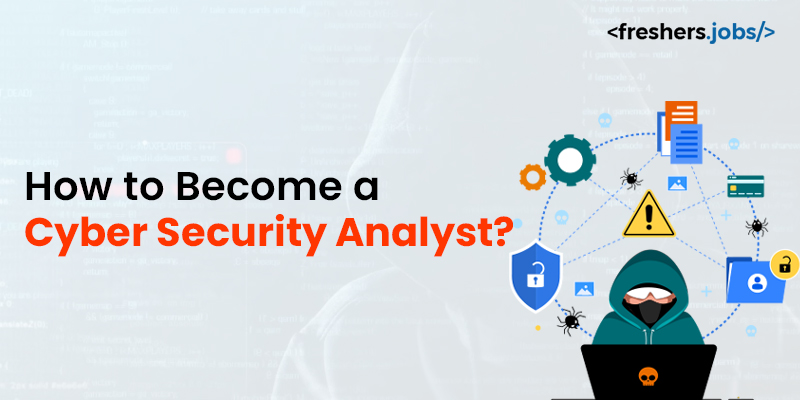 A Cyber Security Analyst is a professional responsible for detecting and preventing malicious cyber attacks and data theft in the computer, hard drives, and the internet. Hackers use new techniques to hack and access organization's sensitive data. With a high rise in cyber attacks, the demand for Cyber Security Analysts also increases.
If you are aspiring to take up a career as a cyber security analyst, the first step you have to take is to be aware of the job responsibilities and requirements. In this blog, we will explore the required skills, salary, and job responsibilities of a Cyber Security Analyst for freshers jobs seekers. Before diving into that information, let's look into what a Cyber Security Analyst is.
Cyber Security Analyst
Cyber Security Analysts are professionals who secure a company's networks and systems from cyber-attacks. For this process, the Cyber Security Analyst must research the latest IT trends, make contingency plans, keep track of the network to check for suspicious or malicious activities, report any security breaches, and guide the company members with security measures.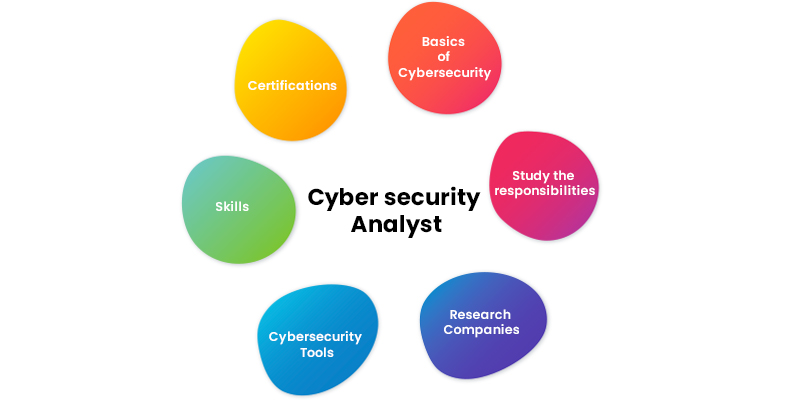 The other primary responsibility of a Cyber Security Analyst is the implementation of security measures and controls. This responsibility might also involve the simulation of security attacks to identify the existing potential vulnerabilities in the organization. Hackers started to pick the latest strategies and tools. So, a Cyber Security Analyst or information security analyst must stay updated with the latest trends, technologies and digital weapons used in Cyber security.
Applicants can click on  IBM Jobs for freshers to look for new job opportunities.
Job Description
As mentioned above, the main task of a Cyber Security Analyst is to protect the organization's hardware, software and networks from unauthorized access, data theft, and loss. In a small company, you might expect tasks related to various cybersecurity tasks. But, given below are some of the essential tasks and responsibilities of a Cyber Security Analyst.   
Monitoring the network traffic to keep track of all the security incidents and events happening in it.

The next task is to investigate the incidents and respond accordingly.

Write down the response as a report.

The next task is installing and operating firewalls, encryption programs, and other security systems.

To work and fix all the vulnerabilities.

To work on the development and promotion of best practices for information security.

To research Security threats.

To do periodic risk assessment and penetration tests.
As a cyber security analyst, an individual should completely understand the latest cyber threat landscape and the company's IT (Information Technology) structure. They should also know about Windows, Mac, and Linux operating systems, firewalls, VPNs, proxies, and SIEMs, also called Security and Information event management systems.
To discover job opportunities in Gurgaon, click on fresher jobs in Kolkata.
Qualification
A bachelor's degree in computer science (CS) or a related field, such as a B.Tech in Computer Science and Engineering (Cyber Security/ Networking), B.E in Cyber Security, Diploma in Cyber Security, B.Sc in Cyber Security, Bachelor of Computer Application (BCA).
Cyber Security Analyst Salary
The average salary of Cyber Security Analysts varies depending on job location, company, and other factors. Generally, the annual salary of a cyber security analyst in India is ₹ 5,10,120 per annum. According to the Data Council of India, the demand for cybersecurity products and services will rise. It says that the job requirement in this field will exponentially grow from 1.10 lakh employees from 2019 to 2005.
How to Become a Cyber Security Analyst? 
If you aspire to build a career as a cyber security analyst, a candidate requires specific skills relevant to that field. If you want to become a Cyber Security Analyst, here are some tips you can follow. 
Basics of Cybersecurity: In cybersecurity, there are a lot of tools, sets of jargon and practices that you have to learn. By learning these, you can get some idea about the overview of the basic concepts. Even though there are a lot of resources like books, blogs, and podcasts available, it is advisable to take up a certification course to provide you with the necessary insights.  
Familiarize the responsibilities: Familiarize yourself with the required job responsibilities and skill sets.
Research Companies: Research companies that are offering Cyber Security Analyst jobs. Study the company and the latest technologies used in it. 
Cybersecurity Tools: Learn to work with various cybersecurity tools and technologies, like firewalls, intrusion detection systems, antivirus software, and vulnerability scanning tools.
Skills Required
Intrusion detection:

Generally, the main objective of cybersecurity is to prevent or remove cyber attacks or unauthorized access. But, there is a strong need for the Cyber Security Analyst to know about detecting cyber attacks or unauthorized access. These skills also involve network monitoring, analyzing event blogs, and familiarizing oneself with Security and Information event management systems (SIEMs).

Endpoint management:

As there is a high demand for remote work-from-home

job opportunities

, security professionals know about securing multiple endpoints like computers, phones, and Internet of Things devices in companies. This process requires firewalls, antivirus software, network access controls, and virtual private networks (VPNs).

Data security:

Data is one of the most valuable resources for an organization. As a

cyber security analyst

, to protect those data, you must have insights into encryption, access management, transmission control and internet protocols (TCPs and IPs), and CIA Triad (confidentiality, integrity, accessibility).

Networking:

Generally, networked systems have a lot of possibilities for cyber attacks. You have to understand the function of networks and their particular vulnerabilities to protect the networked systems against all those cyber threats. A Cyber Security Analyst should know about working with various networks and understand those elements' impact on an organization's security.

Programming:

Even though many technologies are introduced for Cyber Security Analysts to perform their tasks without writing code, they need to have basic knowledge and understanding of languages such as JavaScript,

Python programming

, and C/C++ could be an advantage. Knowledge of industry-standard security testing tools like Kali, Burp Suite, and Metasploit is an added advantage.

Hacking:

Cyber Security Analysts should have sharp critical thinking skills to think just like a hacker to understand the hacking process better. These skills will help them prepare for cyber attacks and prevent them before something occurs and goes wrong.

Operating Systems:

A

cyber security analyst

should know how to work on various operating systems like Linux, Windows, iOS, Android, etc.

Data analysis:

The responsibility of a Data analysis professional is to analyze the data to identify cyber threats and guide businesses and organizations in creating robust security plans based on it.

Identity management:

A Cyber Security Analyst can use IdM (identity management) policies to distribute authorized access to technology resources in an organization.

Insights of diverse regulatory compliances:

A Cyber Security Analyst needs to understand the security regulatory compliances and help the companies implement them. Some of the most essential regulatory compliances are the HIPAA (Health Insurance Portability & Accountability Act), PCI-DSS (Payment Card Industry-Data Security Standard), and General Data Protection Regulation (GDPR). 

Cryptography:

A Cyber Security Analyst must know how to implement effective data encryption for diverse communication modes. 

Communication skills:

Communication skills are essential aspects of a Cyber Security Analyst. They should have excellent writing and

verbal communication

skills. This skill will be helpful during coordinating with your security team in a security event when you are asked to document the investigation process and recovery. It might also be helpful when you are tasked to train your colleagues with the best security practices.

Attention to detail:

A

cyber security analyst

must pay attention to detail. Your carelessness can lead to many issues. A minor breach can lead to massive damage to the network.

Curiosity:

Hackers develop new ideas and ways to steal data and destroy systems, given how technology advancement has improved. Always be curious and keep track of new cyber threats and best security practices.

Calm under pressure:

The responsibilities of a

cyber security analyst

might be stressful at times. Remember that you are responsible for responding to a security event while thinking fast. This approach will help you to isolate the data breach that helps you to stop further damage to the system. So stay calm at that time to think and make the right decisions.

Critical thinking:

Critical thinking skills

will help you make data-driven decisions while responding to a cyber threat, during a vulnerability patching, or when recommending new security protocols. 
Certifications
Certification in ethical hacking or relevant certification will enhance your career prospects in cybersecurity. The mentors will help you get a suitable specialization in the domains within the field and help you keep track of all the new processes and practices. Many prominent companies expect the candidates to have done certification courses. Even though you need to gain a proper educational background in cybersecurity, certification will provide you with the necessary insights. Mentioned below are some popular certification courses.
CompTIA Security+ Certification:

CompTIA Security+ Certification is an ideal entry-level certification for candidates aspiring to start their career in the cybersecurity field. This certification course provides insights into diverse cyber attacks and threats, network design and architecture, implementation procedures, and significant security compliances. 

Global Information Assurance Certification's Security Essentials (GSEC):

Global Information Assurance Certification's Security Essentials is an entry-level

certification

suitable for candidates with an educational background in networking and information systems. The main objective of this certification is to guide the candidates in developing skills related to network security, cloud security, cryptography and active defense.

Certified Information Systems Security Professional Certification (CISSP):

It

is an industry-standard certification which provides training in advanced cyber security skills. The certification program is for experienced candidates.

Certified Information Systems Auditor (CISA) Certification:

It suits candidates aspiring to build a career in cybersecurity auditing. This certification is one of the most recognized certifications, proving that the candidate is experienced in auditing security vulnerabilities and implementing controls.
In conclusion, becoming a cyber security analyst is a multi-faceted journey that requires education, certifications, and ongoing commitment to learning. It's a dynamic and ever-evolving field, challenging and rewarding. By following the steps outlined in this blog, you can build a career as a Cyber Security Analyst successfully in the cybersecurity field.