Virtual interviews are very normal for job seekers in today's society. Although interviewing from the comfort of your home may seem more convenient, it's essential to remember that virtual interviews demand the same professionalism and preparation as in-person interviews. In this blog, we will preparation tips for you on dazzling in a virtual interview, giving you a better chance of getting the job. We will review everything you need to know to ace your upcoming virtual interview, from testing your technicality to practicing your answers.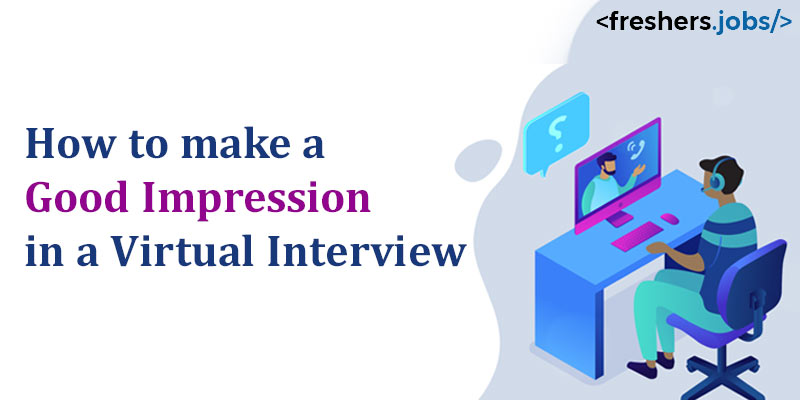 Although COVID-19 did virtual interviews a requirement, their popularity among employers will likely endure after the pandemic. Employers find virtual interviewing convenient because it streamlines the interview process, eliminates scheduling conflicts, saves money, and increases the candidate pool.
In this blog, we go over the best strategies for succeeding in your upcoming virtual interview.
Let us know what a Virtual Interview is
A virtual interview is conducted online, occasionally over the phone, and frequently via video conferencing and other online communication tools. Virtual interviews are often done similarly to in-person interviews for job opportunities.
Let us check out how to make a good impression in a Virtual or remote interview with a few interview tips for freshers.
Tips for Virtual Interviews
Check your technology in advance
A PC with a camera and microphone, software like Google Hangouts or Zoom, and a steady internet connection are necessary for a virtual interview. Check all of your technology to ensure it functions properly and can be utilised for communication at least one day before your virtual interview. To accomplish that, you must have a working computer that complies with technical requirements, download any required software, and confirm that your internet connection is powerful enough to support streaming video.
How to take interview? Check your internet connection and log in to the video or phone meeting offered by the recruiting manager or HR representative 15 to 30 minutes before your interview. Turn on the sound and video to ensure everything is operational in time for your conversation.
Dress appropriately
You should present yourself professionally in both a face-to-face and a virtual interview. By doing this, you not only come across as professional and enthusiastic about the chance, but you will also feel more ready and in control. An interview conducted remotely, such as from your home, would be just as professional as one conducted in an office. If you're unsure, business casual is a decent guideline to follow.
For more jobs offering work-from-home jobs, Tap into freshers jobs in Pune and get high-paying salaried jobs.
Be ready beforehand
What is a virtual interview? Like any interview, preparing beforehand will yield the most significant outcomes. Even if you are using a computer, you should still rely on something other than your capacity to find information fast or on ready-made responses that you can refer to. You should be ready to speak naturally rather than clicking your tongue or reading aloud from a script, which might appear forced and rehearsed.
Recruiters could provide you with a list of questions they expect you to respond to in advance. This helps guide your research. You will be asked to respond more frequently without seeing the questions first. If so, get ready just like you would for a face-to-face interview by following the virtual interviews tips:
Prepare responses to the most often asked

common interview questions

.

Investigate the business

Read the job description with care, and highlight your relevant experience

Gather examples of your accomplishments and experiences.
Minimize interruptions
A peaceful area with few distractions is ideal for an interview at home. Choose a spot that looks tidy and professional so the interviewer can concentrate on you, not your surroundings. If you need a specific place for your office, you can also utilize your kitchen table, a bedroom or guest bedroom, or even a closet that has been emptied. Instead of using your lap or couch as a computer surface, use a table or desk.
Inform your roommates that you will use a specific area for your interview and a particular time and that your quiet space will be off-limits during that time. Respectfully explain that the area should be calm with few distractions at this time. You might also confine pets to a specific room during crucial work hours.
Present yourself as poised and expert
Projecting a serene and professional demeanor when interviewing over the phone or via video is important for virtual interview because it restricts your capacity to convey meaning through body language. For example, keep your cool, be confident and take a moment to gather your ideas if you receive an unexpected question.
Make sure your camera is positioned, so your face is in the center of the screen while sitting up straight (not too much blank space above or below your head). You often shake hands with a potential employer at an interview's start and end. Find alternate ways to welcome and project enthusiasm since you can't do that in a video interview, such as smiling and waving confidently while maintaining eye contact.
As many companies offer remote work or hybrid work models after the pandemic, you can as well prepare for virtual interviews. Click to see the Mphasis jobs for freshers offering remote work for freshers.
Create rapport
In any commercial interaction, rapport is important since it enables you to stand out from the competition by developing close contact with the interviewer. Your enthusiasm, posture, handshake, and initial small talk contribute to creating that connection with your potential employer when you interview in person.
Finding strategies to build rapport is still vital while conversing electronically. To do this, you can be ready to discuss a shared interest, inquire about the interviewer's experience with a virtual interview, or choose another neutral subject to get to know the interviewer better.
Be sincere
A virtual interview allows you to communicate comfortably while showcasing your qualifications. To determine whether you are a good fit for the organisation, recruiters will consider how you portray yourself. Use your posture, smile, focus, and interview tips for freshers preparation to demonstrate your confidence and personality concerning the role.
Continue
Send a timely follow-up after your interview as interview tips for freshers. Within 24 hours of an interview, it's a good idea to send a follow-up email to thank the interviewer for their time and to let them know you're accessible if they have any more questions. To obtain a list of the email addresses of your interviewers, get in touch with the HR person or hiring manager you've been chatting with.
Conclusion
I hope you are clear from the blog on How To Make a Good Impression in a Virtual Interview. In today's digital world, job seekers must make an excellent first impression during a virtual interview for freshers jobs. As with an in-person interview, prepare for and conduct yourself professionally during a virtual interview. If you accomplish this, you will show dedication to the job and leave a good impression on your recruiter to earn high salaries. Best luck!