When attending Interviews, you might have experienced a lot of job rejections, especially for freshers. These rejection can lead to a lot of  mental health issues. As a result, your further plans of job searching will be affected. So in this blog, we will be exploring how to deal with rejection and move forward successfully. So let's delve into the concept of how to successfully overcome fresher jobs rejections.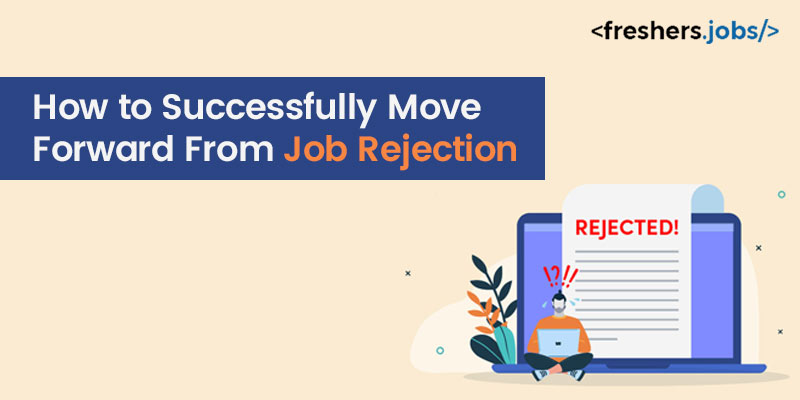 How will you feel after a job Rejection?
It is definitely so hard to take in the fact that your job application is rejected or you were rejected after attending the interview. Particularly for those who had faced continuous rejection after several tries. You might have been well prepared for the interview and been positive enough that you will be selected, but the result might have been far from your expectation. This might lead to many problems like mental anxiety, depression, etc. But it is very critical to acknowledge that rejections are a part of  interviews. It is essential to blend with the outcomes, no matter what kind of outcome it is.
How to accept Job Rejections?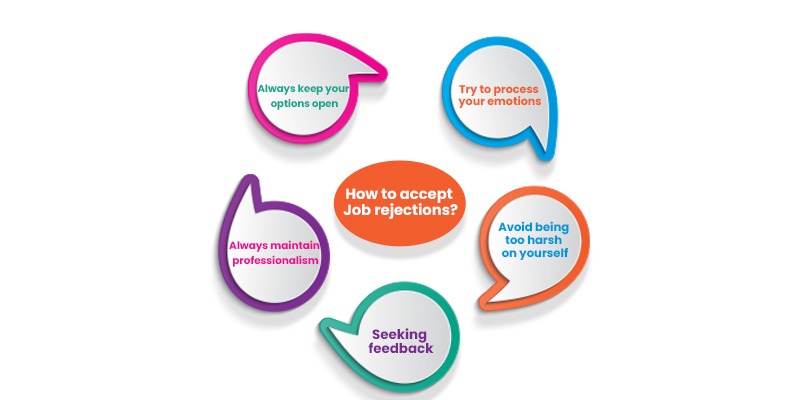 Try to process your emotions: It is natural to feel discouraged or disappointed after a job rejection. But it is very crucial to process and acknowledge your emotions. Remember that these rejections don't define your skills and abilities. So learn how to accept the rejection and don't let it get over you.
Avoid being too harsh on yourself: It is very important to stay positive at this time. The more you let that rejection get over you, the more it will hurt your confidence. This lack of confidence will be reflected in your upcoming performance. 
Seeking feedback: Reach out for the recruiters to know the reason for not selecting you. This will help you to recognize and correct the mistakes that you have done during the interview. This shows your genuine desire to learn, self-improvement and dedication towards your job.  To know the correct reason for not selecting you, you can ask some insightful questions like "could you please share with me any specific reason for why I wasn't selected, is there any feedback you can provide on my interview performance, are there any areas where you felt i could have improved are presented myself more effectively?
Always maintain professionalism: It is very crucial to maintain a professional and polite tone throughout your communication. Always remember that seeking feedback is to learn and improve your skills, so express gratitude to them for giving you the opportunity to interview and appreciate their time and consideration.
Always keep your options open: Always keep your job search in motion. Don't stop until you get  selected for a specific job role. Keeping your options open can more like get you land a job soon. Keep sending your applications to other companies while you are waiting for the reply from the current company who wants to hire you.
After processing your emotions and seeking feedback, you will not only feel better but also gain more insights about how to improve your skills and abilities. Remember that rejection is not the reflection of your abilities, so learn how to face rejection. Consider it as an opportunity to recognize, learn and grow your skills for future opportunities. From every experience you will gain more knowledge and showcase your job skills and abilities and grab your dream job.
Common Job Rejection Reasons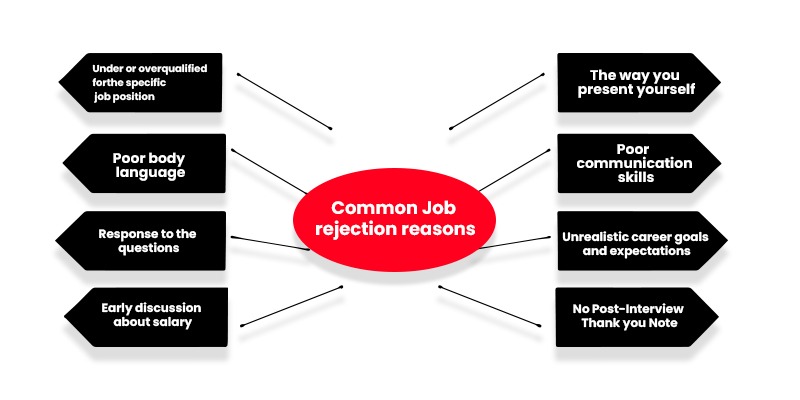 Some common reasons for job rejection, and steps to avoid it?
Under or overqualified for the specific job position:

As we discussed earlier, ensure that you meet all the eligibility criteria required for the job role. If you are an experienced candidate, make sure that you have sufficient work experience to handle the specific job responsibilities. Recruiters always run background checks on the qualification and experience of the shortlisted candidates. So ensure that your qualification is relevant to the respective job role.

The way you present yourself:

When it comes to an interview, the way you present yourself will also be counted as a critical aspect that can make a strong first impression on you. Always make sure that your attire is formal and neat. Any appearance flaw can make a negative impression about you.

Poor body language:

Your body language plays a very vital role during the whole interview. The way you walk, the grip during the handshake, your posture, eye contact everything communicates about your personality. So always maintain proper body language during the interview.

Poor communication skills:

Good communication skills is one of the main aspects for

how to overcome job rejection

. The recruiters always focus on how you speak. Your confidence level will be reflected by your communication. Ensure that your tone is steady and polite.

Response to the questions:

Don't give a vague answer for the recruiters questions. Your answer should be honest and relevant to the question. Try to answer all the recruiter's questions so that the recruiter will have a

strong impression

on you.

Unrealistic career goals and expectations:

When the recruiter asks about your career goals or expectations, reply with a realistic goal. Refrain from exaggerating your career goals or expectations so that it will align with your job role.

Early discussion about salary:

Don't discuss the salary before the interviewer finishes asking the questions. This discussion should be started by the interviewer. Rising questions about your salary package will not make a good impression on you.

No Post-Interview thank you Note:

Always remember to send a simple Post-Interview note. This approach shows the recruiters how deeply you are interested in the Job position. 
These are some of the reasons why a candidate faces job rejections. These steps not only help you to avoid job rejection, but also help you to ace your interview and make an impression about you.
Amazon offers a wide range of job opportunities for freshers. Candidates can visit Amazon Jobs For Freshers to apply for job roles that are suitable for their skills and abilities.  
Necessary steps to be taken to avoid Job Rejections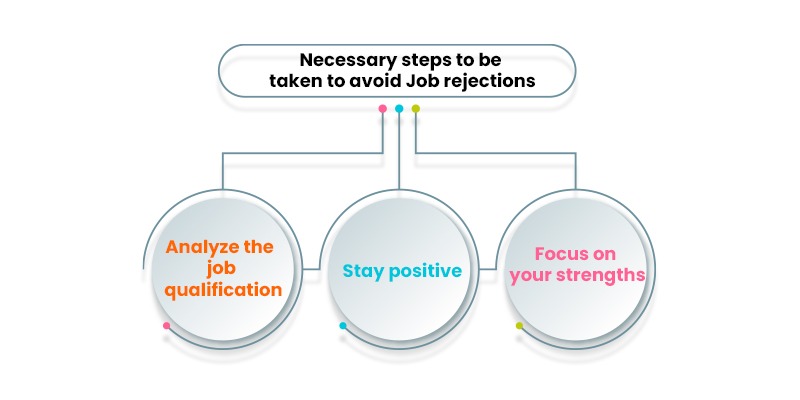 Rather than thinking about how to handle rejection, it is very important to proactively take necessary measures to avoid job rejections so that you can excel your interview and to create a strong impression about you on the recruiters. Steps that has to be taken to avoid Job rejections:
Analyze the job qualification: Make sure that the job role is relevant to your qualification before applying for it. Ensure that you're not overqualified or underqualified for the specific job role. This may also be a reason for you not getting selected to the respective position.
Stay positive: Never let your confidence level go down. Always stay positive at times like this. 
Focus on your strengths: Try to improve your skills and explore more. Work on your skills and showcase that you are a desirable candidate for the position.
If you are looking for any job opportunities in Noida, look for recent job vacancies available in that city. Click at fresher job openings in Noida to find job openings that match your interests and skills. 
How to respond to a job Rejection Email?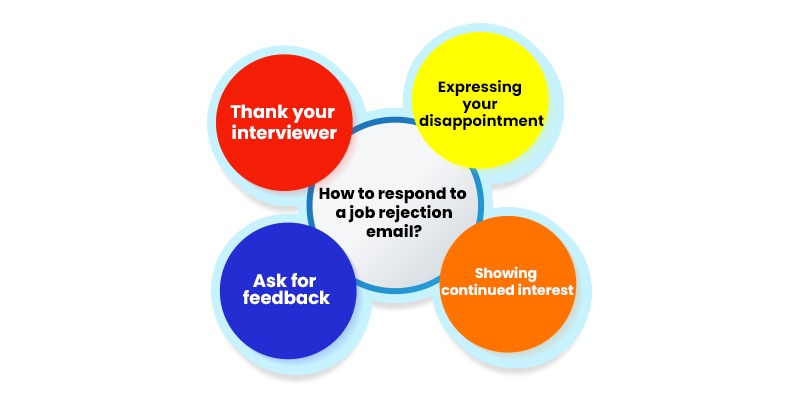 You will be getting a Job rejection email to inform you that you are not selected for the specific job position. At this time you have to respond to that job rejection mail by sending a thank you email. This approach will help you to continue the connection with the hiring manager and to showcase your professionalism. The following steps guide you with the tips for responding to a rejection email.
Thank your interviewer:

You can write a thank you note for the interviewer by showing your appreciation and gratitude to them.

Thank the recruiter for letting you know their hiring decision. Always remember to express your gratitude for their time and consideration.

Tell them that you appreciate them for providing you an opportunity to learn about their company. Ensure that this part of your letter does not exceed more than 2 lines. This is the best way to start the thank you letter.

Expressing your disappointment:

Expressing your disappointment will show your genuine interest in the job position and the company. Make sure that this portion of your letter is brief and you have maintained a positive tone throughout this portion.

Showing continued interest:

Ensure that the hiring manager knows that you are still interested in the job position. This approach would help the hiring manager to confirm that you will still like to be considered for future opportunities. 

Ask for feedback:

As mentioned earlier, ask for back from the interviewer. This will not only help you make a solid impression on you to the interviewer, but also guide you with enhancing your skills.
These are some tips for responding to a rejection email. Make sure that your email is brief with a polite and positive tone.
Example for how to respond to a Job Rejection Email
Dear [Hiring Manager Name]
Thank you for letting me know about the hiring decision. Even though it's disappointing to hear that I am not selected for the position, I really appreciate the opportunity to interview and learn about the company. I would love to be considered for any other future job openings available in your company. 
I would be interested to hear any feedback regarding my interview and application. I am sure that any detail you provide would help with my job search in future.
Thank you again for your time and consideration [Hiring Manager Name]
Sincerely,
[Full Name]
So, always remember that rejection is a part of the job searching process. Don't let those rejections get over you and it will be reflected in your future interview performance. In this blog we explored how to deal with rejection, some reasons that lead to job rejection, and also necessary steps to avoid job rejections.