The job search process can be challenging and take a lot of time, especially if you send out multiple applications, change your resume, and look at different jobs you might be interested in. Many search-and-notify programmes can make it easier to look for jobs by letting you know when new ones open up. For example, Google Alerts for jobs automatically tells you about jobs that fit your search criteria, such as company, role, location, and freshers salary.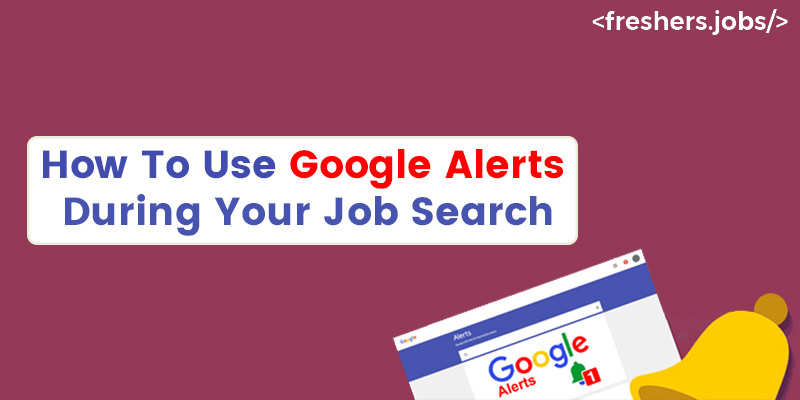 Keeping up-to-date on companies you are interested in working for can take a lot of time. Automatic search-and-notify programmes like Google Alerts help speed up the process. With Google Alerts, you can find out when certain words or names are used online. You will get a notice when websites, newspapers, blogs, etc., talk about the company you are interested in. This blog explains a Google Alert and how it can help you find a job.
What is a Google Alert?
What is Google alerts ? Google Alert is a free online service that lets you watch for certain words or phrases on the internet and get notified by email when new content is released or indexed by Google that includes those words or phrases. Google Alerts can be used to keep up with news, events, products, brands, and job prospects, among other things.
When you set up a Google Alert, you tell Google what words or phrases you are interested in, and Google keeps looking for new content that fits your criteria on news websites, blogs, forums, and other online sources. Google gives you an email when it finds new content. The email has links to the relevant web pages, so you can quickly access the information and stay up-to-date.
Google job Alert is a great way to stay up-to-date on things that are important to you, like a job search. You can get timely jobs alert about new job opportunities that match your criteria by setting up Google Alerts for specific job titles, companies, industries, or locations. This will help you stay proactive and ahead of the game in your job search.
Importance of Google Alerts for jobs
Google Alerts can be a powerful tool for people looking for jobs. It has many benefits that can make a job search more effective. Here are some of the essential reasons why job hunters should use Google Alerts:
Stay up to date on new job opportunities: Google Alerts lets you know by email when new content that contains your job-related keywords or phrases is released or indexed by Google. You can be among the first to hear about new job openings. This gives you an edge in a job market that is very competitive. You can set up alerts for specific job titles, companies, industries, or places to get real-time updates on relevant job opportunities. This way, you will take advantage of all opportunities.
Having google job alerts and the opportunities, you can check out for freshers jobs in Hyderabad.
Find jobs that need to be advertised: Job alerts from Google can help you find jobs not posted on popular job boards or company websites. By setting up alerts for specific keywords or phrases related to the job you want, you can find job openings from smaller companies, startups, or niche businesses that may not have a significant online presence. This can give you an advantage by giving you access to more job prospects and the hidden job market.
Save time and effort: Using Google Alerts to find appropriate job opportunities can save you time and effort during your job search. Instead of spending hours looking for jobs on different job boards or business websites, you can set up alerts and let Google do the work for you. You will get an email whenever new content that matches your alert criteria is posted. This enables you to spend time and energy applying for relevant jobs instead of looking for them and how to use Google alerts.
Customizable and flexible: Google Alerts are easy to change and adapt, so you can make them fit your job search needs. You can set up multiple alerts with different keywords, customise the sources, language, location, and frequency, and change your alerts as your job search continues. You can change your alerts to meet your changing needs and preferences while looking for a job or job change. This makes sure you get the most appropriate and up-to-date information.
Stay ahead of the competition: In a tight job market, staying ahead can be very important. Using Google Alerts, you can be among the first to hear about new job openings, learn about the job market, and find hidden job opportunities, giving you an edge over other job hunters. Being strategic and using Google Alerts to stay up-to-date can help you stay ahead of the competition and find a job faster.
Google Alerts: How to Set Them Up
To set up a Google Alert, do the following:
Think about why you want the Google Alert
Figure out why you want to set up a Google Alert. If you know what you want to get out of your Google alerts for jobs, you can choose the right buzzwords to use. Make a complete list of keywords by considering situations and subtleties related to your topic. This will help you find all the information you need. Remember that you can always change your alerts and search after the fact.
For example, if you wish in setting up a Google Alert to find freshers jobs openings at a particular company, you could use a keyword that includes the name of the business and the word "jobs" to get Job alerts from Google to send you results about job openings. This can give you more exact results than using the company's name, which could send you alerts about everything the company does.
Sign in to your Google account or make one
Make a Google account or sign in to your account. If you are the owner of more than one Google account, it can be helpful to choose one you check often and can get to quickly for your Google Alerts.
You can send your Google Alerts to a particular email address by going to the "Show Options" menu and selecting the email address you want from the "Deliver to" dropdown menu.
Choose your keywords
Choose the terms you want Google  job Alert to watch for. Be as detailed as possible so you only get emails about your desired information. For example, you can make use of name of a company, a product you want to work with, or the field you want to get into as a keyword to find a job and the easy ways to find a job as a fresher.
Decide how often alerts will be sent
Set up your Google Alerts to come to you whenever you want. The "Show options" part of the Google Alerts page allows you to change how often you want to get alerts. Google Alerts gives you three different ways to choose how often you want to hear about your chosen keywords:
As-it-happens: If you choose this choice, you will get an email every time your keyword appears in a Google search or website.
Once a day or less: If you choose this choice, you will get a notification once a day with all the times your keyword was mentioned that day.
At most once a week: This setting sends you alerts once a week with all the times your keyword was used that week.
Select your sources
Choose which sources you want for job alert from Google. You can pick your sources by going to the "Show Options" page and choosing items from the "Sources" dropdown list. This step sorts your results, so you only get updates from news sites or web pages you want to follow. Even though Google Alerts doesn't let users choose social media sites as sources, it does give them other choices, such as:
News Blogs

Web Video Books Discussion Finance
Say what language you speak and where you are
Choose the language you want Google Alerts to use and the places from which you want to see results. You can change these choices in the "Show Options" menu under "Language" and "Region." When you choose a language, alerts will be sent to you in the language you speak. When selecting an area, you could pick the place you live or a place you want to learn more about.
Figure out how many alerts you want
You can choose how many alerts you want to get from Google job Alerts. This setting is in the "Show options" menu, in the dropdown menu called "How many." Google Alerts gives you two choices for how many hits to send you alerts about:
Nothing but the best: This choice only lets you know about your keywords' most popular and useful results.
All results: If you choose "all results," you'll get emails about any page that mentions your keywords, no matter where it ranks in the search results.
Set up an alert on Google
Confirm your Google Alert, and you'll start getting alerts. You can confirm your Google Alert by hitting the "Create Alert" button next to the box where you type in your keywords. Google Alerts can now send you alerts about what you want to know about.
For more job openings and higher job chances, you can tap to freshers jobs in Bangalore.
How to edit a Google Alert?
Here are the steps or tips to consider that you need to take to change a Google Alert and how to create Google alerts.
Sign up for a Google Alert
Find and open the Google Alert you want to change. You can see your current alerts on the Google Alerts page and find the one you want to change by scrolling through them. Click on the warning once you find it to start the process.
Click on "Edit" or "Show options"
Open the option to change your alert. You might see an "Edit" button that lets you change your choices. But if that choice doesn't appear on your screen, you can make the same changes by going to the "Show options" menu instead.
Make the changes you want
Change your Google job Alert settings so that it looks for the things you want it to. You could change where or how you get your results or how often you get them so that you get them more or less often.
Change the Alert
Click where it says "Update Alert." This confirms the changes you made to an alert's settings and applies them to any future results you get from the alert. After you confirm your changes, Google Alerts will send you alerts based on the new criteria.
For more job chances and higher career development, you can start applying for Google jobs for freshers and get high salaries.
How to delete a Google alert?
Sign up for a Google Alert
Find and open the Google Alert you want to remove. You can see all your alerts on the Google Alerts page and choose which ones you no longer want to hear about.
Choose "Delete"
On the page for your Google alerts for jobs, click the "Delete" button. When you click "Delete," Google Alerts knows to stop giving you alerts about that topic or keyword.
Stop getting an email alert
Find the choice to "unsubscribe" from a Google Alert email that you no longer want to receive. Your alert emails will be in the inbox of the email address you gave Google when you set up your alert. You can delete the Google Alert and tell the programme to stop giving you emails about that keyword by clicking the "Unsubscribe" button at the bottom of the alert emails.