Career fair are events where recruiters and people looking for work meet in one place to talk, network, and look for jobs. Career fairs are a great way for people looking for work to meet with multiple companies and learn about different industries all in one place. They are usually held on college campuses, convention centres, and other places.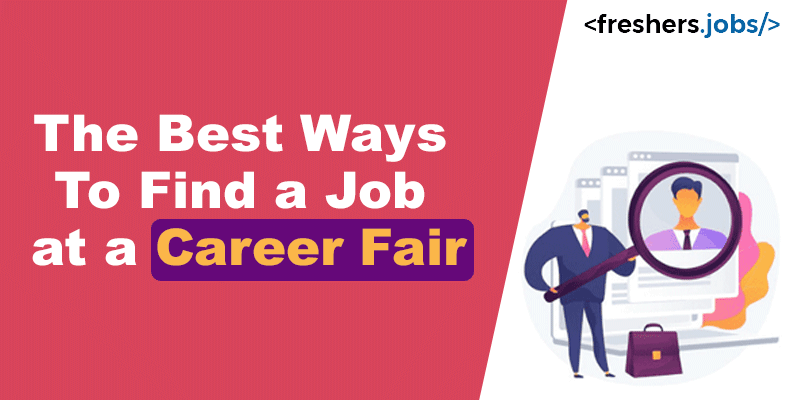 There are many benefits for both job seekers and companies at career fairs. Career fairs give people looking for work a chance to meet with potential companies in person, learn about different companies and the jobs they offer, submit their resumes, and make an impression that will last. It allows them to show off their skills, experience, and personality, which could lead to an interview or even accept a job offer.
Career fairs can be a good way to meet recruiters and find a job all in one place. But there are a lot of people there trying to get the attention of the recruiters, so you need to stand out to make the most of your time at the career fair.
These tips can help you make a good impression at a career fair, whether you are going to one in person or online. In this blog, we will tell you what to do, what to bring, and how to get the most out of your trip to a career fair for higher fresher salaries.
What are career fairs?
What is job fair? A career fair is an event where potential employees can meet with recruiters, HR, and companies in one place. Colleges, community centres, and career fairs are common places where career fairs are held. They can also be done online via video chats and computer screen-sharing. No matter what kind of career fair you attend, you should take advantage of every chance.
How to foresee at a career fair
You can get the most out of a career fair in several important ways. If you follow these preparation tips, you can make a good impression and get more interviews:
Find out what companies will be at the career fair
What is career fair? One of the most important things to remember at a career fair is who will be there. Start looking for a list of the companies that will be at the career fair in the weeks before it happens. Once you have this information, list the companies you want to talk to at the career fair. So, even if you run out of time, you'll know you've talked to your best choices.
Freshers can easily access job fairs that have a lot of job openings. Henceforth you can tap to see for jobs from freshers jobs in Hyderabad.
Prepare an introduction about yourself
You should be ready with something to say when you go up to each table. Most of the time, the recruiter will ask you the first question. If the person asks you something like, "Tell me about yourself," you should be ready to give your elevator pitch. A 30- to 60-second lift pitch is about right. It summarises who you are and the most important things they should know about you for a career fair.
Some of the things that should be in your elevator pitch are:
Your name in full

Major in college or job title

Your plans for your career

Why do you think you should get the job

Image description

Wear the right clothes.
Create a plan
When you get to the career fair with the right skill and job fair, take a few minutes to look around and figure out how it is set up. Note where your most important booths are so you can give them the most attention. Notice the lines at each booth as well. You don't want to waste time waiting in line, so go to the less busy booths first. If the career fair didn't tell you ahead of time which companies would be there, you can walk around and make a list of the ones you see.
Talk to as many HR as you can
Even though you only have a short time at a career fair, you want to talk to as many recruiters as possible. Career fairs are great places to meet people from different fields and make connections. Even if some companies on the list don't have the job you want right now, it won't hurt to meet with them. When you meet with recruiters, they might know someone in the field who can help you find a job.
You never know what kind of job might open up at one of these places. If you made a good impression, the recruiters might keep your resume in mind when a new job opens up.
Submit your CV
People sometimes wait until the end of their conversation with the recruiter to hand over their resume. But if you wait too long, the recruiter might have to talk to someone else or be interrupted for career fair. Instead, give the recruiter your resume after meeting them as soon as possible. As you talk about yourself and what makes you the best person for the job, hand over your resume and point out the information that backs up what you're saying.
This will draw attention to your resume and make you stand out from the other candidates the recruiter will meet throughout the day. It will also ensure that as many people as possible see your resume.
Prepare questions to ask
What is job fair? Career fairs are more than just a chance for recruiters to meet you. They are also a good way to learn about different businesses. After they've asked you a few questions, the recruiters might ask if you have any for them. This is the perfect time to show that you know something about the company and want to learn more. You could ask the recruiter the following things:
Why is it good for you to work for your company?

What does a day look like for someone in the job is interested in?
You can tap into Capgemini jobs for freshers for better pay and career development.
Request a business card
Ask for the recruiter's business card before you leave the booth. You will meet so many representatives at the career fair that it will be hard to remember their names. A business card is a useful tool in your job search because it lets you remember the recruiter's name and ask more questions later.
After you shake hands with the recruiter and leave the booth for career fair, you might want to take a few seconds to write down any important information you want to remember on the back of the business card or in a notebook. The next time you talk to the recruiter, you can use this information to make the conversation more personal and specific.
Send notes of thanks
You should also get business cards from every recruiter you talk to because you will need their contact information for thank-you notes. After the career fair, you should send a follow-up email to the recruiter to show how interested you are in the job and how grateful you are for the chance to meet with them.
Thank every recruiter you met within 24 to 48 hours of the career fair. Even if you don't want to work for the company, you may run into the recruiter again at some point. You want them to remember only good things about you.
Recruiters will meet a lot of possible candidates at the career fair, which is what is a job fair, so sending a thank-you note is one last thing you can do to stand out. In your note, you should thank the recruiter for meeting with you. Again, you can say that you want the job opportunity and why you think you are the best person. Look over the notes you took at the career fair to see if you can add anything to help the recruiter remember you.
You can send a handwritten note if you think the recruiters would like it. But it's also fine to email everyone. Just make sure that each message is unique.
What you should bring to a career fair
You don't need to bring too much to a career fair since you'll want to move around the room easily and have your hands free to shake people's hands. You only need to bring the following documents for the interview to a career fair:
Copies of your resume: To determine how many resumes you should bring, double the number of recruiters you want to meet. For example, if you want to talk to 10 recruiters at your career fair, you should bring 20 resumes.
Pen and paper: You'll need a pen and paper to take notes after talking to the recruiters.
Business cards: If you have them, you can bring them to the career fair to give out with your resume or to other people you meet. A plain folder is a good place to keep your extra resumes, keep your pen and paper handy and store business cards.
Conclusion
I hope you are clear from the blog about the best ways to attend the career fair. Career fairs can be valuable opportunities to find freshers jobs, network with employers, and advance your career. To make the most of a career fair, preparing in advance, approaching the event strategically, and following up with potential recruiters are important.